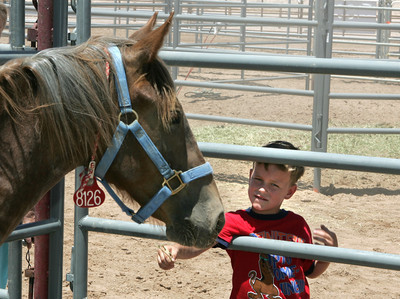 CARSON CITY — Wild horses in Nevada benefited for decades from money from a Californian whom relatives called insane. Those funds finally are being used up, but lawmakers were told Friday that the horses have another deep-pockets benefactor.
Nearly 19,000 horses roam Nevada, two-thirds of all the wild horses scattered across 10 Western states. About 33,000 other horses have been captured in those states and are in holding pens and corrals.
Horses that remain in the holding areas and aren't adopted are in a "nightmare situation," Assemblywoman Kathy McClain, D-Las Vegas, said during a joint Senate-Assembly budget hearing.
The horses are "one of our few Old West traditions any more," McClain said.
Lawmakers reviewed the Nevada Commission for the Preservation of Wild Horses, which was started with money willed to the animals by Leo Heil, of Sunnyvale, Calif.
What began as a $500,000 bequest from Heil, who died in 1972, will be gone by mid-2010, commission chief Cathy Barcomb said. The budget proposed by Gov. Jim Gibbons provides no new funding to keep the protection effort going.
"We all knew this day was coming. The Heil trust fund would not last forever," Barcomb said. The horses will be helped by groups such as the Mustang Heritage Foundation, which was started with Heil funds, and by individuals such as Madeleine Pickens, wife of billionaire Texas oilman T. Boone Pickens.
Heil's will stated that his $500,000 bequest, which generated far more in interest earnings over time, was "for the preservation of wild horses in Nevada." Relatives who were cut out the will sued, questioning his sanity, and eventually settled out of court for $72,000.
Legislators were told that Pickens is looking for about 1 million acres, possibly in eastern Nevada, where most or all of the horses and burros now being kept in federal holding areas could be turned loose.
Pickens, who says she has always had a love for the West and for wild horses, came up with the idea after hearing that the U.S. Bureau of Land Management was considering euthanizing some of the animals to control the herds and protect the range.
Her plans have been praised by animal rights groups, including some that have been preparing legal challenges to prevent the government from putting the horses to death.
Pickens sees wild horses as a big attraction for tourists who view the animals as iconic symbols of the American West. Even if her effort is successful, State Sen. Dean Rhoads said, there still might be high government costs for keeping horses that Pickens doesn't get.
"They just have to change their policies somehow because we just can't continue spending millions and millions of dollars on horses that nobody wants," said Rhoads, R-Tuscarora, a rancher.
A recent report from the Government Accountability Office said the BLM this year will spend about $27 million, about three-fourths of its horse and burro budget, caring for the animals. Continuing current practices would require a budget of $58 million next year, escalating to $77 million in 2012, according to GAO estimates.
The GAO report also noted that the BLM has authority to kill or sell excess horses without restriction from slaughter but has been loathe to do so. Regarding the nearly 19,000 horses on the Nevada range, Barcomb said, the BLM is trying to reduce that number by about 6,000, to about 13,000.
"Those are the 6,000 they're trying to starve," McClain said in questioning the BLM's methods and expressing concern about the end of Nevada's Commission for the Preservation of Wild Horses. "I hate to see this go away, especially with all the publicity with the way the BLM treats wild horses. And then I hear the stories of people, because of the economy, turning loose domestic horses. They're not going to make it."