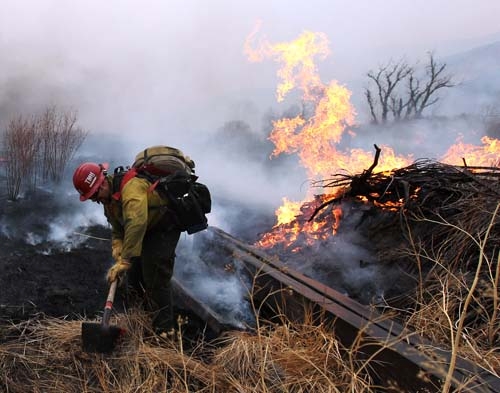 RENO — About 10,000 people are evacuating their homes after wind gusts up to 82 mph pushed a fast-moving fire brush south of Reno out of control.
The fire that started Thursday has burned several homes and threatened dozens more, but there have been no reports of injuries.
Reno Fire Chief Michael Hernandez says more than 230 firefighters are battling the blaze. It has grown to nearly 5 square miles within hours.
The winds died down after nightfall and rain started falling, much to the delight of fire crews.
Hernandez says the fire is "almost a carbon copy" of one that destroyed 30 homes on Reno's southwest side in November.
The Reno area had gone a winter-record 56 days without any precipitation until light snow fell earlier this week.
The strong winds blowing over the Sierra ahead of a winter storm caused delays earlier Thursday in Vice President Joe Biden's visit to Reno, where he was two hours late to give a speech at Galena High School on the south end of town.
The air smelled of smoke at the school, which sits on the Mount Rose Highway leading to Lake Tahoe. Biden told the audience about 25 minutes into his speech that he was cutting his remarks short because of the fire.
Martinez conducted his 5:15 p.m. briefing at the high school, which was evacuated along with surrounding neighborhoods shortly afterward.
The flames, up to 40 feet high, raced through sage brush, grass and pines in an area where small neighborhoods are dispersed among an otherwise rural landscape. Washoe County animal services officials were helping round up horses and other livestock for evacuation.
The American Red Cross opened an evacuation center at Damonte High School, where the children from the elementary school were taken.
Winds gusts of up to 82 mph were reported within a few miles of the fire, and a gust of 122 mph was recorded atop Slide Mountain, which is between the fire and Reno at the Mount Rose ski resort.
National Weather Service forecasters were predicting the storm would bring rain to the area Thursday night before turning to snow Friday night. High winds were expected to continue, with gusts up to 40 mph.