Wildfire outlook alarming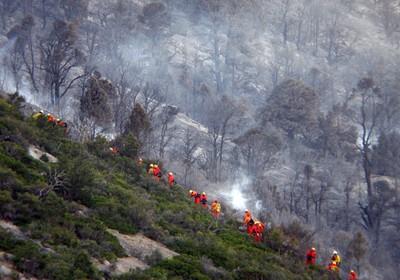 CARSON CITY — State fire officials on Tuesday warned of a bad wildfire season ahead, and said Mount Charleston in particular could face catastrophic damages if fires there can't be prevented or suppressed.
"That's a real critical situation down there, with a lot of home values," Mike Dondero of the Nevada Division of Forestry said at an interagency briefing on wildfires that included Gov. Jim Gibbons.
"It's just an island in the desert there that if it burns, it's never going to be replaced in our time," Dondero said.
Officials said a lack of snowfall and increase in invasive species would likely lead to dire conditions as the summer fire season approaches.
"Every year brings a new surprise," said Bob Ashworth of the Forestry Division. "We thought in 1999 that that was the peak, but it just continues to escalate beyond that."
Dondero showed the group a map of the state's mountain snowpack as of March 1. In the map's key, areas with the lowest percentage of normal snowpack, less than 50 percent, were indicated in red.
"Mount Charleston, it's all in red right there," Dondero said.
He noted that of the 10 worst fire seasons in the state's history, five have occurred in the past seven years. In 2006, 1,247 fires burned 1.3 million acres.
Temperatures this summer are predicted to be above normal, while precipitation is projected below normal, a flammable combination.
Last years' fires wound up adding potential fuel for this year's because they wiped out native vegetation and allowed lands to be taken over by fast-growing invasive species, especially cheatgrass and red brome, which burn easily and allow fires to spread.
The lack of snowfall intensifies the effect, not only because the grasses are drier, but because snow would have packed them down and made them less reachable by fire.
Dondero said prevention efforts could help but the most important weapon against wildfires is manpower to fight them.
"We can use retardant, but … it's not going to hold it," he said. "Retardant doesn't prevent fires; it just holds it down. We're going to need boots on the ground, as we say."
Hearing the presentation, Gibbons said the state needed to be prepared for a rough ride ahead.
"Last year was a harbinger of what's to come, and this year could be even worse," he said.
Gibbons questioned state officials about the lack of specialized firefighting airplanes that he said should be available for the Nevada National Guard.
He also worried whether there would be enough money in the state's emergency fund.
"We spent about $10 million this year fighting fires. We have about $2 million or so in our emergency budget to fight fires," Gibbons said. "We look at that and hope that we have the resources there, but we're at the mercy of Mother Nature."
Gibbons expressed frustration with the state's inability to "get a better handle" on wildfires.
"Every year, we look at fires the same," he said. "We look at them and say that next year we'll try to get a better handle on it. Well, this year, like last year, we're starting to see a drier season approach, and that means a greater fire risk throughout the state of Nevada. … We never seem to get a handle on it."
Asked about Mount Charleston, Gibbons said, "We're just going to have to put resources down there. We're going to have to attack the problem very quickly should it occur, so that we don't allow it to progress into a much more dangerous situation."
Kevin Oliver, fire management officer for the Bureau of Land Management, said for his coverage area, which is includes desert areas in Southern Nevada, there appears to be a decrease in fuel sources.
It's been so dry over the past couple of years that the grass that grew after 14 inches of rain fell in 2005, has died and in some areas, is blowing away, Oliver said.
Fires started by lightning are unpredictable, but Oliver expects the BLM fire season to be less destructive than in 2005 and 2006.
However, he said there is "still a large fuel threat in the Red Rock Canyon National Conservation Area."
Review-Journal writer Francis McCabe contributed to this report.