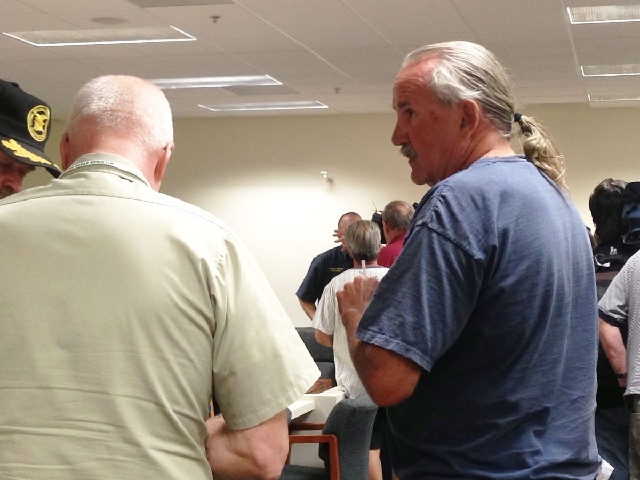 Ruth Kizer left her home in Lee Canyon the day after lightning ignited a fire south of Carpenter Canyon, on the opposite side of Mount Charleston from her home. She was headed to the hospital for heat exhaustion.
When she returned home July 4, she gathered her things before a mandatory evacuation order kicked her off the mountain.
"My daughter-in-law said 'Mom, I think you're house is on fire,' " she said. "We flew up there like animals in a race."
Kizer describes herself as a stoic person, but as she left her house Thursday, she cried, not knowing when she could come home or what she would come home to.
A week later, Kizer sits in the American Red Cross reception center and looks at pictures of her house and her two dogs, who are being sheltered at Lied Animal Shelter.
"What would you grab if you were told you only have 15 minutes to grab the most important things to you?" Kizer said with tears in her eyes as she described grabbing her most precious belongings out of her uninsured home.
For her, those items included her great-grandmother's dishes and her mother's costume jewelry, but she wished she could have grabbed her crafts, her wolf-related collectibles and her mother's picture.
Kizer stayed with her daughter-in-law, but after a few days there and a couple of nights in the Red Cross shelter at Bilbray Elementary School, she moved into a hotel room provided by the Red Cross.
"I haven't got anything to lose compared to the people in Kyle," Kizer said as she put everything in perspective. "I know I can't complain. We're the lucky ones."
Rochel Leah Goldblatt
MAKING NEW FRIENDS
A week after he was told to leave Mount Charleston, Aaron Gach celebrated his 40th birthday with new friends he met at the Red Cross shelter at Bilbray Elementary School.
Gach has been staying at the shelter-turned-reception center since he was first told to leave the mountain.
The shelter is now open only until 10 p.m., but he stays in his RV parked outside with his 11-year-old standard poodle, Key.
The unofficial Red Cross volunteer sought out the shelter because none of the RV parks would accept Key, his favorite companion, and he needed a place to plug in his home.
Gach, a part-time locksmith for the Nevada Division of Forestry and the assistant groundskeeper for Hilltop Campground, has been doing whatever is needed around the shelter, from unloading boxes to putting together evacuation kits.
"That's what I've been doing, helping out with the Red Cross, getting people acclimated," he said.
Rochel Leah Goldblatt
CALM IN THE STORM
Kim Koster is adamant about keeping things normal in this time of chaos.
Her 16-year-old daughter got her braces removed Friday after three years. That was normal.
Her mom is a Red Cross volunteer, and so her daughter and 8-year-old son get to see their grandmother. That was almost normal.
What's not normal is that they are not in their home as they, along with hundreds of other residents displaced from Mount Charleston, wait.
While they do, Kim stays involved in the close-knit community that is very active on the mountain.
They still have play dates. They still have get-togethers. And they still want their privacy.
"We've still been doing stuff as a community," Koster said. "Now we just do it in secret so the media doesn't know about it."
We're just trying to keep everything normal, she said, and take the kids' minds off the fire.
Rochel Leah Goldblatt
A different commute
The Resort on Mount Charleston employees have a more urban view than usual this week.
Since July 4, access to the resort has been blocked, leaving dozens of people without a workplace.
Fortunately, The Siegel Group, which owns the resort, stepped in to help.
"We're working diligently and individually with employees to keep them employed," said Michael Crandall, senior vice president of the company.
The company has made it a priority to set up shifts at some of the company's other properties in Las Vegas for resort employees until they can go back up the mountain.
Even though the staff is temporarily split right now, they are still feeling a strong sense of community with other residents and workers from Mount Charleston.
"It's been really special seeing how everybody on the mountain has really come together, even businesses that compete with each other," Crandall said. "It's a nice thing to see and we're happy to be a part of it."
ANNALISE PORTER
JUST WANTS TO GO HOME
Don Kubinski, a Trout Canyon resident for 15 years, drove up several times to check on his property since being evacuated July 4.
Only sections of his backyard were charred. His home otherwise was left untouched.
"It looks better than what I thought it was going to look," he said. "I thought the fire was coming in, but it didn't."
He doubted his house was still in danger, saying there was only a handful of firefighters working in Trout Canyon.
At a Friday meeting in a Pahrump community center, Kubinski challenged the evacuation order that continued to keep him and other Trout Canyon residents from returning to their homes.
"I hope they got it contained, but our stuff has no bearing on Kyle Canyon," he said.
Melissah Yang
Related Stories
•
Trout, Lovell canyon residents who fled fire allowed to return home Sunday
•
Carpenter 1 fire 60 percent contained; some areas reopen to residents