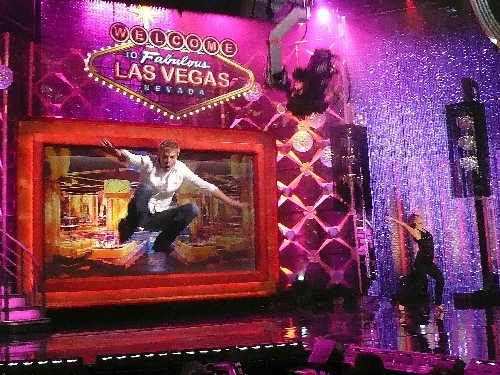 On Wednesday, Steve-O will be one of many star presenters at the Palms' World Mixed Martial Arts Awards. This will give the co-star of "Jackass 3D" a chance to create a good and sober Vegas memory, at last.
"Vegas, for me — it was always the same thing over and over, man," Steve-O, 36, tells me.
"I would show up for something or other that I was supposed to do. I would go to a strip club and buy an eight ball of cocaine, wind up back in the room, and sit there doing it all creepy — and not show up to what I was supposed to in the first place — and not leave the hotel room for the rest of the trip."
He's never even gambled here.
"I didn't really experience Vegas too much because I was always holed up in a hotel room doing drugs," he says.
Steve-O pauses and thinks: Does he have at least one good Vegas memory?
"I guess there was one time I went out there with 50 Cent and the G-Unit. I jumped on their tour bus and went out there. I know smoking marijuana is a felony in Nevada — or at least it used to be — and it was a pretty proud moment for me to smoke marijuana onstage with the G-Unit … committing a felony with rap heroes.
"That was something that happened in Vegas that I thought was pretty cool."
He's cleaned up since then. He was forced to, after Johnny Knoxville brought an intervention to his front door.
"I haven't had anything stronger than an Advil in two-and-three-quarters of a year," Steve-O says. "I cleaned up everything, man — weed, coke, booze, pills — everything."
The only way he could quit junk was to ditch all of it.
"I used to swear off coke, and I'd be like, 'I'm not going to do cocaine anymore — but I'm still gonna drink and do everything else.' I'd quit one thing at a time. Ultimately, I'd wind up back on everything."
Is he happier now?
"There was no such thing as my life getting any worse," is his answer.
Kicking drugs does not mean kicking "Jackass." And he's starting "Steve-O's Entirely Too Much Information Tour," featuring stand-up and stunts.
"Odds are I'll probably stroll into a comedy club while in Vegas and try and weasel my way onstage."
Others are lining up for Wednesday's MMA Awards, hosted by Randy Couture, co-starring Dana White and fight favorites, plus presentations from Eric Balfour, Ron Jeremy, Vegas native Charisma Carpenter, MC Hammer, the cast of "Pawn Stars" and many more. Red carpet is 4:45-7 p.m. The show is 7:30 p.m. Tickets cost $42-$112.
SIGHTINGS
Derek Hough made a spectacular dance jump off the Encore Theater stage while onstage with Cheryl Burke at Sunday's "Live with Regis & Kelly," sparking Kelly Ripa to wonder and joke whether he landed on someone and killed them. … Burke took pals to eat crispy rice and spicy tuna at Simon at Palms Place on Sunday night. … Victoria Beckham took her parents and three sons for a fruit smoothie, nachos and more at Serendipity 3 on Sunday. … Regis Philbin saw David Copperfield's MGM show on Sunday. … Ripa ate at MGM's Joel Robuchon. … Comedians Kathy Griffin, Brad Garrett and Steve White partied at Pure on Saturday. … And as she was paid to do so, JWoww hosted at Studio 54 with her dude, Roger Mathews, on Saturday.
Doug Elfman's column appears on Sundays, Mondays, Tuesdays and Fridays. E-mail delfman@reviewjournal.com. He also blogs at reviewjournal.com/elfman.