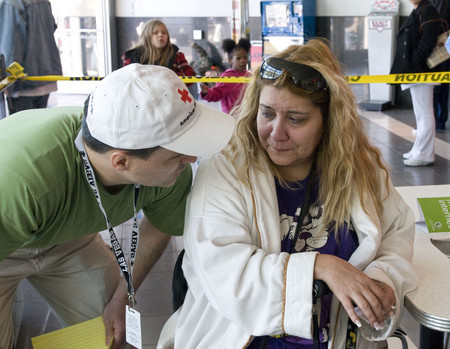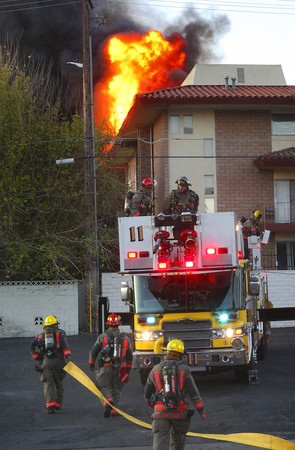 Black water more than 3 inches deep rolled eastward on Dumont Boulevard on Wednesday morning, lapping over the feet of Drew Hoppe, 49, as he maneuvered across the central valley street.
"Look at this mess," Hoppe said after jumping to the sidewalk.
It wasn't clear if Hoppe was referring to his soaked boots or the charred remains of a fire that burned for three hours and ripped through the Rainwalk Apartments, the complex his daughter had moved to Tuesday.
The fire was one of three battled by Las Vegas and Clark County firefighters Wednesday morning. Two resulted in injuries.
Two people were hospitalized and more than 100 residents were displaced because of the wind-whipped blaze at the Rainwalk Apartments, 1001 Dumont Blvd., near Maryland Parkway and Desert Inn Road.
The fire began at 6:15 a.m. and was the largest of the day.
The first of the three fires was reported at 3:56 a.m. at Rancho Verde Apartments, 98 Martin Luther King Blvd., near the Spaghetti Bowl. It temporarily displaced 22 people. No one was injured.
Officials said damage to individual units probably will be minimal.
The second fire was reported at 4:52 a.m. at a one-story house on Wengert Avenue, near Eastern Avenue and Charleston Boulevard.
A 72-year-old man suffered third-degree burns on 60 percent of his body. Another man sustained first-degree burns. Both men were taken to University Medical Center's burn unit.
The 72-year-old man's injuries are considered life-threatening because of his age.
Hoppe said his daughter's Rainwalk Apartments building was not one of the four multi-units destroyed by the blaze, but her apartment may have been damaged by smoke and the water firefighters used to extinguish the flames, he said.
"The main thing is she's OK," Hoppe said, as he stared at a building that had collapsed.
No one suffered life-threatening injuries in the Rainwalk blaze.
Two women, ages 49 and 66, whom officials believe lived in the apartment where the fire started, were treated for smoke inhalation and minor burns at UMC. They were listed in fair condition Wednesday afternoon.
Endora Clark and her roommate, Kimberly Quiocho, lost everything they owned in the Rainwalk fire.
Before the fire, Clark had been preparing to move out of the complex where she had lived for more than four years.
"We lost everything we had," Clark said, holding back tears. "I worked two jobs for eight years to build this (home). I worked hard for it, and it can't be restored, no matter what I do."
At 10 a.m., Clark sat with her family in the Boulevard Mall food court, where the Southern Nevada Chapter of the American Red Cross had set up a disaster relief station. Her voice was scratchy and hoarse from a combination of screaming and swallowing too much smoke.
Neighbors had awakened her about 6 a.m. They hammered on her door, screaming, "Get out. It's on fire."
She only had time to gather her children and throw on a robe before her building was fully engulfed.
"I watched all of it," Clark said. "I watched it burn all the way to the ground."
She then shook her head, and gestured to the black robe over her pajamas and the rain boots on her feet.
"I only have the clothes on my back," she said. "It's two days before Christmas, and me and my kids have nothing."
Red Cross volunteer Brian Ramsey said the displaced residents would be evaluated on a case-by-case basis.
The three main responsibilities for any disaster relief effort is to find food, shelter and lodging for those in need, he said. In some cases, the Red Cross may provide money for food or a hotel, he said.
"Our main concern is getting people from the point of the disaster to the first stage of their recovery," Ramsey said. "That could be one or two, or three or four days of providing help."
Greg Sims, group director of General Growth Properties, which owns the Boulevard Mall, said the company is donating $9,000 in gift cards to the Red Cross for distribution to the fire victims. Other retailers in the mall provided food and refreshments to the victims as they waited for assistance.
"I think the Boulevard Mall is a neighborhood mall, and these are our neighbors," Sims said. "That's what neighbors are supposed to do."
Clark County Fire Department spokesman Scott Allison said at least 51 people were taken by bus to the mall to receive assistance from the Red Cross, but more than 100 residents probably were displaced.
Allison said between 70 and 80 firefighters fought the Rainwalk blaze for more than two hours before it was under control.
Because of strong winds, with gusts of up to 40 mph, the fire spread quickly through the complex, jumping from roof to roof.
Firefighters remained at the scene through Wednesday evening to watch for flare-ups and assist with clean-up, he said.
The two other fires were less destructive, officials said.
Las Vegas Fire Department spokesman Tim Szymanski said the Rancho Verde Apartments fire started in a utility wall containing electrical wiring in the middle of the 24-unit apartment complex. It took 30 minutes for firefighters to control the blaze, he said.
In the Wengert Avenue fire, which started in the backyard of a home, Szymanski said wind played a major factor in the 72-year-old man's injuries. When the man opened the door, he inadvertently created a wind tunnel, and the fire was blown into the house.
Strong winds also helped spread the Rainwalk fire.
Resident Clara Alvinito, 69, huddled with friends and neighbors outside the complex an hour after the flames began to die.
She had watched the fire from her front door as it jumped from building to building and neared her residence, but Alvinito said she never felt fear.
"I raised two children and have been through two cancer surgeries," Alvinito said. "Nothing scares me anymore."
The fire spared her building. Alvinito considered herself lucky and said everyone at the complex should feel that way.
"People tell me that they lost everything. I say, 'You didn't lose anything.' Material possessions mean nothing when you have your kids and your life."
Contact reporter Mike Blasky at mblasky@reviewjournal.com or 702-383-0283.
Watch the video