Wisconsin abbey sells LaserMonks business, disbands
November 17, 2011 - 1:10 pm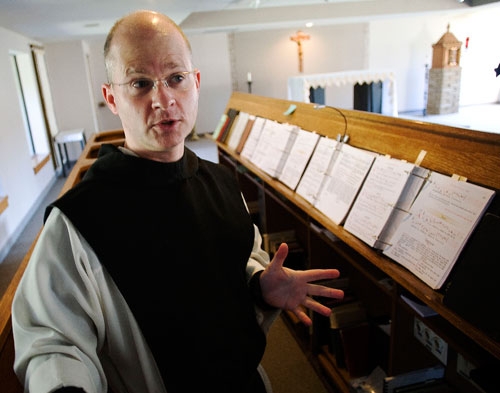 SPARTA, Wis. — Monks who operated a multimillion-dollar Internet business selling printer inks and toners from rural Wisconsin — and promised to offer prayers for their customers — have sold their company and assets and disbanded their small monastic community.
Just two years ago, the Cistercian Abbey of Our Lady of Spring Bank near Sparta had projected sales of $3.5 million for LaserMonks Inc. But today, the monks' 15,000-square-foot home and 500 acres are for sale at an asking price of $2.6 million. The LaserMonks name and customer list have also been sold to a California firm. Religious artifacts, furniture and farm equipment were sold at auction last month.
And although the abbey, about 180 miles northwest of Milwaukee, was built to accommodate nearly 20 monks, membership had dwindled by the time it closed. The three remaining monks have gone their separate ways.
The abbey's attorney, Kevin Roop, told the Milwaukee Journal Sentinel the economic downturn and increased competition forced the monks to liquidate the business, which sold laser-printer inks and toners as well as other office and school supplies and gifts. Their website also accepted prayer requests.
It's not clear just when the business began to falter. Holly Grady, executive director of the Sparta Area Chamber of Commerce, said the company struggled for the past two years. However, she noted that LaserMonks' chief executive, the Rev. Bernard McCoy, had been optimistic about its future as recently as January. She said she was surprised when the business closed last spring.
A family member told the Journal Sentinel that McCoy is now working in Ireland, overseeing a community of nuns.
The shuttering of the abbey appears to mark the end of a nearly century-old community of monks on the shores of Oconomowoc Lake.
Cistercians are an ancient order that broke off from the Benedictines in the Middle Ages. They're traditionally self-supporting, but the Spring Bank monks have struggled to find a business to sustain themselves.
Their ventures included growing shiitake mushrooms and developing real estate and a luxury golf course. Eventually they settled on the ink and toner business in 2001, bringing in as much as $4.5 million a year by 2008.
Terry Nelson, a Minneapolis blogger who writes about monastic communities, calls the dissolution of the abbey "very troubling."
"A year ago he (McCoy) was talking about growing vocations, building a new church," he said. "… And then it's just gone? How can a monastery just disappear?"
One significant factor in the abbey's decline appears to be its debt. Since 2006, the monks have used their property as collateral to secure $3.1 million in mortgages, according to records on file with the Monroe County Register of Deeds.
Bryan Simonson, vice president of Stoddard-based River Bank that has loaned the abbey nearly $1.8 million over that time, said the notes included new loans and refinancings of existing mortgages. He said a portion of the debt has been paid, but neither he nor Roop would say how much the abbey still owes.
"They have a very viable exit strategy," Simonson said, "and we do not expect to incur any losses."