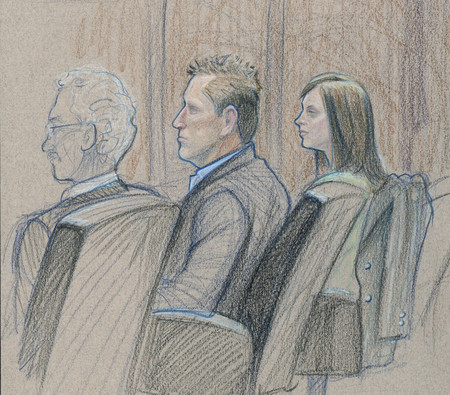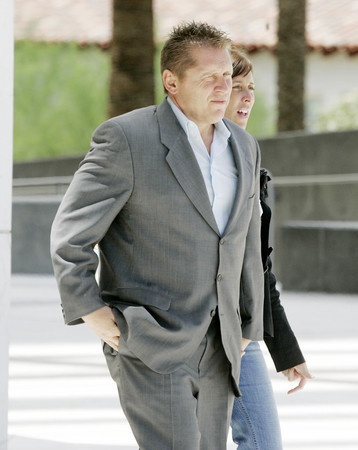 While Ron Paul is calling on Congress to audit the Federal Reserve, his brother Wayne Paul has been testifying here in federal court about how Wayne's monetary views have shaped the beliefs of Robert Kahre, a Las Vegas business owner who is on trial for evading income taxes.
The trial before Judge David Ezra is nearing its conclusion, as the defense rested its case Thursday. Both sides will present closing arguments next week.
The Paul brothers are fiscal conservatives from Texas. Ron, who ran for president, is a congressman from that state who helped devise the 1985 federal law authorizing the minting of $50 Gold Eagle coins and silver dollar coins. Such coins play a role in the trial, with defense lawyers occasionally showing and clinking the valuable coins before jurors.
Federal prosecutors have attempted to prove that Kahre and two other defendants deliberately used a novel payroll system, which doled out gold and silver coins, in order to dodge income taxes. The defense is based on the idea that the defendants sincerely thought their tax approach was legal. To convict, a jury must find the defendants knew they were breaking tax law.
Wayne Paul is a certified public accountant who has exchanged ideas and written materials on government and tax theory with Kahre for about the past seven years. Paul has at times played an administrative role in his more famous brother's political campaigns.
Wayne Paul testified two days this week for the defense. He said he and Kahre discussed a shared theory, that the Internal Revenue Service is controlled by foreign agents. Both men think so because the U.S. Secretary of the Treasury, who supervises the IRS, is also an official in international programs that funnel some IRS proceeds for economic development overseas.
Hearing that, federal prosecutor J. Gregory Damm asked Paul, "Why would you prepare returns to send to the Internal Revenue Service if you did not believe (it) is an agency of the United States government?"
Paul said it boils down to "the power of the Internal Revenue Service to intimidate us. … The threat (of prosecution is) greater than we can handle." Paul said he never prepared a return for Kahre, and gave him no tax advice.
The accountant also said he talked at length with Kahre about their belief that people who have gold and silver coins minted after 1985 can use the coins' face value for transactions, including when they total their incomes for income tax purposes. The post-1985 coins are allowed to circulate, but people tend to hoard them for their collectibility and precious-metal content.
According to Paul, Congress' 1985 decision to have gold and silver coins minted with a precise dollar value stamped on them constitutes a law that, "in the hierarchy of laws," is higher than court orders from Ezra or federal Judge Robert Jones.
"I can assure you, Mr. Paul isn't testifying as to the law," Ezra said in the jury's presence on Tuesday. On Wednesday the judge repeated, Paul's "view does not comport with the law."
Both Ezra and Jones, in separate but related trials, issued pretrial orders saying that, according to statutes and case law, coin income may be taxed at the coins' fair market value.
Defense attorneys have quibbled that the judges cite cases pertaining either to pre-1985 gold coins, which are not permitted to circulate any longer, or to decisions made in other federal court districts.
Jones presided at a 2007 trial over the same issues, which ended in a hung jury for three of the four present defendants: Kahre; Lori Kahre, a sister who works for him; and Alex Loglia, a former business assistant.
Kahre used gold and silver coins to pay himself, his workers and workers at 35 other local companies that joined his payroll service. The 48-year-old business owner never withheld any payroll tax, on the theory that the workers were independent contractors responsible for their own taxes. He believed people could go by the coins' face value — far below their market value — when determining annual income for tax purposes. On payday, workers could trade their coins for cash equivalent to the coins' market value, which most did.
According to a summary prepared and presented in court by a government witness who works for the IRS, Kahre owes about $5 million in taxes for 1999-2002; Lori Kahre owes about $37,000 in taxes for 1998-2005; and Loglia owes about $17,000 for 1995 and 1996.
At the 2007 trial, four other co-defendants were acquitted. This time around, the only new defendant is Danille Cline, who is Robert Kahre's longtime girlfriend. The two jointly face new charges that they hid assets by buying homes in the name of Cline, who is a stay-at-home mom.
Contact reporter Joan Whitely at jwhitely@reviewjournal.com or 702-383-0268.