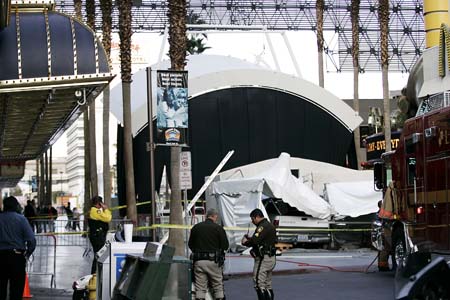 A 79-year-old woman crashed a pickup truck into the back of a Fremont Street Experience stage and died this afternoon.
Witnesses saw the woman driving erratically, speeding and running red lights, as the truck careened north on Third Street toward Fremont Street.
Nobody else was injured in the 2:23 p.m. crash. Las Vegas police are investigating the accident but don't yet know why the woman drove into the structure. They will be looking into whether she suffered a medical episode, Sgt. Oscar Chavez said.
"Obviously, the age of the driver is of some concern," he said.
The woman's name was not released.
Witnesses saw a young man running after the truck shortly after it crashed.
"He was saying, 'My grandma's in that truck. My grandma's in that truck,'" said 27-year-old Joey Hibbard, a tourist from Lake Arrowhead, Calif., who was standing on an outdoor patio of the Fitzgeralds when he heard the loud boom of the crash.
Hibbard ran to the scene and found a white 1996 Dodge Ram pickup crumpled into a brick-and-stucco structure in the back of the north-facing stage. Chavez said the building housed the electronic equipment for the stage.
"It's a good thing there wasn't a concert going on at that time," Chavez said.
Chavez said the woman had dropped off her grandson at the corner of Third Street and Clark Avenue before proceeding north on Third. She began accelerating and ran some red lights, he said.
Luis Perez, 21, was stopped in his car at the corner of Third and Carson Avenue when he saw the woman speed past him. She was traveling at least 50 or 60 mph and bouncing in the truck after running over a divot in the intersection.
"I just saw her go flying by," he said.
She appeared to accelerate before crashing into the structure, Perez said.
Perez parked his car near the scene and ran to help her. He said there was no way to remove her from the truck because of the debris surrounding the vehicle. He could see that she was wearing a seat belt and that both air bags had deployed, but she was not moving.
The man who witnesses said was running after the truck and other family members were seen crying and consoling each other before being escorted by casino security through the Four Queens.
Contact reporter Lawrence Mower at lmower@reviewjournal.com or 702-383-0440.