Woman accused in fatal hit-and-run to face jury
December 31, 2014 - 5:25 pm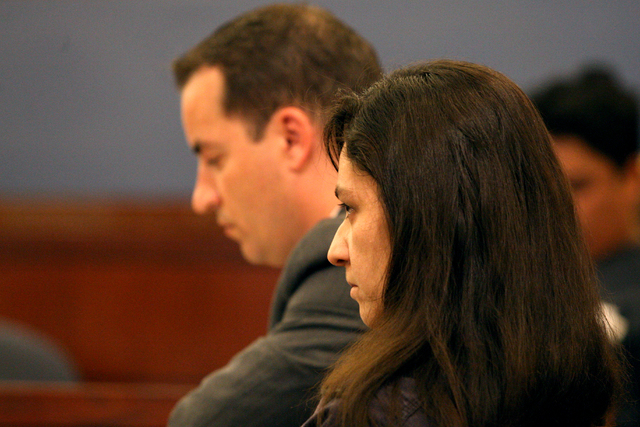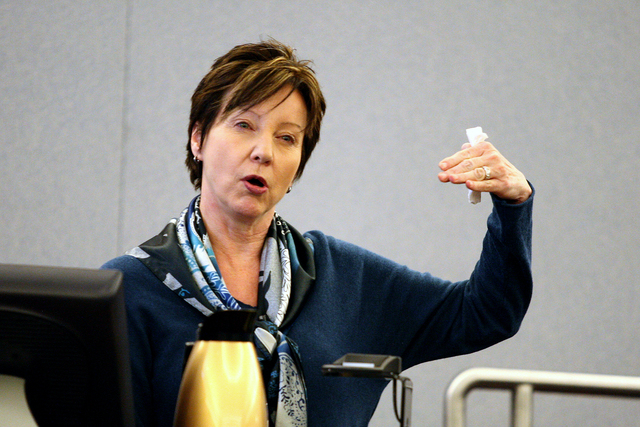 There was blood on the desert rocks. A man lay dying on the side of the road, his infant granddaughter crying nearby in an overturned stroller. And a gray sedan was speeding away.
"I can't get it out of my head," witness Dustin Krause said. "I wish I could unsee some things."
After a lengthy, often-heated hearing with testimony from four eyewitnessses Wednesday, a judge decided that 29-year-old Galina Kilova should face a jury on a charge that she struck and killed 63-year-old Michael Grubbs, who was pushing his granddaughter in a stroller on the side of a southwest valley roadway.
Through repeated questioning of the witnesses, about details such as the size of the pebbles along the side of the road, defense attorney Herb Sachs tried to show that Kilova did not know she struck Grubbs, a pedestrian in an area that had no sidewalk.
Krause said he noticed Kilova driving erratically on the morning of Nov. 24 along Rainbow Boulevard near the intersection of Warm Springs Road, then he watched Grubbs get struck just before Kilova's gray Honda Civic bumped into a trailer Krause was pulling.
He said Kilova drove off, and he tried to chase her down while calling 911. He noted half her license plate number, but she got away.
Krause called the crash "brutal."
"I saw a blur," he said. "I saw him fly up in the air with a cloud of clothes."
Matthew Davis was the only witness who identified Kilova as the driver of the Civic, saying he got a glimpse of her face when he asked if he could merge into her lane. She responded simply by rolling her window up.
Within seconds, Davis was pulling over to the side of the road to help Grubbs.
Another driver, Christine Turner, attended to the baby.
Turner said she saw "a lot of dirt and dust and thought 'oh my gosh.'"
The stroller had been knocked upside down. She turned the stroller on its side and noticed scrapes and cuts and blood on the baby's face, and she coddled her until emergency crews arrived.
Davis found Grubbs' pulse and tried to ensure that he was getting air, but the man was unresponsive with "obvious head trauma."
"It didn't look good," Davis said. "There was a lot of blood."
Sachs argued that the state lacked sufficient evidence to prosecute Kilova, but the judge disagreed.
Kilova, who turned herself in to police a week after the incident, is being held on $100,000 bail in the Clark County Detention Center. She faces one count of leaving the scene of an accident with injury or death.
The defendant initially was released on bond but later was detained by U.S Immigration and Customs Enforcement because her non-immigrant visa ran out six months after she entered the United States in 2006, police said. Kilova came to the country from Bulgaria.
In 2007, Kilova was convicted in a drunken-driving crash and was "very uncooperative" with authorities during the investigation, prosecutor Eric Bauman said.
Earlier this year, Kilova was cited for having an open container of alcohol while in a vehicle.
Throughout Wednesday's hearing, at which Kilova did not testify, Sachs tried to chisel away at witnesses' testimony.
Krause said the entire incident lasted two or three seconds.
Sachs peppered Davis with questions about the location of the cars on the roadway, the distance between the vehicles and the amount of time that passed between seeing Grubbs get struck and pulling to the side of the road.
The defense lawyer seemed focused on a few seconds in time before the Civic hit Grubbs.
Prosecutors objected, saying Sachs continued to ask the same question repeatedly.
Jansen agreed but allowed Sachs to ask "one more time."
Prosecutor Brian Rutledge rose from his seat. "Why do we have to hear it a seventh time?"
Contact reporter David Ferrara at dferrara@reviewjournal.com or 702-380-1039. Find him on Twitter: @randompoker