Woman accused of shooting son laughs as witnesses describe disturbing behavior
December 20, 2013 - 8:35 pm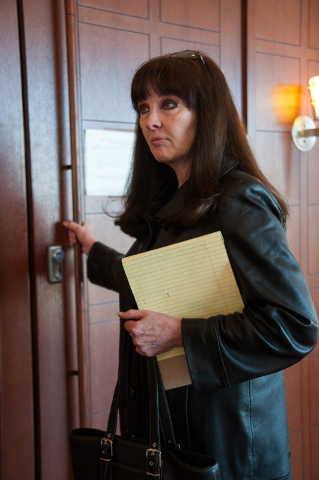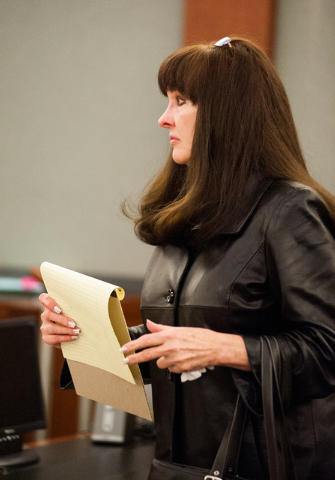 Karina Taylor cried as she read old Facebook messages from Kevin Cooney, the man she once said she would marry.
Cooney had confided in Taylor that he wanted out from under the influence of his mother, Linda Cooney.
In one of the messages he called his mother "MUSH," which stood for Mother Upsetting Success and Happiness, Taylor said in a court hearing to determine whether jury should learn Linda Cooney shot and killed her ex-husband 20 years prior to shooting her son in 2011 with the same gun.
She testified before District Judge Elizabeth Gonzalez who is expected to make a decision prior to Linda Cooney's Jan. 13 trial.
Linda Cooney is crazy, was known to carry a gun and caused Taylor to fear for her own life, Taylor testified.
Linda Cooney laughed as she sat at the defense table during the hearing Friday.
Cooney, 66, is charged with attempted murder, battery with use of a deadly weapon and intimidating a witness. She's also charged with stalking Taylor.
The shooting occurred after an argument between mother and son regarding the relationship between Kevin Cooney and his then-girlfriend Taylor.
Clark County prosecutors want Gonzalez to allow a jury to hear about the Florida shooting and Linda Cooney's history of harassing Kevin Cooney's girlfriends.
During more than five hours of testimony, Gonzalez heard from another one of Kevin Cooney's ex-girlfriends, Clarita Kendall.
She described how Linda Cooney called her a "whore" and "Asian prostitute" and tried to sabotage her relationship with Kevin Cooney. She described a 2006 incident, where Kendall dropped Kevin Cooney off near his home and Linda Cooney confronted her and punched and kicked her car as Kendall cowered inside.
Kendall called the police only to learn Linda Cooney had also called authorities and said Kendall attacked her.
Like Taylor, Kendall said she knew Linda Cooney had killed her ex-husband James Cooney.
Kendall said she too feared Linda Cooney, prompting more laughter from the defendant.
Prosecutors Michael Staudaher and Shanon Clowers say Linda Cooney stalked and intimidated Taylor and the defendant's treatment of Kendall, along with James Cooney's killing shows a pattern of behavior a jury should hear.
Defense lawyer Michael Becker said allowing a jury to here of the acts would be unfair to his client. "We should be trying this case on the facts directly related to this case," Becker said. "Any other stuff coming in would be prejudicial."
As far as his client's reaction to her causing fear in the two women, Becker said the case feels like a witch-hunt. "Obviously she (Linda Cooney) does not agree with all of the things being said about her."
He said Linda Cooney had a "nervous response to unpleasant assertion's being made against her."
Gonzalez also heard from Dr. Robert Cooney of Missouri, James Cooney's brother.
Robert Cooney testified about Linda Cooney's acquittal on murder charges.
James Cooney had attacked her with a kitchen knife in their Florida home, Linda Cooney told police, and she killed him in self-defense.
The crime scene had been disturbed before police arrived. And Kevin Cooney's trial testimony — he was 11 — was instrumental in her acquittal for first-degree murder. He testified he saw his father with a shiny object, but originally told investigators his father had nothing in his hand.
Afterwards, Robert Cooney described his former sister-in-law as "an unfortunate soul."
"I'm here because my brother Jim can't be," he said.
Robert Cooney said there was important evidence kept from the jury in the Florida trial, including recordings Linda Cooney made a week before the shooting asking James Cooney about his life insurance policy. It pointed to motive, Robert Cooney said. He said he's had no contact with his nephews, though he wish he could.
"I feel sorry for Linda," Robert Cooney said. But "I believe it's best for society if she is placed in an incarcerated environment."
Linda Cooney remains free on bail.
Contact reporter Francis McCabe at fmccabe@review journal.com or 702-380-1039.