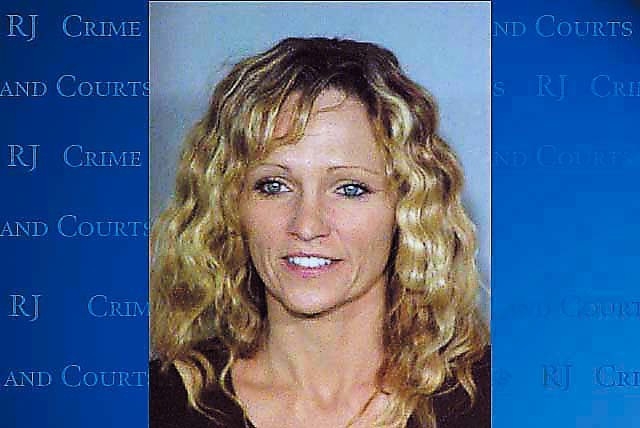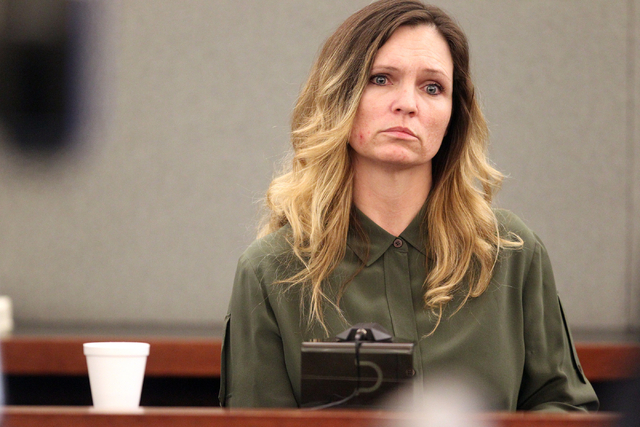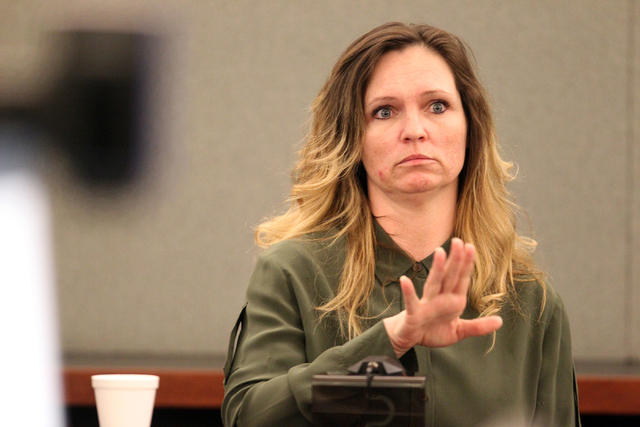 A 43-year-old woman was found guilty Tuesday of plotting to have her estranged husband killed in a highway shooting last year.
Amy Bessey, also known as Amy Pearson, was found guilty of all seven charges, including solicitation to commit murder, conspiracy and attempted murder with use of a deadly weapon. She could face two to 91 years in prison.
Bessey appeared stoic while the verdict was read. She was then remanded into custody and ordered held without bail at the Clark County Detention Center pending a March 5 sentencing hearing.
Prosecutors said Bessey enlisted the help of her son, Michael Bessey, 22, and her brother, Richard Pearson, 40, to kill her husband as he drove south on Interstate 15 near Valley of Fire on Nov. 14, 2012.
Robert Bessey was hit in the neck by a shot fired from a gold SUV in the lane next to his about 4:30 a.m., but he survived. He recognized the SUV as belonging to the girlfriend of his then-brother-in-law.
Prosecutors said the primary motive was a $250,000 insurance policy on Robert Bessey's life. Another suggested motive was that Robert Bessey beat his wife.
Following the verdict, Amy Bessey's defense lawyer, Blaine Beckstead, said he was disappointed.
"It's not the outcome we wanted or expected," he said.
Beckstead added that there were appealable issues in the case, though he wouldn't discuss them.
One issue might be that prosecutor Sam Martinez mentioned during opening arguments a text message from Richard Pearson to Amy Bessey after the shooting, stating "I love it when a plan comes together."
Judge David Barker later in the trial disallowed the prosecution from bringing the text message into evidence because it was not disclosed to the defense prior to the trial.
Following the verdict, Martinez declined to comment noting that Michael Bessey and Richard Pearson await trial Feb. 24 on similar charges.
Earlier on Tuesday, Prosecutor John Giordani said during closing arguments that while the jury might not like Robert Bessey — maybe they even disliked him — that didn't make him any less of a victim.
Giordani argued that just because Amy Bessey wasn't directly involved in the shooting, doesn't mean she wasn't liable for the crime.
The evidence, while circumstantial, showed that Amy Bessey solicited others to kill Robert Bessey and she also exchanged repeated phone calls and text messages with her son and brother before and after the shooting, Giordani said.
"The coincidences are adding up," Giordani said.
But defense lawyer Augustus Claus said the prosecution's key witness, Courtney Smith, was motivated to lie after cutting a deal for a lesser charge in her own criminal case.
Smith, who dated Michael Bessey prior to the shooting, was accused in a separate case of conspiring with Amy Bessey to kill Robert Bessey on Father's Day in 2012 by giving him a can of Red Bull laced with poison. Smith, 21, pleaded guilty in May to conspiracy to commit a felony and awaits sentencing.
Claus said Smith's story that she was close friend and confidant of Amy Bessey, doesn't add up. Smith testified that Amy Bessey was angry at her brother after the shooting because he and her son were caught on surveillance footage buying an energy drink at a gas station near the shooting.
But Smith despised Amy Bessey after the latter accused the former of lying about a miscarriage, Claus said. Amy Bessey didn't think of Smith as a friend and didn't confide in her, she testified earlier in the trial.
Claus said Amy Bessey had plenty of opportunity to shoot Robert Bessey, but didn't. She had access to a gun the night he beat her and she was armed when Robert Bessey pointed a gun at her son, Michael Bessey, six months prior to the shooting, Claus said.
Instead, Claus said the evidence pointed to a "juvenile" scheme orchestrated by the other two men charged in the case.
On Monday, Amy Bessey testified in her own defense and denied she conspired with her son and brother in the shooting.
Amy Bessey admitted she told a friend, "I wish he was dead," about her husband. But, she explained, that was because she was tired of dealing with him and the divorce.
Contact reporter Francis McCabe at fmccabe@reviewjournal.com or 702-380-1039.