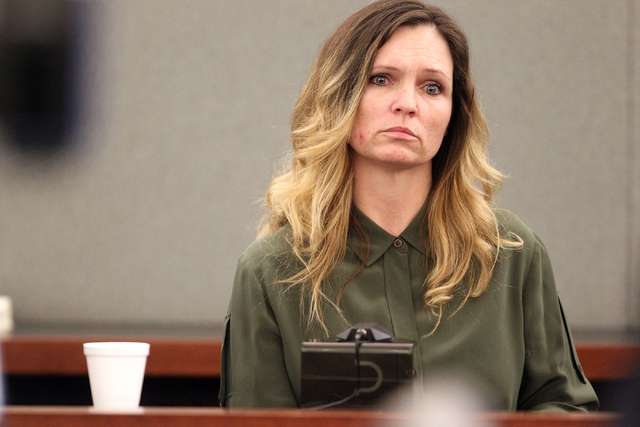 Amy Bessey cried when she told a jury on Monday that her ex-husband beat her, leading to a messy divorce.
But Bessey testified in her own defense she never schemed to have her estranged husband killed in a highway shooting last year.
Bessey, 43, also known as Amy Pearson, faces eight charges, including solicitation to commit murder, conspiracy and attempted murder with use of a deadly weapon. If convicted, she could face two to 91 years in prison.
Prosecutors said Bessey enlisted the help of her son, Michael Bessey, 22, and her brother, Richard Pearson, 40, to kill her husband as he drove south on Interstate 15 near Valley of Fire on Nov. 14, 2012.
Robert Bessey was hit in the neck by a shot fired from a gold SUV in the lane next to his about 4:30 a.m., but he survived. He recognized the SUV as belonging to the girlfriend of his then-brother-in-law.
Prosecutors said the primary motive was a $250,000 insurance policy on Robert Bessey's life.
Amy Bessey also exchanged phone calls and text messages with her son and brother before and after the shooting, prosecutors said.
One text message from Richard Pearson said, "I love it when a plan comes together."
On Monday, Amy Bessey described how in May 2012 her husband rose from their bed and "took his fist to my face," after she asked about grocery money.
She fled their home days after the beating and drove to Texas with her children. But she returned because she didn't want to run away from her problems, Amy Bessey said.
Amy Bessey testified she thought they could save their relationship. That was until Robert Bessey pointed a gun at her and Michael Bessey upon their return from Texas.
She called the police and Robert Bessey was kicked out of their home.
Divorce proceedings began soon after.
Amy Bessey testified she said, "I wish he was dead," about her husband. But, she explained, that was because she was tired of dealing with him and the divorce.
Earlier in the trial, jurors heard from Courtney Smith, a woman who dated Michael Bessey and was accused in a separate case of conspiring with Amy Bessey to kill Robert Bessey on Father's Day in 2012 by giving him a can of Red Bull laced with poison.
Smith, 21, pleaded guilty in May to conspiracy to commit a felony and awaits sentencing.
"It's very untrue," Amy Bessey said of Smith's testimony that she plotted with her son and his then-girlfriend to have Robert Bessey killed.
Closing arguments in the trial, which began two weeks ago, are expected to be made Tuesday.
Amy Bessey was the defense's only witness in the case.
Richard Pearson and Michael Bessey are set to stand trial Feb. 24 on similar charges.
The Associated Press contributed to this report. Contact reporter Francis McCabe at fmccabe@review journal.com or 702-380-1039.