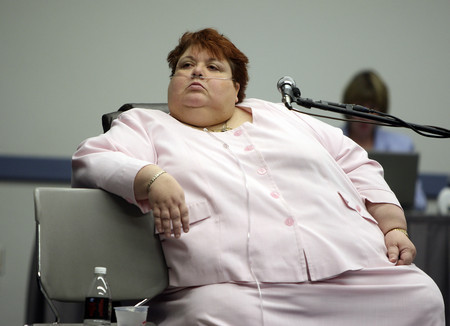 A one-time legal assistant to ousted District Judge Elizabeth Halverson won a $50,000 judgment Tuesday in the defamation case she filed against Halverson in 2007.
District Judge David Wall on Tuesday ordered Halverson to pay the money and to return files to the assistant, Ileen Spoor.
Wall, however, denied Spoor's claim for $100,000 in punitive damages.
Halverson did not attend the proceedings, which, unless an appeal is filed, effectively ended the civil lawsuit against her.
Spoor alleged in her lawsuit that she was defamed and placed in a false light, contending the judge lied about her to the media by saying Spoor illegally fixed tickets. Spoor also said Halverson took her Rolodex and files.
Halverson was found liable in September after she failed to show up for several court appearances. She has been representing herself since January after two law firms hired by her were allowed to withdraw as counsel because she wasn't paying them.
Spoor said she is relieved the case is over.
"I feel good about this," she said.
Her attorney, Assly Sayyar, said the case has always been about vindicating her client's name and not the money.
It was "making sure everyone knows that Ileen Spoor did nothing wrong, and is professionally and personally a person of great integrity," Sayyar said.
Halverson's only recent action in the case was to file a notice of appeal in October, but Wall said the motion was filed prematurely because it was done before he had made his final judgment on the case.
It's unclear whether Halverson will pay the award.
The Review-Journal on Tuesday tried to reach Halverson at a phone number filed with the court, but it was not in operation.
Sayyar said there are several methods available to Spoor to collect the $50,000, including putting a lien on any real property Halverson might own.
Sayyar added that Halverson could face contempt charges if she does not return Spoor's Rolodex and files.
Halverson took the bench in early 2007. Soon after she began serving, she was accused of harassing staff and mishandling trials, among other allegations.
The Nevada Judicial Discipline Commission removed her from the bench in November 2008 and permanently barred her from serving as a judge again.
Two months earlier, Halverson was beaten with a frying pan by her husband of 10 years, Edward Halverson, in a domestic violence incident. More than 100 medical staples were needed to close the wounds in her head.
Edward Halverson is incarcerated in a Nevada prison serving a three- to 10-year sentence for battery with a deadly weapon causing substantial bodily harm.
Contact reporter Francis McCabe at fmccabe@reviewjournal.com or 702-380-1039.