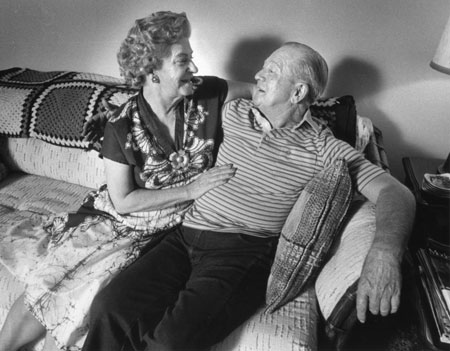 Florence McClure, nicknamed "Hurricane Flo" by the politicians she hounded and the journalists who covered her, was not the type of mother who stayed home and baked cookies, daughter Carolyn McClure Dunne recalled today.
She was a working woman before there were working women, she said.
"She was a groundbreaker, and she set an example for all of us," said Dunne, 60. "She was a highly educated, highly charged individual, and a great role model for a daughter."
McClure, a renowned advocate for women's rights in Nevada and for whom the women's correctional facility in North Las Vegas is named, died Thursday. She was 88.
Dunne said her mother, famous for pestering legislators until they listened, earned every word in her nickname.
"She was a whirlwind," Dunne said. "She would come in and bowl over a room, bring everyone together, speak her point, and no one would say no."
University of Nevada, Las Vegas history professor Joanne Goodwin said McClure was a formidable advocate who had her hand in nearly every women's group in town.
McClure started what would become the Rape Crisis Center out of her home in 1974, and in 1975, she began petitioning the state Legislature on outdated rape laws, Goodwin said.
In that first year, McClure's petitions were directly responsible for a bill that made it illegal to admit the sexual history of a rape victim as evidence in court, unless it was directly related to the case.
Today that might seem typical, Goodwin said, but in the early 1970s, marital rape wasn't even considered a crime.
"She overcame some big hurdles. That was also the year that rape changed from sexual battery to sexual assault, a major shift in the seriousness of the crime," Goodwin said.
Marlene Adrian, president of Women of Diversity Productions, produced the documentary "Hurricane Florence" about McClure's life.
She said McClure would often sit with rape victims in court, and sometimes was the only person there for the victim.
"She was trying to make sure they'd feel they had at least one support person in the audience," Adrian said.
McClure carried her work into the '80s and '90s, continuing to focus on the rights of women — even those in prison.
Dunne said her mother believed the women's correctional facility should be moved closer to the city. A rural location might have been out of the public eye, but it was also farther away from the families of the prisoners, she said.
"She wanted it close enough for the kids to see their parents, so in turn the women would have incentive to rehabilitate," Dunne said.
The women's prison was moved to North Las Vegas in 1997 and named after McClure in 2007.
Dunne said McClure was always busy during Dunne's childhood, and it wasn't until Dunne was an adult that they forged a stronger relationship.
By then, the "osmosis process" had begun, and Dunne found herself participating in events with her mother.
"We're not all meant to be exactly the same, but I got some very good things from her," she said.
One of the little-known facts about McClure, Dunne said, was that she didn't want every person who committed crimes against women to rot in jail forever, as was the perception.
When a male teenager's family approached McClure about helping their son, who was being released from prison after committing a sex crime, McClure was more than happy to help, Dunne said.
"She helped him get integrated back into the work force and championed him to get his life turned around," she said.
"That's what she was about, what she wanted people to do — make a better life for people."
Contact reporter Mike Blasky at mblasky@reviewjournal.com or 702-383-0283.
View slideshow