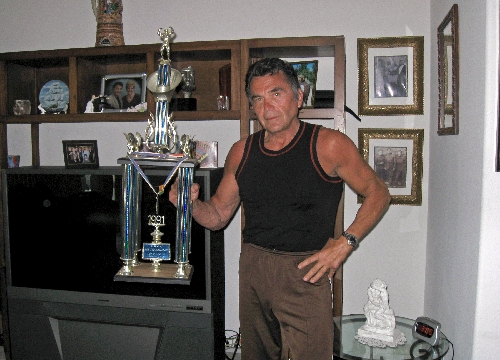 It might be the good Italian genes that keep award-winning bodybuilder Robert Spinelli, 72, feeling so young. But in his opinion, it's his heritage and his dedication to working out that keep him looking youthful.
"My day typically consists of coffee, oatmeal and the gym," Spinelli said. "I'll probably die in the gym."
Spinelli, a resident of Sun City Anthem, has dedicated his life to being athletic and has won a bodybuilding title and other athletic awards.
Since Spinelli was 16, he has been athletic.
"I was a chubby kid," Spinelli said. "Most of my family tends to be obese."
After being subjected to cruel nicknames such as "Spinel-belly," he turned to bulimia to lose weight.
After he dropped to about a size 28 waist, he decided that rather than be bulimic, he should keep weight off the right way and turned to exercising and lifting.
"I got into weightlifting when it wasn't fashionable," Spinelli said.
Ever since, he has incorporated a workout regimen into his routine.
"I think of working out like brushing your teeth," Spinelli said. "Just like you know you have to brush your teeth every day, you know you have to work out every day."
In 1991, he won his first bodybuilding competition, Mr. Los Angeles . He was 52.
"I would like to compete again," Spinelli said. "I don't think they have a category for ancient."
Even with no competitions in his future, Spinelli is either at the Sun City Anthem community gym or Gold's Gym.
"Sometimes I go to Gold's Gym to get inspired," Spinelli said. "Looking at these young guys inspires me."
Spinelli's wife, Marilyn, said they constantly monitor what foods they buy.
"We have to make sure there are no hidden sugars or salt or calories," Marilyn said. "Grocery shopping can be grueling, making sure it is natural. He stresses eating high protein. And of course, lots of vegetables."
Aside from bodybuilding, Spinelli has competed in marathons, half marathons and triathlons.
"I got third in the Las Vegas Triathlon (in 1981)," Spinelli said . "I was in first and took a wrong turn. I saw two guys run the opposite way and turned around."
Although he doesn't run much anymore, he still is at the gym.
"I know a lot of people my age are getting knee replacement surgery, and I don't want it," Spinelli said. "So I switch off what I do. Some days I do light weights with more repetitions. Other days, I'll do heavier weights. You have to switch it up so your muscles don't get used to it. I try to concentrate on a specific body part a day."
Marilyn also is Spinelli's gym partner.
"We try to go five or six days in the morning," Spinelli said. "Then we see what trouble we get ourselves in later."
Spinelli likes to take his wife and friends out dancing. On occasion, women will hit on him.
"One time we were out dancing, and this woman introduced herself to me to tell me she thought I was striking," Spinelli said. "I never thought of myself as striking. I never worked out to get noticed. I told one of my friends we were with, and she said, 'Well, you are striking.' "
But Marilyn doesn't mind the attention.
"I'm not jealous," Marilyn said.
Marilyn said Spinelli works hard for his body and the attention that comes with that dedication.
"You stand him next to other guys his age, and they are old men," Marilyn said. "I have a perpetual teenager."
Spinelli said the decision he made to stay fit when he was young has paid off.
"I see people our age and they can hardly walk," Spinelli said. "They are falling apart."
Regardless of age, Spinelli said it's never too late to start working out.
He encourages people to stay positive when trying to stay fit.
"That's why people give up," Spinelli said. "The get discouraged when they don't see results. Most of the time it's because they aren't (working out) right."
If anyone ever asked Spinelli for help in the gym, he would give it.
"But you can't go up to a random person and tell them they're not working out right," Spinelli said. "It's like going up to someone and telling them they aren't driving right."
Spinelli is encouraged when he sees people older than him still working out.
"I was in the gym and saw a 90-year-old." Spinelli said. "He was lifting weights, doing curls. It was great. It was inspiring."
Contact Henderson and Anthem View reporter Michael Lyle at mlyle@viewnews.com or 387-5201.