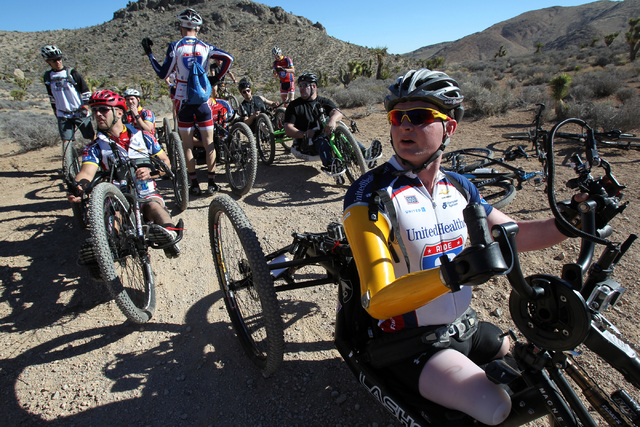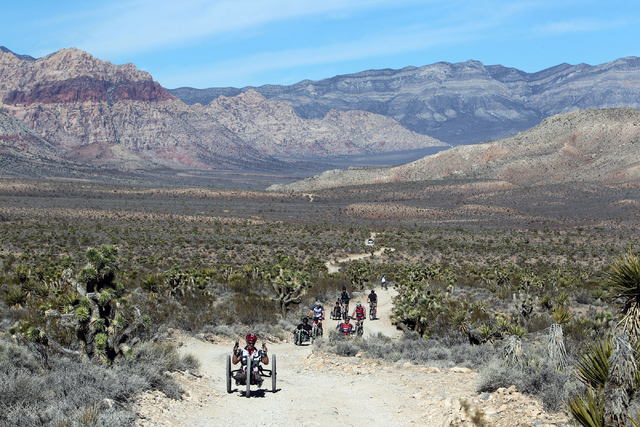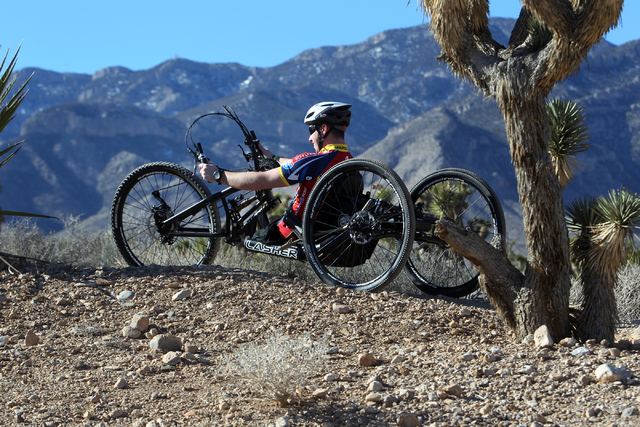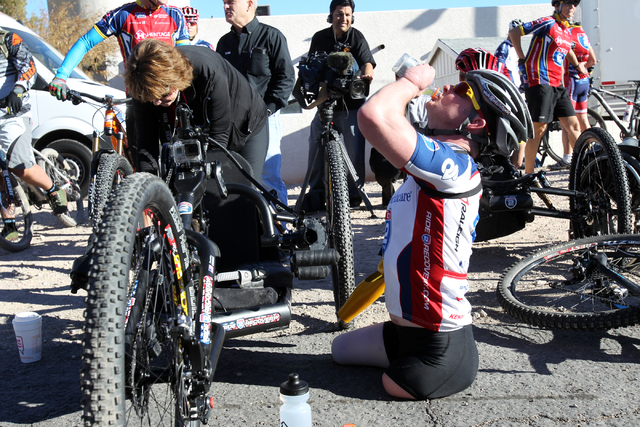 Army veteran John Masson swung onto his new bike from his wheelchair, and a support team began checking tires, tightening screws and adjusting the pedal bar.
Masson almost forgot to put on his helmet, which he did one-handed using his chin. He was testing out a specialized cycle made just for him here in Las Vegas.
He was one of more than 40 wounded warriors who hit the trails of Red Rock Canyon for Ride 2 Recovery's third Las Vegas Mountain Bike Challenge on Monday morning.
Some of the veterans are living with post-traumatic stress disorder, and some are partially paralyzed.
Some lost multiple limbs.
Each remembers the exact date wartime violence changed their lives forever. But Monday, all the riders lived in the moment and shared an electric brand of resilience and a palpable determination.
"We're limited by what we can do with our injuries," said Masson, 42, of North Carolina. "This opens the door to things we thought were done."
Masson stepped on a roadside bomb while deployed in Afghanistan on Oct. 16, 2010, and lost an arm and both legs. He first encountered Ride 2 Recovery staff while recuperating at the Walter Reed National Military Medical Center in Bethesda, Md.
Ride 2 Recovery is a nonprofit that helps injured veterans improve their health and wellness through individual and group cycling. Most participants come from rehabilitative facilities, and all four branches of the military send soldiers to events regularly.
For the first time in the program's history, four seriously wounded veterans rode along on three-wheeled hand cycles made specifically for mountain trails.
Riders sit closer to the ground than on a typical bicycle. The hand-operated pedals sit where most bicyclists would expect a handle bar.
"The camaraderie is great," said Marine veteran Kevin DuBois of Rhode Island, who suffered serious injuries in Afghanistan because of an explosion. "We're all vets out here, so we have a lot in common."
During his second deployment, a member of DuBois' team accidentally triggered an improvised explosive device hidden behind a door. DuBois went to secure the landing area for a medical lift and stepped on a secondary explosive.
It was July 31, 2011. DuBois spent at least three months in a hospital bed and a year in recovery after losing both legs in the explosion.
Since then, DuBois participated in Ride 2 Recovery's Minute Man Challenge, a bicycle endurance ride spanning from Boston to Philadelphia.
"It was a long road," he said. "I've done great things since being injured. If I was lying in bed feeling sorry for myself, then the way I see it, the guy that planted the IED won."
Ride 2 Recovery, based in Calabasas, Calif., gives veterans bicycle equipment for as long they want to continue riding, thanks to sponsors such as the Monte Carlo, United HealthCare and the USO.
Army veteran and Ride 2 Recovery staff member Juan Carlos started bicycling for therapy in 2010, nine months after being injured in Afghanistan.
He said that the organization is a resource to help people with disabilities stay in shape and that the tight-knit community offers significant friendships.
"I think it helps with the process of recovery," said Carlos, of California. "Not just the physical, but the mental."
The mountain hand cycles used Monday were designed and built by Las Vegas bike shop owner Bill Lasher. Lasher said he is one of the pioneers of the off-road style recumbent hand cycle.
Lasher worked with a Ride 2 Recovery team of mechanics and professional cyclists to design the contraptions to fit the riders' disabilities.
Many other Las Vegas residents contributed to the event as trail leaders.
Red Rock Canyon ranger Robert Velanzuela rearranged his work schedule to come watch over the event on his day off. Valenzuela served in the military for 22 years.
"I don't see enough being done for veterans," he said. "You can't put a dollar amount on what they've done."
There are six Ride 2 Recovery challenges in 2014 ranging from 350 to 450 miles in about a week.
An average of 200 cyclists ride together in a group.
The Las Vegas Mountain Bike Challenge continues through Wednesday.
Review-Journal reporter Keith Rogers contributed to this report. Contact reporter Wesley Juhl at wjuhl@reviewjournal.com and (702) 383-0381.