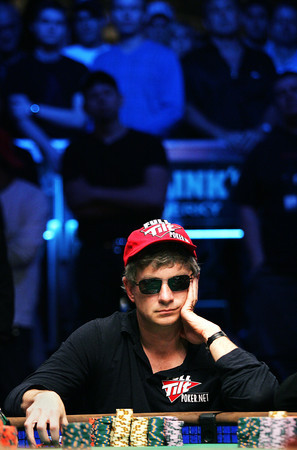 And then there were nine.
Late Wednesday night, logger Darvin Moon of Oakland, Md., eliminated poker professional Jordan Smith of College Station, Texas, and gave the World Series of Poker's main event its final table of nine who will play for the game's ultimate title in November at the Rio.
All nine players in the $10,000 buy-in no-limit hold' em world championship event will earn at least $1.26 million with the winner taking home $8.55 million.
Moon, who had never been to Las Vegas before July 3, will return in November as the chip leader with more than 58.9 million in tournament chips.
In addition to Moon, the other eight players in the final table are Eric Buchman of Valley Stream, N.Y., Steven Begleiter of Chappaqua, N.Y., Jeff Shulman of Las Vegas, Joseph Cada of Shelby Township, Mich., Kevin Schaffel, Coral Springs, Fla., Antoine Saout of France, Phil Ivey of Las Vegas and James Akenhead of London.
Moon owns and operates a small logging company with other family members. Most of his days are spent in pine forests scattered throughout the Maryland panhandle.
This is Moon's first time in the World Series of Poker. He won his seat at a casino in West Virginia.
"I'm nervous," Moon said. "This is my first time in Las Vegas. It was my first time on a big plane. I've got my goals set. It's not first. But it's not ninth, either. I've had fun. It's been worth every minute of it. I just like to play and it's unreal."
After hours of slow play due to the lure of a million-dollar payday, two quick ousters in a span of five minutes sent the main event World Series of Poker close to its final table.
Ivey of Las Vegas, a seven-time World Series of Poker individual event champion who was the best-known player left in the competition, eliminated Jamie Robbins of San Diego minutes after Moon knocked out Billy Kopp of Erlanger, Ky.
Earlier in the day, Moon and Kopp traded places several times at the top of the leader board. Moon took more than 20 million in tournament chips from Kopp and regained the chip lead with some 45 million in chips.
After some 10 hours of play, two New Yorkers seemingly controlled the action. Begleiter, a former high-ranking executive with the now-collapsed Bear Stearns, and professional gambler Buchman, traded first and second place in the chip lead, with each controlling a stack of chips that was more than double than players in the middle of the pack.
By the dinner break early in the evening, 14 players remained in contention. Two players were sent to the rail before 9:30 p.m., and a third went out just before 10 p.m.
Begleiter is currently a senior principal at private-equity firm Flexpoint Ford LLC, according to Bloomberg News.
He worked at Bear Stearns for 24 years, where he was a member of the investment bank's management and compensation committees.
The firm fell apart in March 2008, brought down by excessive leverage and large wagers on subprime mortgage bonds. JPMorgan Chase & Co. bought it with help from the Federal Reserve.
Begleiter brought a crowd of supporters at the Rio.
Ivey suffered one of the biggest declines during the competition. He began play Wednesday in fourth place but his declining chip stack had him dropping near the bottom of the pack. But slow play allowed Ivey to rebuild his stack and remain in the competition. His elimination of Robbins left him at the cusp of reaching the main event's final table.
Two of Ivey's seven individual event bracelets were won this year.
Less than half hour after play began Wednesday Leo Margets of Barcelona, Spain, the woman player left in the tournament, busted out in 27th place, the day's first elimination. Margets earned $352,832 for her efforts.
Last year, Tiffany Michelle placed 17th in the main event and won $334,534. It was the best showing by a woman since Tiffany Williamson won $400,000 for finishing 15th in the 2005 main event.
Annie Duke finished 10th in 2000. Barbara Enright remains the only woman to ever reach the main event's final table, placing 5th in 1995.
Contact reporter Howard Stutz at hstutz@reviewjournal.com or 702-477-3871.
Slideshow