Wynn gets blamed for 'blight'
November 1, 2009 - 10:00 pm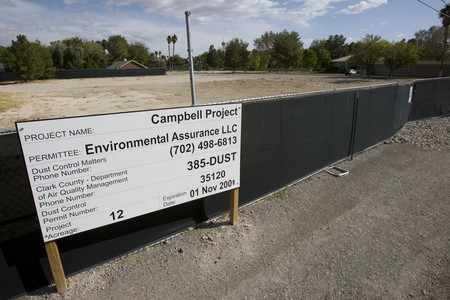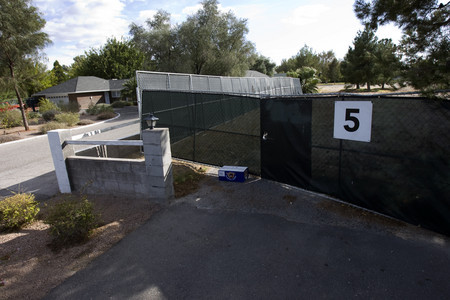 Two years ago, a buzz went through the neighborhood around Alta and Campbell drives that casino bigwig Steve Wynn had bought a dozen parcels of land there with the intention of building a new home.
Here was a man who had built some of the world's most distinctive casino-hotels, after all. What kind of dazzling creation would he build for himself?
That buzz has turned, in some cases, to annoyance as the land has sat vacant and fenced off since then.
People are wondering if Wynn, who transformed the Las Vegas casino market with resorts such as The Mirage and Bellagio, and then Wynn Las Vegas and Encore, will ever build anything on the properties.
"Now they sit in various states of decay, hidden by a disgusting fence covered by a tarp, hiding the urban blight he has caused," nearby resident Jean Knudson wrote in a letter to the Review-Journal.
"Las Vegas has been very good to Steve Wynn, but now Steve Wynn is being very detrimental to Las Vegas, at least to the families and land owners on the Alta corridor he has single-handedly destroyed."
Knudson is not alone in her criticism.
"I think they've been aggravated for a while," said Las Vegas City Councilwoman Lois Tarkanian, who lives nearby and represents the area on the council. "It's been too long. This is an older neighborhood with longtime residents who had a bucolic atmosphere, and they'd just like to have it back."
Wynn, through a spokeswoman, declined to comment.
To be fair, not everyone is aggrieved. Neighbor Lito Aranas said Wynn has casinos to run in uncertain economic times and is also going through a divorce from his wife, Elaine.
Aranas is not bothered by the view of the property he sees outside his front door.
"No, it doesn't bother us," he said. "What can you do? They're in trouble. No one knows who's going to get it."
There may be some leverage available to Las Vegas and Clark County. The county issued a dust control permit for construction activities on the site, and Las Vegas granted a permit for a temporary fence around the property. Both permits expire today.
But Tarkanian stressed that Wynn's rights as a property owner must be respected. He also has been responsible as far as ensuring the property is secure and not open to the public, she said.
"If we say to them, 'You have to take (the fence) down,' then what happens?" Tarkanian said. "Do we have an attractive nuisance where kids trip into homes that were demolished? Maybe we'll have some people, homeless, who want to sleep under those trees.
"I will tell you, the Wynns have done a good job on security."
In July 2007, LG 2007 Private Trust bought 12 parcels totaling 12.9 acres on the southeast corner of Alta and Campbell roads for almost $20 million. Wynn later confirmed that he was behind the purchase.
North of the property is Rancho Nevada Estates, a gated community considered a classic Las Vegas neighborhood.
Alta Drive from Rancho Drive to Lacy Lane has signs describing it as a "historic neighborhood," but it's not one of the city's official historic districts.
The lots and the houses are large in the area, with grass and mature trees and custom houses, many of which were built in the '60s and early '70s. Homes for sale in the immediate vicinity, for example, range in size from 4,000 to 7,000 square feet and in price from $1 million to $4.2 million.
There were eight houses on Wynn's parcels when purchased. From the street, three remaining houses are visible along with vacant land dotted with large trees, some of which have dead branches.
Former Las Vegas Councilman Michael McDonald lives next to the property and has been in contact with Wynn about it as president of Pinto Palomino Residents, a neighborhood association.
"I think it's just a matter of giving Mr. Wynn a little bit of time to figure out what to do with it," McDonald said. "In these times, it's difficult. We're all in this together as a community. I know it's frustrating at times.
"Giving him more time will help our neighborhood in the end."
Contact reporter Alan Choate at achoate @reviewjournal.com or 702-229-6435.