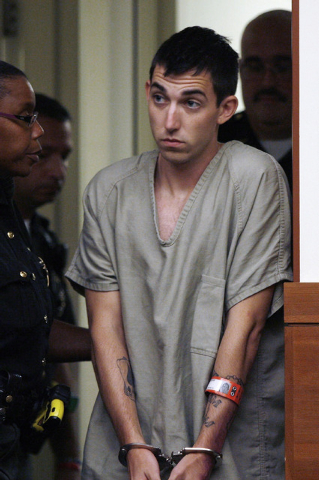 COLUMBUS, Ohio — The Ohio man who confessed in an online video that he killed a man while driving drunk knew he was prone to blackouts after heavy drinking but chose to drive the night of the accident anyway, a prosecutor said Friday.
A maximum sentence is being sought for defendant Matthew Cordle, Franklin County Prosecutor Ron O'Brien said in a court filing. O'Brien has said he believes Cordle's confession was sincere, but in addition to asking for the maximum, he wrote about how recent convictions of drunk drivers who killed people in accidents show a pattern of tough sentences.
Thirteen recent convictions for aggravated vehicular homicide in central Ohio, almost all of them involving drunken or drugged drivers, resulted in an average prison term of almost eight years, O'Brien said.
Cordle, 22, of Dublin in suburban Columbus, pleaded guilty last month to aggravated vehicular homicide and driving a vehicle under the influence of alcohol in the June death of Vincent Canzani, who was from another Columbus suburb. Cordle's blood-alcohol content was more than twice the legal limit of 0.08.
Cordle made a 3 ½-minute YouTube video that has been viewed more than 2.2 million times in which he confessed to Canzani's death. "I killed a man," a voice says as it opens with a blurred image of Cordle, who then describes a night of drinking that ended with the accident.
The prosecutor likened Cordle's vehicle to a 3-ton weapon and rejected Cordle's characterization of the crash as an accident.
The wreck "was the result of intentional, repeated, and deliberate decision making by Cordle to get drunk and drive that 3-ton weapon on our roadways where every man, woman and child was a target of a ticking time bomb," O'Brien said.
O'Brien also cites Cordle's refusal to submit to a blood-alcohol test after the accident as justifying the maximum.
Sentencing is scheduled for Wednesday.
Cordle told his lawyers not to fight the charge against him and pleaded guilty in near record time just a few days after he was indicted.
Cordle faces 8 ½ years in prison, a $15,000 fine and the loss of driving privileges for life.
In recognition of Cordle's video confession and his remorse, O'Brien is asking that the six-month maximum for the DUI conviction run at the same time as an eight-year sentence for causing the 61-year-old Canzani's death.
Cordle's lawyers are seeking a sentence much lower than the maximum, though they didn't request a specific length in their filing this week.
They say a lower sentence would send a message about the importance of taking responsibility for causing a tragedy.
In the video, Cordle acknowledges his confession hands "the prosecution everything they need to put me away for a very long time."
He says he's willing to take that sentence to pass on the message not to drink and drive.
———
Andrew Welsh-Huggins can be reached on Twitter at https://twitter.com/awhcolumbus .