September 19, 2008 - 9:00 pm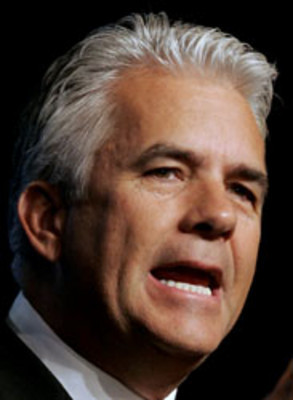 WASHINGTON — No matter what happens with the embattled director of Nevada's Nuclear Projects Agency, the state will not give up the fight against Yucca Mountain, Nevada's senators vowed Thursday.
Sens. Harry Reid and John Ensign insisted the Energy Department's plans for a nuclear waste repository are still more dead than alive, even as the department made progress this summer moving it toward construction.
In a conference call with reporters, the senators said they wanted to nip in the bud any thoughts that the state should abandon its long-held opposition and seek benefits instead from the federal government to host the site.
"There will be no deal cut," Reid said.
Rep. Shelley Berkley, D-Nev., echoed Reid and Ensign in a separate interview.
Berkley said the nuclear industry and supporters of Yucca Mountain "smell blood" in the turmoil surrounding the Agency for Nuclear Projects, whose executive director, Bob Loux, is under fire for giving himself and his staff unauthorized raises.
Although Berkley said she disapproved of Loux's actions and expected him to leave the job, "let's not throw out the baby with the bath water" by altering strategy in the anti-Yucca campaign.
Members of the state's congressional delegation were largely silent in the days after the disclosure by Loux that he gave himself and other staffers raises up to 16 percent.
Gov. Jim Gibbons demanded that Loux resign, but the director's fate rests with a seven-member Commission on Nuclear Projects that oversees his office.
It is not clear when the case will be resolved. A commission meeting that was set for Tuesday has been canceled because of a failure to post a timely public notice. Commission chairman Richard Bryan said a new hearing might be Sept. 29 in Las Vegas.
The pay scandal has sparked discussion in op-ed pages whether the state should take stock of its battle against Yucca Mountain.
While polls show a majority of Nevadans oppose Yucca Mountain, there are citizens who believe the massive government project could provide an economic shot in the arm.
Some others argue the repository is inevitable and the state should protect its interests rather than battle to the end.
Reid insisted that only a "tiny segment" favors such a plan, and Ensign added that "there are no benefits to get."
Chuck Muth, a Carson City conservative activist who has written that Nevada should reconsider its Yucca Mountain stance, said residents "have not gotten both sides of the story where they can make an intelligent decision" on the project.
"After 20 years, Nevadans have to look at the chance that it may come here," Muth said. "Is Yucca Mountain the best place? Maybe, maybe not. But we are not going to know if we just say no, no, no in knee-jerk fashion and not get the facts."
Muth has acknowledged he has received backing from the pro-Yucca Nuclear Energy Institute, including $5,000 to buy gifts for attendees at a Conservative Leadership Conference in Las Vegas this week.
State scientists have argued that deadly nuclear particles will escape Yucca Mountain, contaminate the environment, create a safety hazard and ruin the tourist-driven economy of Las Vegas, 100 miles southeast of the Mountain. Those arguments will be weighed by the Nuclear Regulatory Commission, which last week opened a three- to four-year review period for a Yucca construction license.
Reid said some of Yucca's "cheerleaders" are leaving Congress, such as Sens. Pete Domenici, R-N.M., and Larry Craig, R-Idaho, and momentum is building toward reprocessing the waste instead of disposing it immediately.
Review-Journal writers Keith Rogers and Sean Whaley contributed to this report. Contact Stephens Washington Bureau Chief Steve Tetreault at stetreault@stephensmedia.com or 202-783-1760.