'Zumanity' acrobat sues Cirque
December 15, 2007 - 10:00 pm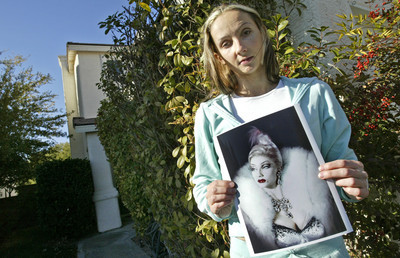 A former "Zumanity" performer claims unsafe practices caused her to suffer a career-ending fall during a rehearsal in April 2006, more than a year before two of her colleagues fell while performing a similar act in front of an audience.
Olga Verchinina, 30, said the refusal of her employers at Cirque du Soleil to address her safety concerns prompted her to file a lawsuit against them Friday in District Court. The Montreal-based company operates five shows in Las Vegas.
"I wish I had sued them earlier," Verchinina said. "Maybe I could have prevented the last incident."
In November, audience members watched in horror as two performers fell 15 to 35 feet during a "Zumanity" show at New York-New York.
One of the performers, a woman who has not been identified, suffered critical injuries. The other, a "little person" named Alan Jose Silva, suffered minor injuries. He also fell with Verchinina in the 2006 incident.
Renee-Claude Menard, a spokeswoman for Cirque du Soleil in Montreal, declined to discuss specific aspects of Verchinina's lawsuit but said the company's 23-year track record speaks for itself.
"We're renowned throughout the industry," she said. "We're renowned throughout the world in terms of offering the best safety conditions for both our artists and our spectators. So it's really something that we pride ourselves in."
She said the company operates 15 shows with 1,000 artists. "Zumanity," an adult show, is billed as the "sensual side of Cirque du Soleil."
Verchinina said the woman involved in the November accident, who does not want her name made public, is recovering at a rehabilitation hospital. Witnesses said the woman was hanging on a long white drape during an "aerial silk" segment of the "Zumanity" show when she lost her grip. She knocked Silva off the same drape as she fell to the stage floor.
Menard said Silva, who is from Brazil, has been with the show since it opened in 2003. The other performer is from Bulgaria and had been with the show for about six months.
Verchinina, who was born and raised in Russia, said she had been with the show since its opening. For Verchinina, who began training as a gymnast around the age of 6, the job was a dream come true.
"It's everything I ever wanted to do," she said.
But on April 21, 2006, while rehearsing with Silva, the pair fell 20 to 30 feet. Verchinina said she broke her back and pelvis and shattered the bones in her feet.
Despite five surgeries on her feet, she said, walking causes extreme pain. She said doctors have told her she will never perform as an acrobat again.
Verchinina's lawsuit accuses her employers of negligence. She claims they required her to perform four different acts with three different partners.
"I just confused one act with another," she said, explaining the cause of her accident.
She said she fell on a stairway between seats and Silva landed on the seats themselves. Had the accident occurred during a show, she said, spectators could have been killed.
"I'm basically suing Cirque because I really believe they're going to hurt somebody," she said.
According to the lawsuit, Marina Vetrova was employed at the time of the accident as the aerial acrobatics coach for "Zumanity," and Ria Martens was its artistic director.
"Vetrova had no prior experience in coaching and/or training performers in aerial acrobatic maneuvers but was nevertheless permitted to train defendants' performers in 'Zumanity,' resulting in inadequate safety precautions as well as inadequate instruction and training of certain performers working in conjunction with plaintiff," the document alleges.
Vetrova and Martens are named as defendants in the lawsuit.
Before the accident, the document says, the defendants threatened and/or harassed Verchinina by saying they would take away her work visa "as well as terminating employment on multiple occasions if she refused to perform the dangerous aerial acrobatics maneuver in the manner required by defendants."
On the date of the accident, the lawsuit alleges, Martens forced Verchinina to perform an aerial acrobatics maneuver with Martens' boyfriend before Verchinina practiced with Silva.
Such "nepotistic conduct," according to the document, caused Verchinina to suffer "extreme emotional distress and severe physical injury."
Verchinina said her three partners had vastly different heights and weights.
The woman, who lives in Las Vegas with her husband, is seeking unspecified damages. She is represented by Las Vegas attorneys David Churchill, David Francis and Brent Valdez.
Menard said people should keep in mind that Cirque du Soleil artists perform in a "high-level acrobatics and sports field" that involves risk taking. "Our job as a company is to make sure it's a very calculated risk," she said.
Verchinina said she understood the dangerous nature of her job. But, she said, the company's unsafe practices and unqualified personnel increased the danger.
Menard said the "aerial silk" act was removed from "Zumanity."
The "Zumanity" accidents were not the only ones involving Cirque du Soleil. In 2002, a 1,000-pound prop for the "O" show fell on Bellagio electrician Mark Brown. He lost 25 percent of his skull and was paralyzed from the waist down. He later sued Cirque du Soleil but settled for an unknown amount during trial. The jury was about to award him $41.6 million, according to the jury foreperson.
Contact reporter Carri Geer Thevenot at cgeer@reviewjournal.com or (702) 383-0264.