September 30, 2017 - 9:00 pm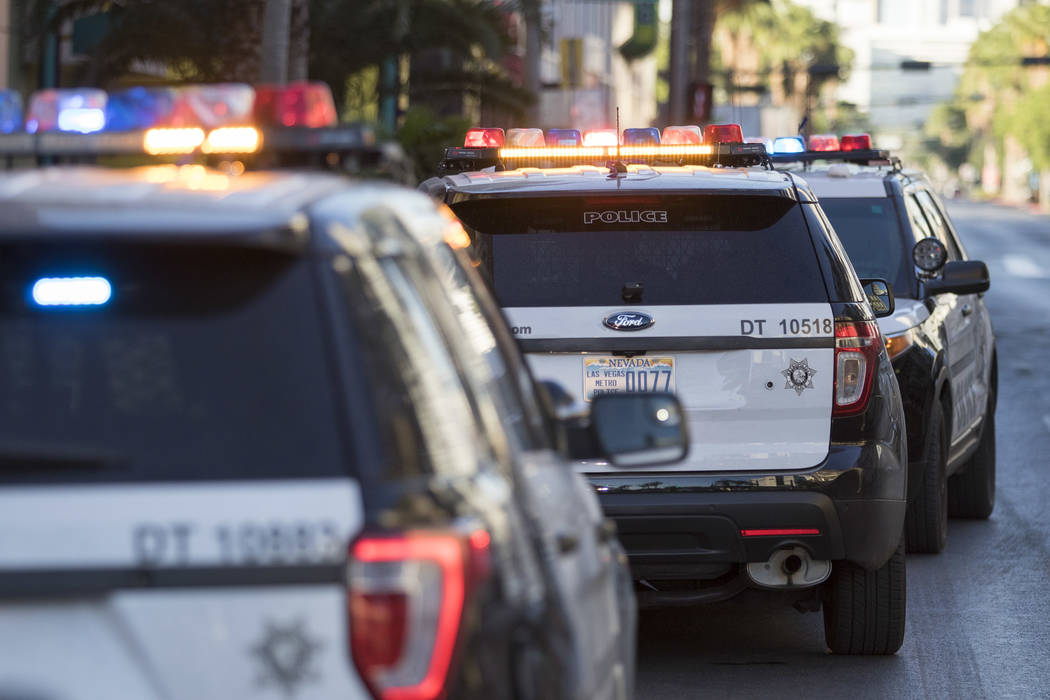 On Sept. 21, the Las Vegas Metropolitan Police Department announced it had changed its chokehold and other use-of-force policies. The department moved the chokehold, previously treated as a "low-level" use-of-force, to the "deadly" and "intermediate" levels in its use-of-force matrix.
The inconsistency of placing in the intermediate quadrant a tactic deemed dangerous enough to also be treated as deadly-level force is concerning, particularly when the new language appears to permit the use of potentially lethal neck restraints in circumstances where police or others do not face imminent threats of serious bodily harm.
This policy change follows a May 14 incident during which Metro officers evidently choked to death Tashii Brown. That altercation could have ended very differently had Brown not been placed in the kind of chokehold whose use has been banned or severely restricted by other police departments in the Las Vegas Valley and nationwide.
In a June 10 Review-Journal opinion piece prompted by the Brown tragedy, we called for a prohibition on Metro's use of neck restraints except as an alternative to the deadly use of firearms. We also urged other key reforms regarding Taser policies, the routine collection of vehicular and pedestrian stop data broken down by race, gender, age and location, and improved crisis intervention protocols.
Our insistence on strictly limiting the use of chokeholds was consistent with the stance of local and national civil rights organizations that have been grappling with important police abuse and accountability issues in an effort to improve relationships between officers and the communities they serve.
We and others in the community are troubled by Metro's new chokehold policy regardless of the department's apparent good intentions. We believe Metro leaders should re-examine the matter in a more fully engaged way with community members, treating them as partners in the collaborative effort to ensure that policing is constitutional and also enhances officer and public safety. The two are not mutually exclusive.
In its current form, the revised chokehold policy falls short of addressing reasonable concerns about Metro's failure to follow other law enforcement agencies that are leading on this pressing life-and-death issue. These agencies have banned or severely restricted the use of neck restraints to those circumstances where deadly force is necessary to deal with imminent threats of serious bodily injury to officers or others, and the technique is the only effective alternative to discharging a firearm.
There is no particularly persuasive reason for Metro's classification of chokeholds in the intermediate quadrant of its use-of-force matrix and for green lighting its officers to use a technique — even when there is not an immediate threat of serious harm to officers or the public — it has acknowledged is potentially lethal.
This is especially true when the police admit that neck restraints can be improperly applied relatively easily in the heat of charged moments, when those who are restrained are at greater risk if they have medical impairments, are on drugs or alcohol or are in an acute agitated state. This would increase the likelihood that a chokehold may well inadvertently kill them even when nobody's safety is seriously imperiled.
While we think Metro got its new policy wrong, we certainly don't think it did so as a result of bad faith. We take them at their word when members of the department's top brass insist they are committed to ensuring their officers do their jobs in a constitutionally respectful manner. We also know that Metro's leadership, its supervisors and its line officers must balance the need for officer safety with those of upholding basic rights and safeguarding the well-being of the people they police.
We believe the ill-conceived substance of Metro's new neck restraint policy is, in part, the product of an equally ill-advised process. Or, put better, a poorly conceived lack of process that should have involved community members who have expressed concern about the department's failure to prohibit or severely limit the use of the type of chokehold that likely contributed to Brown's tragic death.
In this regard, too, we do not presume bad faith on Metro's part. Indeed, Metro officials have put much stock in the need for "community policing" that strives to build strong ties to everyday people based on mutual trust and respect. As such, the department has continued to bring together in its Metro Multicultural Affairs Committee community leaders whose voices and views are presumed to be representative of a cross-section of the general public. Why it failed to share its new policy with this group and others in the community before implementing it is befuddling, given the agency's commitment to partnering.
Clearly, the use of chokeholds is a flashpoint in Las Vegas and across the nation. Just as plainly, we must accord appropriate deference to Metro's expertise when it comes to making the final call regarding law enforcement's policies and practices. In this case, however, Metro was ill served by shutting out community members at the penultimate point in a poorly executed insular process regarding a highly contentious issue.
Metro is also badly served by a resulting policy that's unresponsive to those who are — rightly or wrongly — distrustful of the police. The new policy creates legal exposure for the department by allowing use of neck restraints in situations bereft of any imminent threats of serious injury to anyone and by failing to give proper guidance to officers who are more likely to err on the side of unnecessarily using deadly force when alternative tactics would be less risky and effective.
Metro leaders should revisit their new neck restraint policy, which makes it an outlier among law enforcement agencies and reinforces the suspicion that it is less interested in partnering with those it serves than it claims. We encourage the department to engage Metro Multicultural Affairs Committee members and the broader public in a conversation about this policy. We urge the agency to be open to the possibility of revising it so that chokeholds are permitted only when use of deadly force is required because of an imminent threat of serious bodily injury to officers or others and it is the only effective alternative to using a gun.
If nothing else, this would inspire confidence among those who believe that the department's talk of wanting to build community partnerships is empty rhetoric. At best, however, the community and Metro's leaders, supervisors and officers will learn from each other and end up with a policy that all stakeholders buy into.
Whatever else can be said, it's hard to see what is appropriate about the Metro's decision to permit using chokeholds when intermediate force is what's needed.
Choking off dialogue about something this important to the community would be regrettable, though not as unfortunate as unintentionally choking someone to death without a compelling reason to do so. There's a real chance the two are not unrelated.
Allen Lichtenstein is a longtime Nevada civil rights lawyer and a current member of Metro's Multicultural Affairs Committee. Gary Peck is a longtime Nevada civil rights advocate and a former member of Metro's Multicultural Affairs Committee.