COMMENTARY: Nevada Attorney General Adam Laxalt urges Congress to confirm Scott Pruitt as EPA chief
January 16, 2017 - 9:00 pm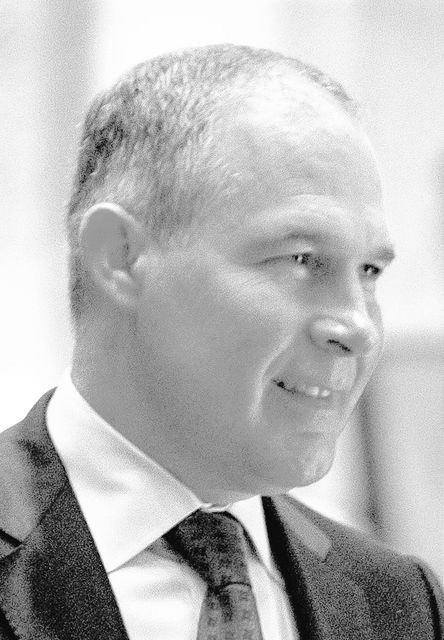 As President-elect Donald Trump continues to select highly-qualified men and women to serve in his administration, I applaud his choice of my colleague, Oklahoma Attorney General Scott Pruitt, to lead the Environmental Protection Agency. Mr. Pruitt understands first-hand the real world consequences of the EPA's unconstitutional overreach and, because of this, is uniquely qualified to lead the agency and restore it to its original, lawful mission.
Mr. Pruitt knows all too well the dangers of a federal government that overregulates and oversteps its authority. As head of the EPA, he will be ready and willing to ensure that the federal bureaucracy stays within its lawful mission and protects our freedoms from federal overreach. I have witnessed first-hand his deep understanding of constitutional law and the federal regulatory system. I can think of no one better to lead this agency.
Having an advocate at the EPA who understands the rule of law and the separation of powers between the individual states and the federal government will benefit us all as a nation. I'm confident that Mr. Pruitt will strike the right balance between protecting the environment while also allowing for responsible development of our natural resources.
I was happy to join Mr. Pruitt, along with 17 other attorneys general, to successfully block the EPA's attempt to harass America's farmers and ranchers by redefining the term "navigable" waters under the Clean Water Act. Mr. Pruitt and I recognized that the Obama administration was attempting to ignore the rule of law and unilaterally change our constitutional system.
Moreover, the Obama administration's new, more expansive definition would have devastated economic growth. As the top law enforcement officials in our respective states, we have been committed to the fight against federal government overreach and oppressive regulations that threaten our freedom and livelihood.
Mr. Pruitt understands that a one-size-fits-all approach to regulation is not suitable when imposing environmental rules on the states. Take the sage grouse issue, where my office has been fighting back against the federal government's attempt to lock up millions of acres of land in Nevada. The government is simply unwilling to hear the many Nevada experts and stakeholders who have spoken against this plan and has refused to consider how it would impact Nevadans. Nevada's suit mirrors Mr. Pruitt's trailblazing lesser prairie chicken litigation.
I have stood with Mr. Pruitt on issues where the federal government has overstepped its bounds. With him as EPA administrator, I know we would have a steady hand at the wheel willing to work with the states to apply sensible and practical solutions that address these important issues.
Critics wrongly assert that Mr. Pruitt is in the pocket of "Big Oil" and will singlehandedly dismantle the EPA and allow companies to pollute the nation's streams and air. This line of attack by fringe environmental groups is a mere scare tactic to sully a man they believe will no longer use the EPA to impose their climate change agenda at the expense of common sense and the will of Congress.
Mr. Pruitt is committed to following the rule of law and will faithfully enforce the environmental laws written by Congress to protect the waters and air of this great nation. Unlike his predecessor, however, he will not use the EPA to impose his ideological views about environmental regulation. Instead, he will work in concert with Congress to forge consensus.
America would be well-served with Scott Pruitt leading the Environmental Protection Agency. I urge the U.S. Senate to confirm his appointment.
Adam Laxalt, a Republican, is Nevada's attorney general.