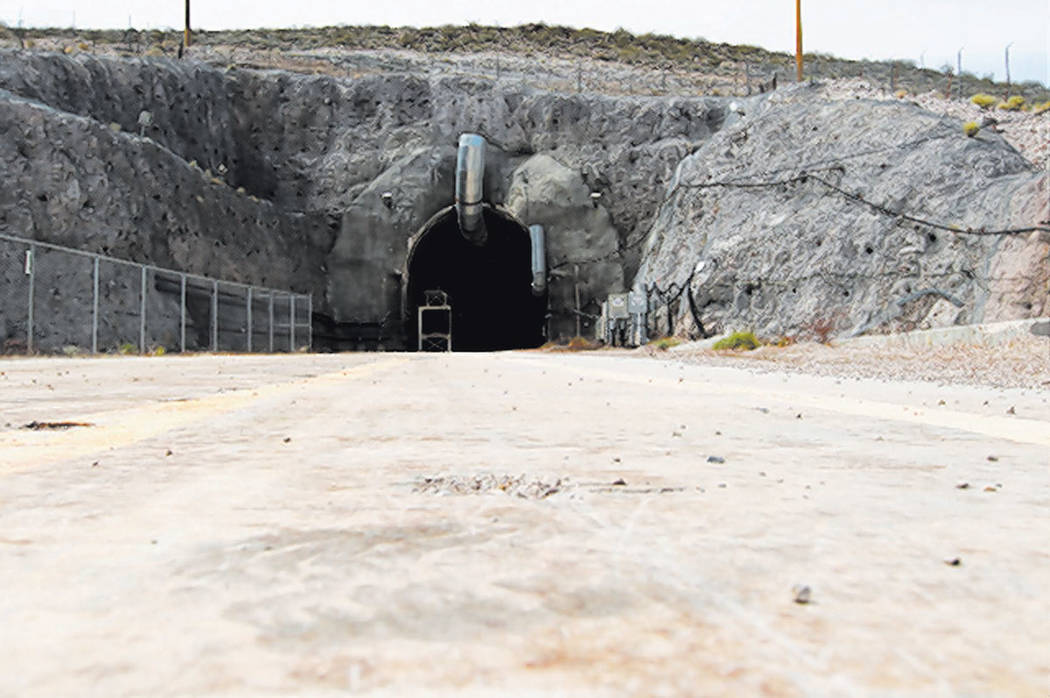 The White House recently released its budget. In my opinion, it is anti-Nevada. The inclusion of $120 million in funding to resume the licensing process at Yucca Mountain is not only reckless, but also overwhelmingly rejected by Nevadans.
Since 1987, the federal government has targeted Nevada — a state without a single nuclear power plant — as the location to permanently store all of the nation's nuclear waste. The Department of Energy's decision to legally compel Nevada to bear the sole burden of shouldering the nation's nuclear waste problem was based on bad politics, not sound science.
Instead of honoring Nevada's persistent scientific and procedural objections to the repository, the federal government has spent decades of time and wasted billions of dollars to design and permit Yucca Mountain.
Our state has been fighting this reckless, misguided and fiscally irresponsible proposal for the past 20 years, and we're not finished. Since coming to Washington, D.C., I have successfully stymied efforts to force this project on Nevada, and Gov. Brian Sandoval has made clear the state will contest more than 200 elements of any license application, which will likely take years to resolve. Restarting the licensing process would lead only to additional litigation, wasting more taxpayer dollars while failing to resolve our nation's nuclear waste problem.
Taxpayers have already spent $15 billion on Yucca Mountain prior to the project's suspension in 2010. It gets even worse. Not only is the DOE estimating a $2 billion cost to restart the licensing for the project, but it wants an additional $82 billion to complete the project. That's a total system lifecycle cost of approximately $96 billion. Taxpayers should not be on the hook for billions of dollars to revive an already failed project.
In addition to the fact that the failed Yucca Mountain strategy has been met by opposition from Nevada every step of the way, the transportation of nuclear waste from power plants around the country to Yucca Mountain poses a threat not only to Nevadans, but Americans throughout the country living along the proposed transportation routes. Under DOE's proposal, the shipments would use 22,000 miles of railways and 7,000 miles of highways, crossing more than 44 states and the lands of at least 30 Native American tribes, the District of Columbia and 960 counties.
To put that into perspective: between 10 and 12 million people live within the radiological region of influence for routine shipments or within one-half mile of these rail and highway routes.
While no one was harmed, the recent tunnel collapse at the Hanford Nuclear Reservation in Washington state and the threat of transportation accidents serve as a chilling reminder of what Nevada could face in the event of radiation exposure.
Yucca Mountain, which is located just 90 miles from Las Vegas, also has the potential to shatter Nevada's economy. Any issues with the transportation of nuclear waste to the site — and it's likely it would pass through the heart of the Las Vegas Strip — or issues with storage at the site, would bring devastating consequences to the local, state and national economies.
Last year, Las Vegas welcomed nearly 43 million visitors. The tourism industry accounts for close to 44 percent of local workforce, supporting more than 430,000 jobs and providing nearly $17 billion in local wages.
Tourism is such an integral element of our state's economy that without it, every household in Southern Nevada would pay close to $3,000 more in taxes.
The storage of radioactive waste in such close proximity to the world's entertainment capital would not only cripple the economic driver of Nevada's economy, it could lead to fewer jobs and higher taxes.
Yucca Mountain is not a viable long-term solution to our country's nuclear waste problem. Instead, the federal government should focus on implementing consent-based siting to store high-level nuclear waste in states that are willing to house it. That's why I introduced the bipartisan, bicameral Nuclear Waste Informed Consent Act, which permits the construction of a nuclear waste repository only if the secretary of energy receives written consent from the governor of the host state, affected local officials and affected Indian tribes.
The administration's inclusion of Yucca Mountain in its budget proposal makes it dead on arrival to Congress, and I'm continuing to lead the Nevada delegation in the fight to ensure it never sees the light of day.
Dean Heller, a Republican, represents Nevada in the U.S. Senate.