COMMENTARY: Question 6 would be great for Nevada
October 27, 2018 - 9:00 pm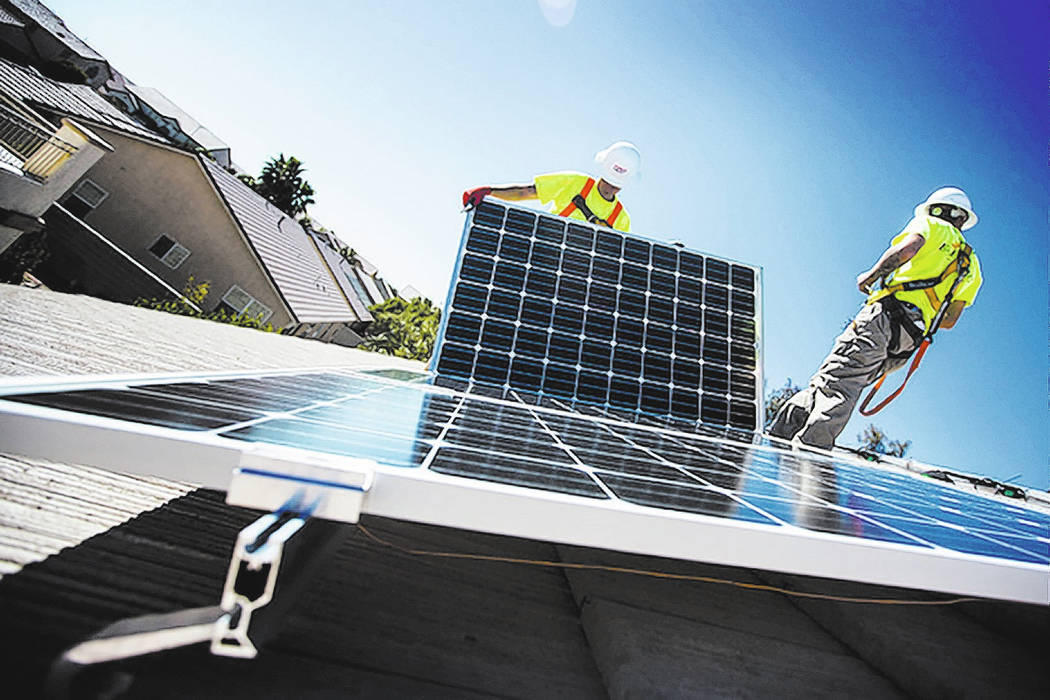 More than two decades ago, in an effort to advance the goal of economic diversification, I worked with solar industry leaders and other state advocates to write the law that gave Nevada its first renewable portfolio standard. It sounds wonky at first, but an RPS is simply a policy that requires a percentage of our electricity to come from clean sources every year.
Right now, we get just 20 percent of our energy from renewable sources. But we can do better.
As an early solar energy lobbyist, I saw the changes happening in the energy marketplace back in 1997 and wanted to prepare Nevada to capitalize on our abundance of sunshine. With a bipartisan vote, the Legislature passed the law and laid the foundation for our energy future.
Back then, we weren't able to say that renewables were cheaper than fossil fuels. In fact, pricing and technology limitations were a clear barrier to the commercial deployment of solar. We did, however, predict that these barriers would be mitigated with a willingness to invest in the future.
Today, we can demonstrate that that early investment continues to pay dividends. In the past decade, we have seen the price of renewable energy projects drop drastically — now cheaper than fossil fuels — with solar costs decreasing by more than 80 percent. The cheapest project proposal in this nation this year was in Nevada. We expect prices will get even lower.
That's why we need to continue our support and vote "yes" on Question 6, which will double our current standard to 50 percent by 2030.
Not only does voting for Question 6 guarantee that we take advantage of the cheap costs, but the measure holds accountable any future power providers in the state — no matter what happens with Question 3 — while also protecting us from price volatility in fossil fuel markets.
Right now more than 80 percent of our energy resources for electricity comes from elsewhere. Nevadans annually send more than $700 million to other states for their coal and natural gas that we burn in our power plants. It is time we stop paying out-of-state companies and workers and start investing here. If we vote "yes" on Question 6, we will capitalize on cheap, emission-free power that is created in Nevada by Nevadans.
Question 6 will not harm ratepayers. As we've increased the amount of solar on our grid in the past five years, we have not seen the Public Utilities Commission increase rates. In fact, average monthly bills have decreased by more than 4 percent for the majority of electricity customers in Southern Nevada, according to PUC filings.
What's more impressive is that we have seen more than $7 billion worth of economic benefits come into the state from renewable projects during the past decade. We are facing increased competitive pressures from surrounding states as they engage more fully in the development of renewable resources. Nevada was once considered a leader in the space, but recent reports suggest we have fallen into the middle of the pack.
Furthermore, we know ratepayers in other states are going to see benefits. MidAmerican Energy, which serves four Midwestern states, is vowing to lock in rates for more than a decade, all while promising to go 100 percent renewable. A utility executive in Colorado promised that his company's investments in renewables would save ratepayers hundreds of millions. Why? Because renewables are cheaper than fossil fuels.
These are among the many reasons why I am confident that voting "yes" on 6 will generate potentially thousands of new jobs, bring in billions' worth of capital investments and reduce emissions while decreasing health care costs in Nevada.
I want to reaffirm: The idea of a renewable energy requirement in Nevada is nothing new. We were one of the first three states in the nation to have an RPS, creating one five years ahead of California and a decade before Oregon.
We cannot fall behind any longer. Let's lead again.
Rose McKinney-James, a former commissioner on the Nevada Public Service Commission, is managing principal with Energy Works LLC, a Nevada-based consulting firm focused on clean energy and sustainability.