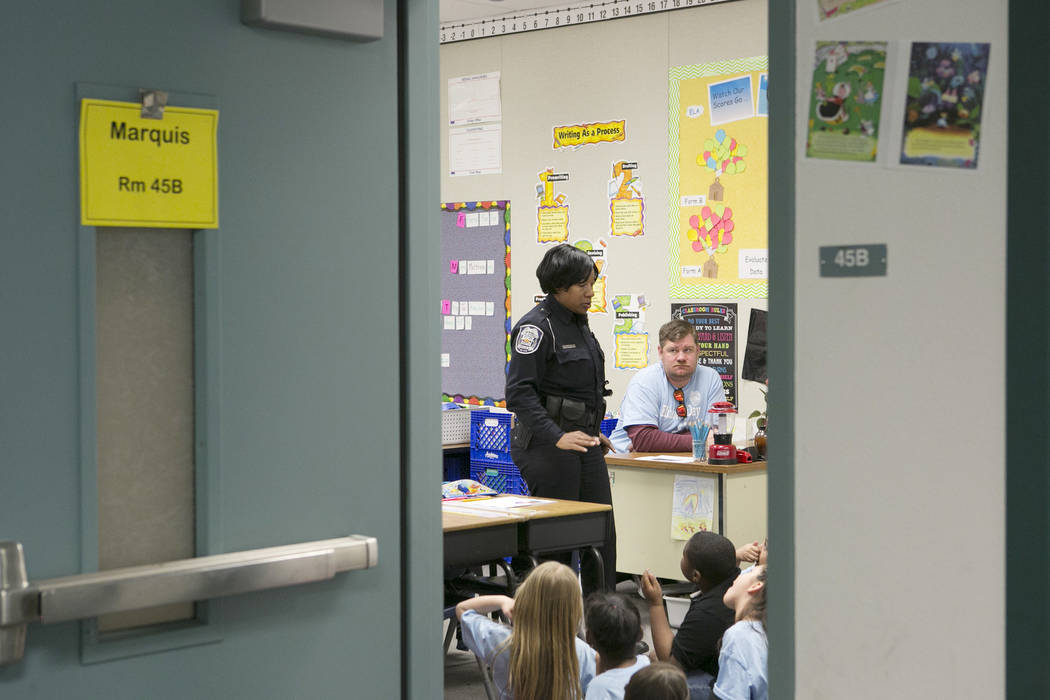 In terms of population, Clark County is by far the largest county in Nevada. It is the economic engine of the state and supplies the vast majority of all revenues to Carson City. But it fails to receive an adequate return on those tax dollars due to structural inequities in how the Legislature appropriates education funding.
Clark County is also the source for the majority of education funding in Nevada, but its return on that funding is diluted through a state formula called the Nevada Plan for School Finance and through other state-level divisions of resources.
The problem is that Clark County accounts for 69 percent of students enrolled in Nevada's public schools but the state accounts for little more than 35.5 percent of the Clark County School District's operating budget. This is by design. Counties with more local tax revenues are deemed to be more self-sufficient, and therefore the state allocates less money to counties such as Clark.
However, the contradiction is that other revenues generated in Clark County are spread throughout the state. A useful illustration is Initiative Petition 1 from 2009. It raised the room tax in Clark and Washoe counties by 3 percentage points to better fund education. That money, about $157 million per year in the 2015-2016 biennium, is distributed to all school districts in the state. But while more than 98 percent of the revenue comes from Clark County, the proceeds are shared with the rest of the state.
When it comes to Nevada's education funding, state and local governments share responsibility. Local governments provide property and sales tax revenues. The state, through the Nevada Plan, attempts to equalize local inequities. In addition to potential shortfalls in local funding, the state accounts for enrollment numbers and transportation costs in deriving a "basic support guarantee" per pupil. The plan accounts for all this by adding or subtracting money appropriated to the county based on such factors. The state then allocates money to county school districts through its Distributive School Account.
The state appropriated about $1.1 billion for the Distributive School Account in the most recent fiscal year. Clark County School District received $808 million, or 74 percent, of that appropriation. But because of the state-local funding split, that $808 million was just a third of the district's overall budget.
Because of this state-local split, odd situations can occur. In 2015 the Legislature increased education funding. Indeed, the appropriations report for the 78th Legislature noted that the school budget approved in 2015 was up 6.4 percent from the last biennium. But the state share of that funding increase actually decreased by 2.2 percent, with Clark County taking the major share of that decrease. That's because the local share increased and the Legislature chose to place more funding outside of the Nevada Plan.
The state pays for education largely through the general fund, which is itself an amalgam of sales, gaming, insurance premium and payroll tax revenues. The majority (about 75 percent) of these revenues are collected in Clark County. But the distribution of education funding does not take into account factors that primarily affect urban counties such as Clark. English-language learners, low-income students, disabled students or gifted and talented students are not "weighted" with any additional money, despite a wealth of research indicating that such populations would benefit.
Instead of guaranteeing this funding in the Nevada Plan, the Legislature has provided money for these groups outside of the formula, meaning they are unstable and subject to reauthorizations every two years. Therefore, Clark County can be said to have the most unstable state education funding in Nevada. Funding for student populations disproportionately located in Clark County is scattered throughout many bills whereas factors such as transportation distance are baked into and indivisible from the Nevada Plan.
Southern Nevada legislators — both Democrat and Republican — have an opportunity to address this regional disparity during this session. But they will not make progress if they are engaged in partisan politics.
Assembly Bill 394 requires that the Clark County School District have a weighted formula in place by the 2017-2018 school year. This would allow additional resources for students with special needs.
During the 2016 interim, legislators on the advisory committee worked in a bipartisan fashion to adopt what now is law. But this mandate for a weighted formula has to be paid for.
The Nevada Plan is outdated and inadequate. Categorical funding for specific programs was a step in the right direction. But too many children are left behind. Southern Nevada children need more than ever a bipartisan effort to win additional funding for Clark County students.
John Vellardita is executive director of the Clark County Education Association.