COMMENTARY: The ex-FBI director goes before the U.S. Senate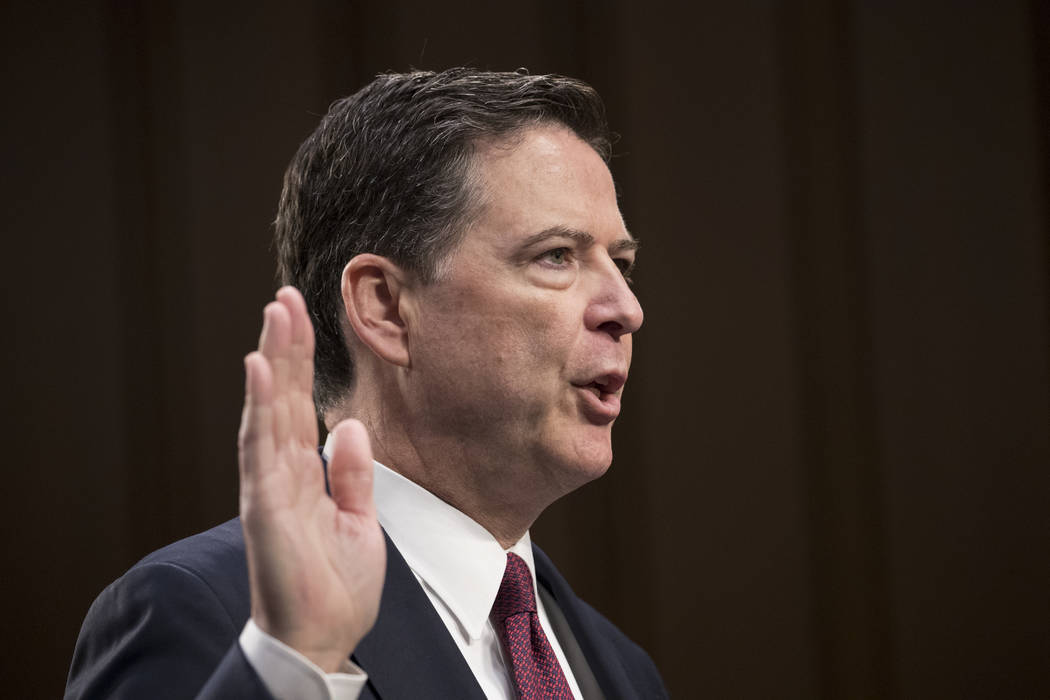 James Comey probably didn't change anybody's mind about President Donald Trump but he didn't do Trump any favors, either, raising fresh doubts about the president's integrity and motives in the probe of Russian interference in the 2016 U.S. election.
The former FBI director told the Senate Intelligence Committee on Thursday that he was convinced that Trump fired him on May 9 because he refused to tamp down the Russia investigation. He said he took notes of his conversations because he feared that Trump would lie about them, and accused the White House of spreading lies about why he was ousted.
By contrast, he said he didn't take notes of personal dealings with two other presidents, George W. Bush and Barack Obama, suggesting that he never doubted their integrity.
Republicans on the committee spent most of their time trying to paint a benign picture of Trump's actions, even questioning Comey's motives. Sens. Marco Rubio and Tom Cotton were especially vehement in disputing Comey's malign interpretation of Trump's requests for personal loyalty and to drop the FBI investigation of former National Security Adviser Michael Flynn, but even typically less partisan lawmakers such as Susan Collins and John McCain took the same approach.
In the packed hearing room, Republicans sat grimly even during occasional lighter moments.
They tried to score points by emphasizing Comey's testimony about conversations in which he told Trump that he wasn't personally a subject of an intelligence investigation. That, in the Republicans' telling, should be taken as evidence that Trump had clean hands when it came to Russian interference.
While many of the particulars of Comey's testimony had been previously reported, the picture of the former FBI chief, known for his integrity, taking the oath to tell the truth about Trump under penalty of perjury was a powerful one and not comforting to the White House.
He added fresh details to descriptions of Trump's efforts to influence him, stressing that the president once asked other officials to leave the room so he could make his appeals in private. That, Comey said, made him think Trump was giving him "direction" to drop the investigation of Flynn's ties to Russia, even in the absence of a direct order. He demurred when asked whether he thought Trump was obstructing justice, saying that matter should be left to the newly appointed special counsel, Robert Mueller, in whom he expressed confidence.
Mueller, a respected former FBI director, already has enlisted the Justice Department's top financial-fraud expert as part of an examination of business connections the president may have with Russia. He also is expected to bring in tax experts, possibly to look at Trump's tax returns.
Crucially, Congress need not concern itself with the question whether Trump committed a crime by obstructing justice or abusing his powers. Lawmakers have the authority to decide whether interfering with a lawful investigation constitutes sufficient grounds for impeachment even if not for criminal prosecution. According to multiple reports, the president has asked several top intelligence officials to intervene with the probe.
Two presidents in history have been accused of obstruction of justice, Bill Clinton and Richard Nixon. The Clinton case involved lying about a sexual relationship with a White House intern, and possible efforts to influence the case with gifts to the young woman and conversations aimed at altering his secretary's recollections of events. The Senate — and the public — rejected the argument that these actions were serious enough to justify conviction.
The charges against Nixon were overwhelmingly supported by the House Judiciary Committee in 1974, as well as by most of the public. At the heart of the case was evidence that Nixon had "knowingly misused" the FBI and CIA to thwart an investigation.
Comey didn't go that far with respect to Trump, avoiding testimony on details of what's being investigated by Mueller.
Thus Thursday's hearing was never destined to have the impact of classic Senate showdowns like the one on communist influence on the Army in 1954 led by Sen. Joseph McCarthy. After a particularly offensive attack, the lawyer representing the Army, Joseph Welch, shot back: "Have you no sense of decency sir? At long last, have you left no sense of decency?" It was a key moment in the demise of the Wisconsin bully.
During the Watergate scandal there was remarkable testimony from former Nixon White House Counsel John Dean, who outlined the president's participation in the coverup of a litany of offenses that led to his ouster.
Al Hunt is a Bloomberg View columnist.