COMMENTARY: UNLV athletic director responds to 'Rebels in Ruins' series
November 24, 2018 - 9:00 pm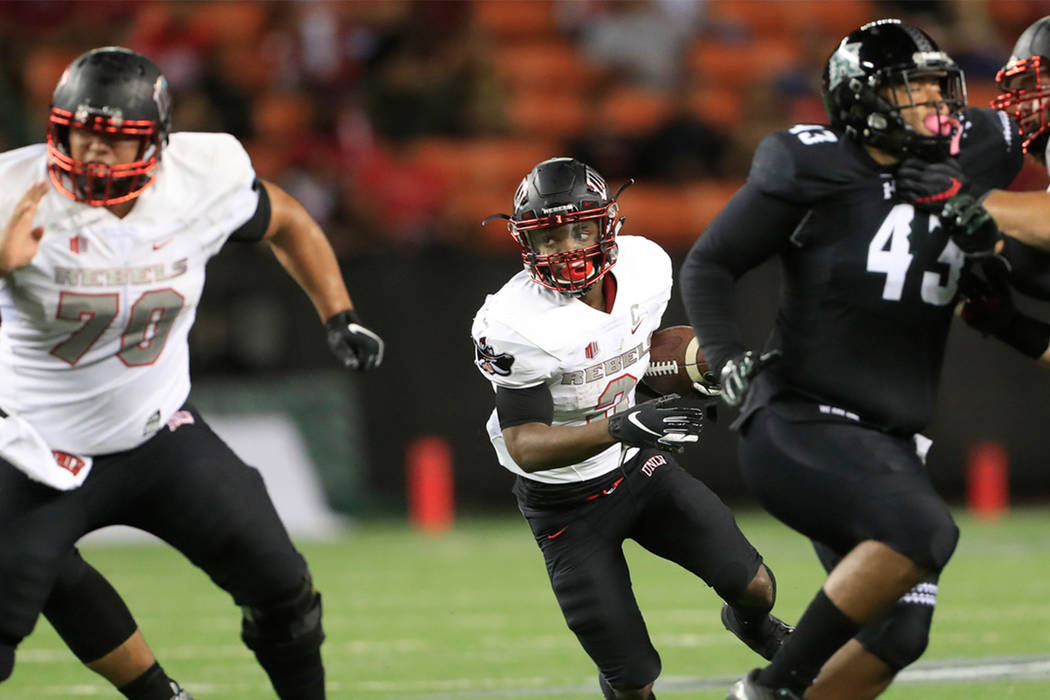 This past week, the Review-Journal published a five-piece story about the past, present and future of UNLV athletics, particularly football and men's basketball. As the director of athletics, I am proud of our storied past, as it demonstrates the galvanizing impact of collegiate sports. But the Review-Journal told only part of the story.
Within UNLV athletics, our goal is clear: to compete for championships in every sport, every year, with integrity and sportsmanship. We want to graduate leaders who will go on to impact our communities. We want the greater Las Vegas community to have pride in Rebel athletics.
Our story, however, is about our student-athletes.
Like Kiley Harrison, our starting softball catcher, who was just accepted to the William S. Boyd School of Law. Or Daniel Diaz, a first-generation college student, who earned his UNLV degree, along with lessons of perseverance and teamwork, as a Rebel soccer player and now takes those lessons to a new journey with the Metropolitan Police Department. Or Alyssa Anderson, the president of our Student-Athlete Advisory Committee, a three-year starter for the women's basketball team, who is on her way to becoming a doctor. Or swimming alum Jeff Ellingsen, a Las Vegas native and conference champion, who is now a major in the U.S. Air Force and who recently spoke to our current swimmers about the lessons learned during his time at UNLV. Or Justin Weniger, a former football player under Coach John Robinson, and now the CEO of our city's own Life is Beautiful festival. Or Ryan Moore, not only a former NCAA champion golfer and longtime member of the PGA Tour, but also a strong supporter of UNLV, spearheading our fundraising campaign.
The list goes on and on.
Our story is about education — we just earned our first 3.0 combined grade-point average in history for two consecutive semesters. And some of the best teaching on campus goes on after 3 p.m. in our pools and on our tracks, courts and fields. Our story is about access and the approximately 30 percent of our student-athletes who come from families who earn less than $50,000 per year. Or the 14 percent of our first-generation college students who now have an educational foundation to bolster the invaluable lessons learned pursuing the spirit of sport. Our story is about our student-athlete post-graduation employment rate rising from 29 percent to 63 percent in just one year of our new jobs initiative.
Our story is about building a foundation for sustained championship success. Many Review-Journal readers may have built businesses, buildings and enterprises, and what many will tell you is that it all starts with a strong foundation. That is what we are building here at UNLV athletics. Every day, I walk into my office and see five pictures: one of last year's graduating student-athletes; one of a young man named Ty'Jason Roberts, who is overcoming a serious injury; one of USAF Senior Master Sgt. Jesse Garcia speaking to our student-athletes about service; one of our staff, coaches and student-athletes all gathered to celebrate the beginning of the school year; and one picture of the new Las Vegas stadium. Each of these pictures represents our core values: excellence, integrity, service, accountability and innovation.
We are building a foundation based upon these core values. Our mission is clear: Win championships the right way, graduate leaders and excel in all that we do. We know, however, that results matter, and we are putting in a process where success will be the byproduct. We are slowly turning that tide and, in addition to our five conference championships and holistic student-athlete successes, we are appreciative of the 65 percent increase in donations from last year to this — led by community partner Boyd Gaming — and the 40 percent increase in new donors to UNLV athletics through our Drive for 5 program.
I am looking forward to our men's basketball program returning to an elite level and our football program joining it.
Like any story, there will be moments of challenge, overcoming and celebration. However, if we continue to act in the best interests of our student-athletes and in alignment with our core values, the path to sustained championships, and all of the opportunities associated with this expectation, is clear.
Our story ultimately is one where we rise up together. Las Vegas is built on those not afraid to be bold. We want and need our great city to be on this journey with us — to be a Rebel with us. To be a part of the story of the rebirth of UNLV athletics.
It has been my privilege these past 17 months to serve as your athletic director. I cannot promise you this journey will be easy. But I can promise you it will be worth it, and that we will work hard to provide for our student-athletes and to build a department to make you proud.
Desiree Reed-Francois is the athletic director at UNLV.