EDITORIAL: California learns little as much-delayed third lane eases I-15 traffic backup
September 22, 2023 - 9:00 pm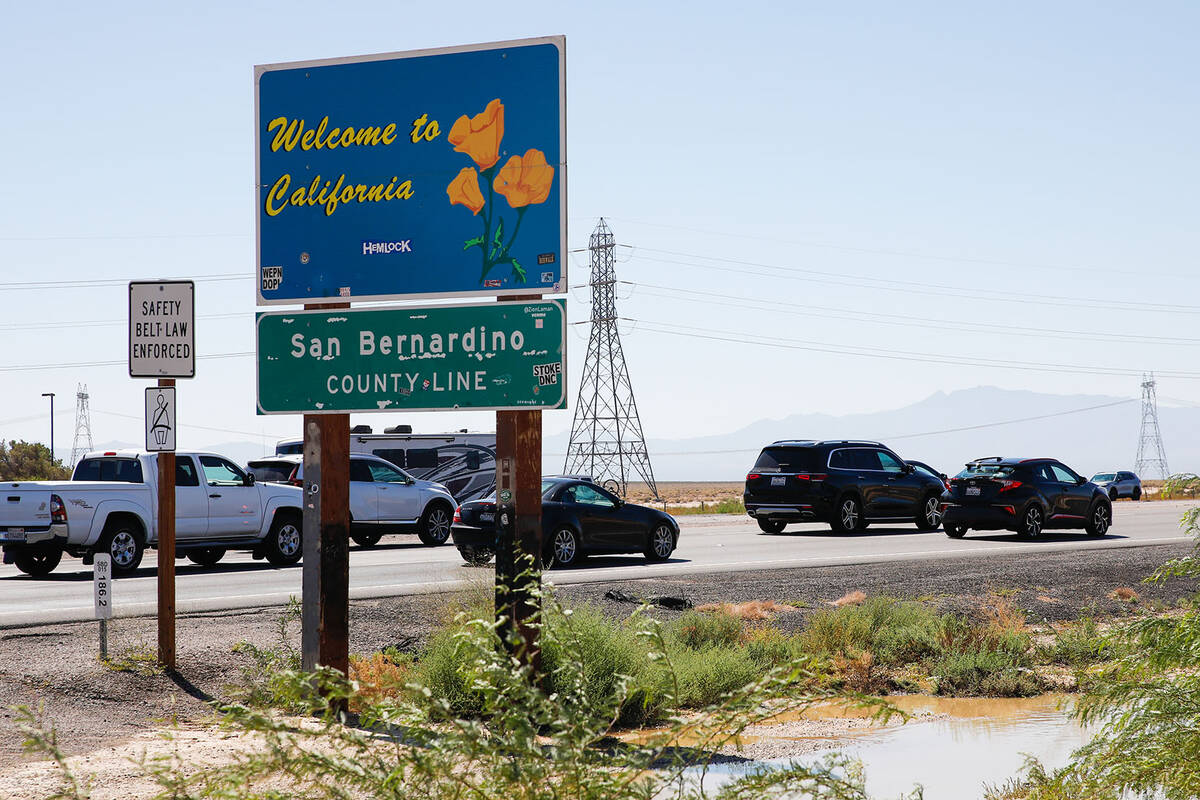 Sometimes the obvious solution is the obvious solution, even if it takes California a couple decades to realize it.
Southern Californians returning home from Las Vegas have long faced a traffic nightmare. Interstate 15 drops from three lanes to two as motorists enter California. After long weekends or major holidays, the backups often stretch for miles. For instance, last Thanksgiving weekend there was a 16-mile backup. Around Christmas, the backups stretched for 12 miles. After New Year's Day, the traffic was snarled for 19 miles.
It's heartening that visitors are willing to endure such delays to enjoy our city, but it shouldn't be this way. I-15 needs another lane. With its obsession over limiting greenhouse gas emissions, this should be especially obvious to California officials. Idling cars aren't emitting perfume and roses. In most circumstances, these politicians consider carbon emissions to be an existential threat. Yet, they've moved like molasses to add capacity here.
In December 2021, then-Gov. Steve Sisolak and California Gov. Gavin Newsom held a joint news conference beside I-15 near the border. They announced that California would open up the shoulder as a third lane during times of high congestion.
This is "a long-standing issue that, candidly, has not been addressed for years and years and years," Gov. Newsom said at the time. He also said, "There's a deep urgency for us to meet this moment. We're not passively interested in trying to episodically solve this. We're here for the long haul. We want to get this fixed. And I made that crystal clear to my team."
That sounded great. But little happened. It took around 21 months for California to complete a $5.1 million project restriping and repaving the shoulder from the border to the agricultural checkpoint a scant few miles away.
The extra lane finally opened a few weeks ago. Caltrans spokeswoman Carolina Rojas said in an email that drivers returning to Southern California "experienced less congestion and shorter delays on southbound Interstate 15 with the recent opening of the part-time travel lane." She said drivers saved 20 to 40 minutes on Labor Day.
More lanes, less traffic. It may take Gov. Newsom, California politicians and transportation officials a while to figure it out, but there's an important insight there.
Unfortunately, despite Gov. Newsom's lofty rhetoric, California isn't interested in applying this commonsense lesson. That third lane is available only on Sundays and Mondays from 10 a.m. to 8 p.m. Even though the lane exists, motorists can't use it most of the time. This makes no sense. Also, Caltrans has no plans to expand the freeway after the agricultural station. Why?
With leadership like this, it's no wonder California keeps driving its residents away.