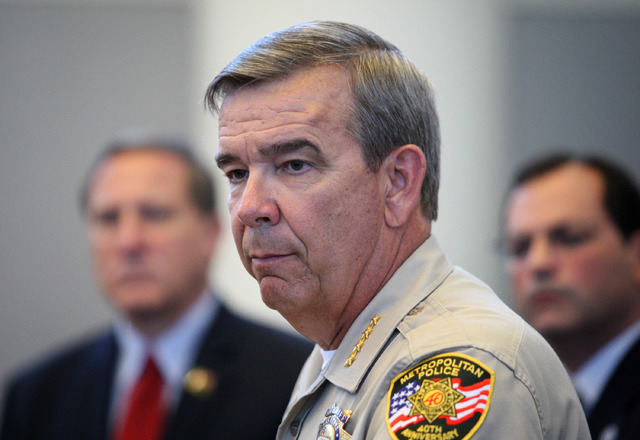 On Tuesday, the Clark County Commission will consider two sales tax increase proposals to boost police funding. One would boost the rate 0.15 percentage points, from 8.1 percent to 8.25 percent, and the other would increase the rate 0.075 cents.
The commission should reject both proposals. Police funding is not a crisis in Clark County.
Way back in 2004, Clark County voters narrowly approved an advisory question in support of a half-cent sales tax increase so more officers could be hired in metropolitan Las Vegas, Henderson, North Las Vegas, Boulder City and Mesquite. A quarter-cent increase took effect in 2005, but the Great Recession erased support for the second quarter-cent increase.
Amid a weak economic recovery, Sheriff Doug Gillespie has worked all year to secure the second sales tax hike. The Legislature refused to authorize a full quarter-cent, settling on a maximum increase of 0.15 cents and giving the Clark County Commission final say. But to pass the increase, the commission needs five of its seven members to vote yes. Two months ago, Commissioner Susan Brager, the potential fifth vote in favor, refused to go along. She and commission Chairman Steve Sisolak demanded more financial information from the Metropolitan Police Department. What they learned in the following weeks is important to the debate.
First, according to Ms. Brager, the 2005 sales tax increase has produced reserves of about $137 million. And when the Legislature backed another sales tax hike this year, it also authorized Sheriff Gillespie to tap those reserves to fill a $30 million budget hole. The reserves had been walled off from the department's general fund, used only to cover the costs of officers hired under the 2005 tax.
Second, as reported last week by the Review-Journal's Ben Botkin, the department has about $9 million in unexpected funds on the books this year, including $1.8 million in delinquent property tax revenue and a $1 million insurance settlement from a helicopter crash. "It's clear that he (Sheriff Gillespie) has $9 million more than he thought he would," Mr. Sisolak said. "He can stop throwing around the $30 million figure because (the deficit) is now $21 million."
As a compromise, Ms. Brager proposed the 0.075 percentage-point sales tax increase, which would add $22.50 to the cost of a $30,000 car. It's a small increase, to be sure, and Ms. Brager deserves the public's thanks for digging into the issue to get a complete understanding. But neither her plan nor the larger 0.15 percentage-point increase are worthy of support — not when Metro has such a large reserve to tap, not when Southern Nevada police are among the highest-paid officers in the nation, and not when other government entities will be back before the public as soon as next year demanding additional tax increases.
The struggling public can withstand only so many hits to the wallet. A sales tax increase of any size is one too many.