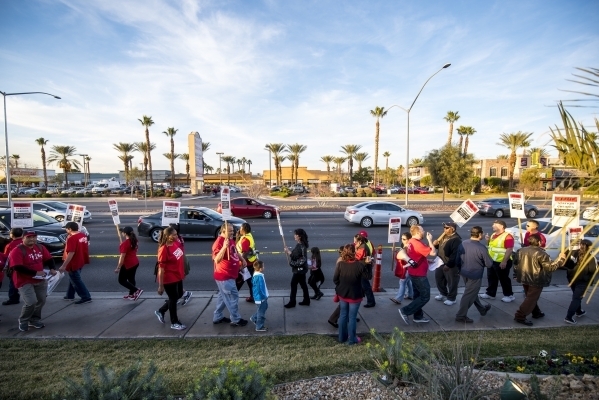 Among life's many certainties: The sun sets in the west, your federal income tax return is due in April, and the Culinary union pickets Station Casinos. Talk about predictability.
Several hundred Culinary Local 226 members demonstrated Feb. 12 in front of Palace Station, protesting what the union calls unfair treatment of Station Casinos' workers. In a news release prior to the protest, the Culinary said that because it was denied a permit for the protest, it expected its civil disobedience "to lead to mass arrests." The union alleged its request to protest was denied by the Metropolitan Police Department because Clark County Sheriff Joe Lombardo had received campaign contributions from Station Casinos.
Except Metro never issues, nor approves or denies, permits to assemble, including gatherings that require the blocking of streets or travel lanes. The decision to deny the permit was made by the city of Las Vegas and Clark County.
The Culinary was denied the victimization it sought because, despite the lack of a permit, no one was arrested. Rather, Metro protected the Culinary's right to assemble.
The union's publicity stunts are weaker than a Shirley Temple. This latest bust was another failed step in the Culinary's effort to unionize Station properties. The union wants Station to submit to a card-check vote in which participants can be identified — a tactic designed to do nothing more than intimidate employees into voting yes. For years, Station officials have told Culinary the company is completely amenable to a secret-ballot vote. If Culinary is so certain that Station employees wish to unionize, then it should agree to such a vote at once. The outcome couldn't be any worse — or more predictable — than the Culinary's protests.