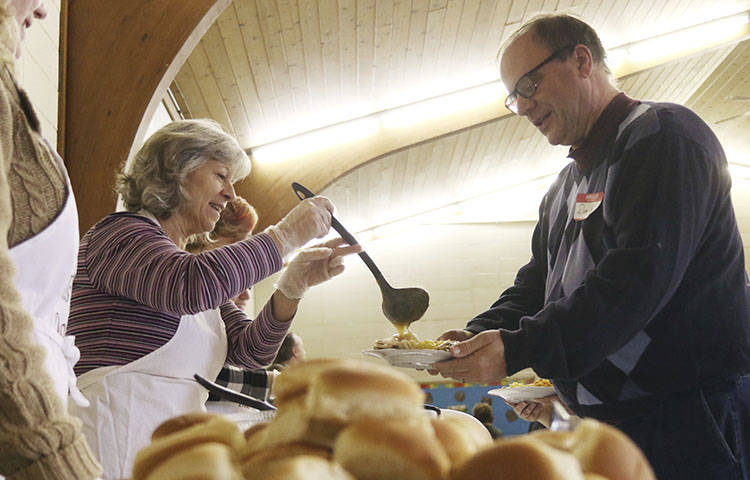 Don't look now, but Thanksgiving is less than two weeks away. Preparations for the annual feast and family gathering are well underway throughout the Las Vegas area.
But while you're planning menus — green bean casserole, again! — and coordinating schedules, take a bit of time to remember the less fortunate in our community. Nearly 10,000 homeless people live in Southern Nevada, and thousands more — including children — sometimes struggle to find their next meal. Your time and treasure will go a long way toward brightening the holidays for those in need.
A wide variety of charitable organizations do their good works year-round, toiling often in relative obscurity to benefit others. They could use your help — and, as Esther Cepeda points out on the opposite page, they could use it now, before Thanksgiving is upon us. Below is a partial list of groups that provide services intended to ensure that the spirit of the holidays reaches the less fortunate.
■ Three Square, which provides food assistance. Call 702-644-3663, ext. 368 to volunteer. Go to threesquare.nationbuilder.com to donate.
■ Catholic Charities, which offers a number of services, including a food bank. Call 702-385-2662 to volunteer. Website: catholiccharities.com
■ Help of Southern Nevada, which has various programs to assist the poor during the holidays. Call 702-369-4357 to volunteer. Website: helpsonv.org.
■ Las Vegas Rescue Mission provides shelter and food. Call 702-382-1766 to volunteer. Website: vegasrescue.org.
■ Toys 4 Tots, a U.S. Marine program that collects toys to distribute to children as gifts. Volunteer at 702-222-8697. Website: las-vegas-nv.toysfortots.org.
■ Lutheran Social Services of Nevada, which provides various forms of help to the needy during the holidays. To volunteer, call 702-639-1730. Website: lssnv.org.
■ The Salvation Army, which conducts annual toy and food drives while manning donation kettles throughout the valley. To volunteer, call 702-870-4430. Website: salvationarmysouthernnevada.org/volunteer.
■ Helping Hands of Vegas Valley, which provides transportation services to seniors and assists with the delivery of food to the elderly. Volunteer at 702-507-1850. Website: hhovv.org.