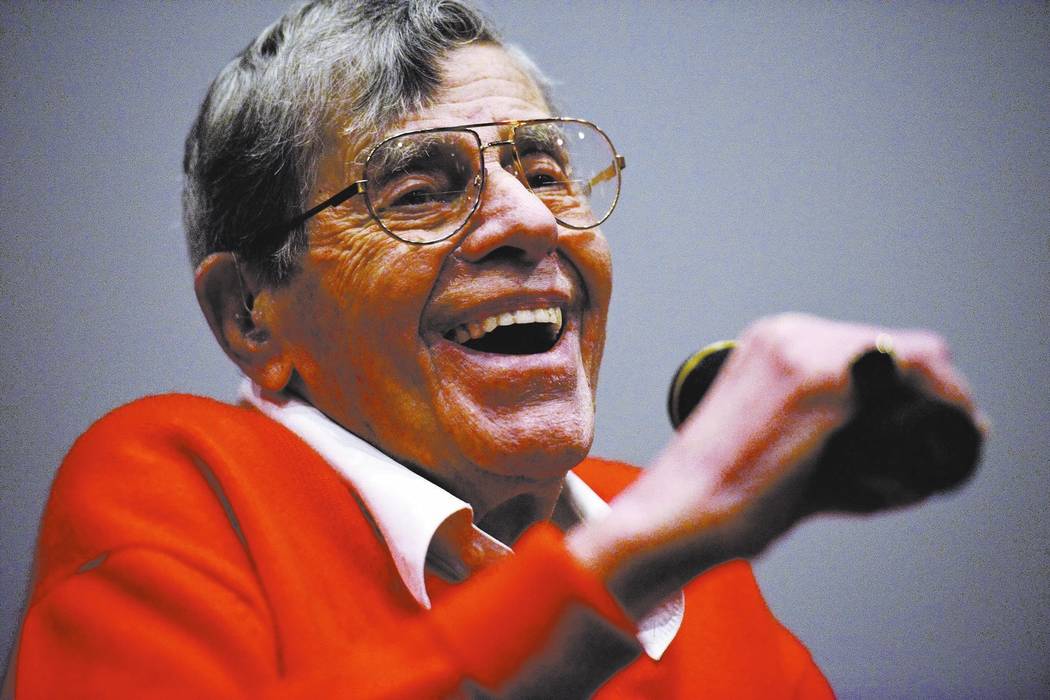 Las Vegas lost another legend over the weekend. Jerry Lewis, the goofball comedy giant who teamed with Dean Martin for a decade and also gained fame for his telethons devoted to helping those with muscular dystrophy, died Sunday morning at his Las Vegas home. He was 91 years old.
The tributes were many and immediate, spanning seven decades of entertainment.
"So saddened to learn of the passing of Jerry Lewis, a true comic icon," tweeted Carl Reiner. "In Boston 1947 I roared at his and Dean's first ever performance."
"Man … I'm just floored," Marlon Wayans posted. "Growing up all kids have super heroes. Jerry Lewis was mine."
Mr. Lewis last performed in October at the South Point. Gen Xers or millennialls may not be as familiar with the show-biz icon as their older relatives, but Mr. Lewis' influence transcends any one era. Look closely and you can detect his manic brand of slapstick in a host of stand-up giants, including Robin Williams and Jim Carrey. On the big screen, Eddie Murphy took on the title role in a remake of Mr. Lewis' "The Nutty Professor," perhaps his most famous film.
For some, Mr. Lewis was an acquired taste. His characters were often squealy, nerdy dolts, such as Herbert H. Heebert who delivers one of Mr. Lewis' signature lines — "Hey, lady" — in the 1960 movie "The Bellboy," which the comedian wrote and directed. In 1989, the Beastie Boys turned the catchphrase into a song featured on the album "Paul's Boutique."
While some criticized Mr. Lewis' style as juvenile or lowbrow, "his mark on comedy and filmmaking are hard to dispute," noted Don Steinberg in The Wall Street Journal on Monday, adding that, "He never won everyone over. But his impact on today's entertainment is as deep as his characters were goofy."
But it wasn't all laughs. Mr. Lewis spent 44 years hosting his annual Labor Day telethons for the Muscular Dystrophy Association. His charitable efforts helped the group raise some $2.6 billion, People magazine reported.
Mr. Lewis was a longtime local and regular Strip performer, as much a part of Las Vegas history as the Rat Pack during the days of Frank Sinatra, Sammy Davis Jr. and his onetime partner, Mr. Martin. Celebrity seekers could often find him at Piero's Italian Cuisine on Convention Center near Paradise. He was even known to pen an occasional letter to the editor reflecting upon something he had read in the Review-Journal.
With the passing of Mr. Lewis, Las Vegas loses another link to its storied past. But he was truly one of a kind, and the city will forever be richer because of his many and varied contributions.