EDITORIAL: Las Vegas Convention and Visitors Authority grants Rossi Ralenkotter his golden parachute
August 14, 2018 - 9:00 pm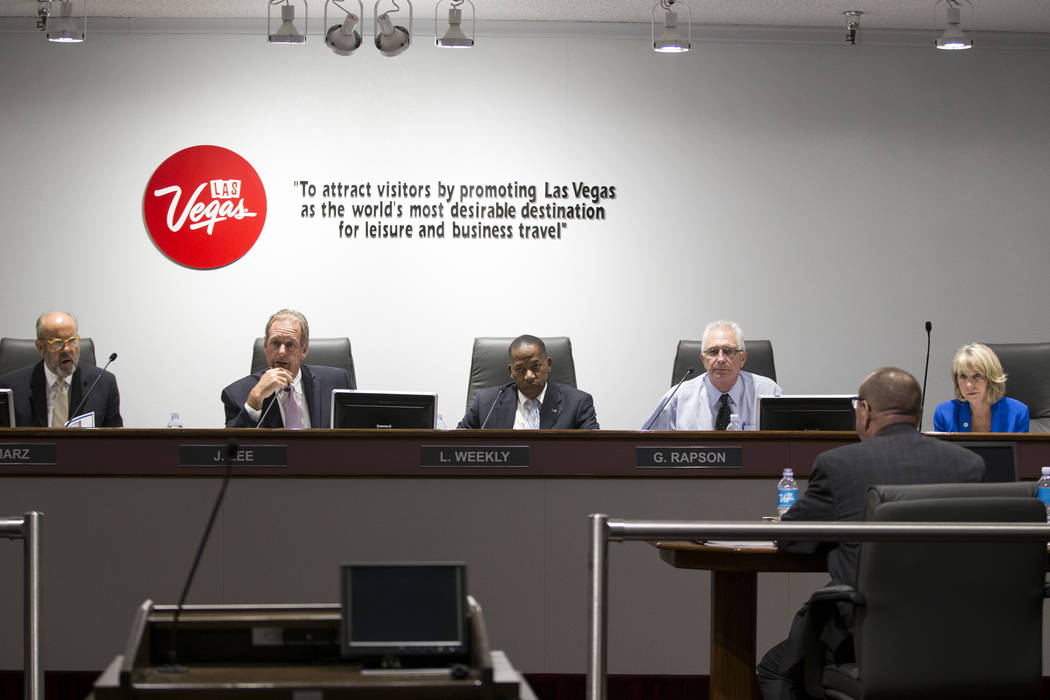 Rossi Ralenkotter got his gold-plated retirement package Tuesday thanks to the tone-deaf rubber stamps on the Las Vegas Convention and Visitors Authority board.
Local voters who are tired of the insular good-old-boy mentality that still dominates Southern Nevada's political and governmental elites should take notice.
The authority's CEO is retiring at the end of the month in the midst of a police investigation into its misuse of airline gift cards. The board gave him a sendoff package worth more than $455,000, including a sweetheart "consulting" gig.
Mr. Ralenkotter, who took the helm of the agency in 2004 and earns more than $860,000 annually in pay and benefits, helped himself to almost $17,000 of the airline vouchers for personal travel. He reimbursed the taxpayers only after he was caught by an internal audit.
A previous Review-Journal investigation revealed that he used Las Vegas Convention Center security staff as his personal chauffeurs, and that he routinely failed to use paid time off when away from the office. Additionally, the authority under Mr. Ralenkotter routinely spent lavishly on first-class travel, entertainment and gifts for authority employees and board members.
There's no question that the Las Vegas convention and tourism industry has — with the exception of years-long the Great Recession — flourished under Mr. Ralenkotter's watch. Yet it's also clear that Mr. Ralenkotter — and his board — showed a shameless disdain for the fiscal standards and practices necessary to maintain the public's trust.
The LVCVA board — comprised in part of gaming/resort leaders and local elected politicians eager to get the authority's cushy perks and travel goodies — voted 13-1 to approve Mr. Ralenkotter's retirement package, showing everyone that its oversight function is a sham wrapped in a fraud.
Keep in mind that the board was under no contractual obligation to offer Mr. Ralenkotter the exit deal, especially on top of his annual pension of at least $350,000 a year for life. Is it any great mystery why cynicism in our public institutions runs rampant these days?
Congratulations to North Las Vegas Mayor John Lee for being the lone board member with the courage to take a principled stand and vote no on portions of the package.
The other elected officials on the board thumbed their noses at their constituents. By voting "yes," they sealed their complicity in any and all wrongdoing at the LVCVA. They confirmed suspicions that in Southern Nevada it's routine for the influential and privileged to manipulate the levers of power to enrich themselves at the expense of taxpayers.
Voting to pluck hundreds of thousands of dollars from the public purse were:
Clark County Commissioner Lawrence Weekly
Clark County Commissioner Larry Brown
Las Vegas Mayor Carolyn Goodman
Las Vegas City Councilwoman Michele Fiore
Boulder City Mayor Pro Tem Peggy Leavitt
Henderson City Councilman John Marz
Mesquite City Councilman George Rapson
Mandalay Bay's Chuck Bowling
Boyd Gaming Corp.'s Bill Noonan
Caesars Entertainment's Tom Jenkin
Eureka Casino Resort's Gregory Lee
Las Vegas Metro Chamber of Commerce's Mary Beth Sewald
Wynn Resorts' Maurice Wooden
Why not spend a few more taxpayer dollars for 13 brown paper bags to place over the directors' heads? But then, instead they might opt to fill those bags with even more cash for Mr. Ralenkotter.