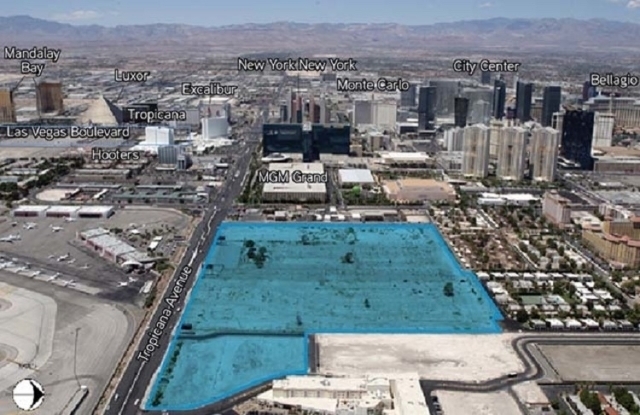 The notion that this state is now "One Nevada," that it has moved beyond the petty parochialism and dirty pool that forces the south to subsidize and sacrifice so all points north can move forward, is a joke.
Nevada's territorial divisions are as obvious and contentious as ever, and today's Board of Regents meeting could make them even worse — if the Southern Nevadans on the panel that governs higher education allow it.
The board is expected to vote on whether to allow UNLV to finalize the acquisition of 42 acres just west of the landlocked campus for $50 million. The deal is tricky, with the university seeking short-term debt to buy more time for a permanent financing plan, one that should include significant philanthropy.
The UNLV Foundation's current purchase agreement with Wells Fargo Bank, in place since March, requires the land sale to close Dec. 31. That won't happen without regent approval of a bank loan and promissory note. UNLV President Len Jessup hopes that with regent support for the short-term debt, Wells Fargo can be persuaded to push the closing date to March, which would give the university time to secure long-term financing that also would require the regents' approval.
That's a lot of moving parts, more than enough to compel the university and regents to perform exceptional due diligence to make absolutely certain no tax dollars and no student fees can ever be used to complete the land transaction.
However, the funds would be used to acquire an asset and meet a critical need for UNLV: room to grow. The land along Tropicana Avenue, just east of Las Vegas Boulevard, is barely disconnected from the campus, making it useful for any purpose, whether it's classrooms, research facilities, dormitories, commercial development or the university's biggest wish, a new stadium to replace the far-flung, hopelessly outdated Sam Boyd Stadium.
The acreage is critical to helping UNLV make another leap forward. Which is exactly why Northern Nevada interests would love to see the land sale fall apart.
For decades, the north plundered Clark County for financial support for the University of Nevada, Reno and rural colleges. As with roads and other state services, the arrangement ensured the Reno area had room to grow while Las Vegas forever played catchup.
But UNR never developed any sort of fundraising capacity, because it was content to have Las Vegas serve as its sugar daddy (minus the naming rights, of course). UNR failed to climb national rankings along with other growing western institutions. UNLV caught up. So, with Southern Nevada's long overdue, very recent accumulation of political power has come a new talking point from UNR's protectors: The idea that UNR and UNLV must rise together.
To accomplish that, the Northern Nevada establishment — in which Board of Regents Chairman Rick Trachok and Nevada System of Higher Education Chancellor Dan Klaich are full equity partners — needs to throw wrenches in UNLV's ambitious plans, if not outright sabotage them. The establishment tried mightily to block the creation of a new medical school at UNLV, or at least delay its opening. They failed. Now, they really don't want to see a new revenue-producing stadium rise at UNLV, for fear that the entire Rebel athletics department leaves the Wolf Pack in the dust.
Whether a stadium is ever built on the 42 acres UNLV wants to buy is an entirely separate issue. Yes, a stadium close to the Strip would attract new special events and help grow visitation. But that will depend on whether the stadium is built with the proper amenities, whether the resort industry buys in and whether it can actually be funded. UNLV can use the land for something else if stadium plans continue to go nowhere.
Today's vote on the land purchase will be much closer than it should be, because two Las Vegas regents, Kevin Page and Michael Wixom, are expected to abstain based on their business ties to Wells Fargo. That will give Mr. Trachok an opportunity to rally enough votes to kill the deal. If just five of the remaining 11 regents vote against the purchase, it dies.
It will be amusing to hear northern regents argue the deal is too risky, even after regents approved massive debt to finance dorms and other projects at UNR. And never forget the $30 million regents once flushed to build UNR's Fire Science Academy in middle-of-nowhere Carlin, one of the greatest boondoggles in state history. The takeaway: Risk is fine up north, but unacceptable down south. If the Wells Fargo deal were for land next to UNR, you can bet Mr. Trachok and his allies would support it.
Taxpayers and state lawmakers should watch today's regents vote very carefully. Will the south's leadership, ever the Charlie Brown, allow the north's Lucy to yank away the football yet again?