EDITORIAL: Pence visits Vegas
September 6, 2018 - 9:00 pm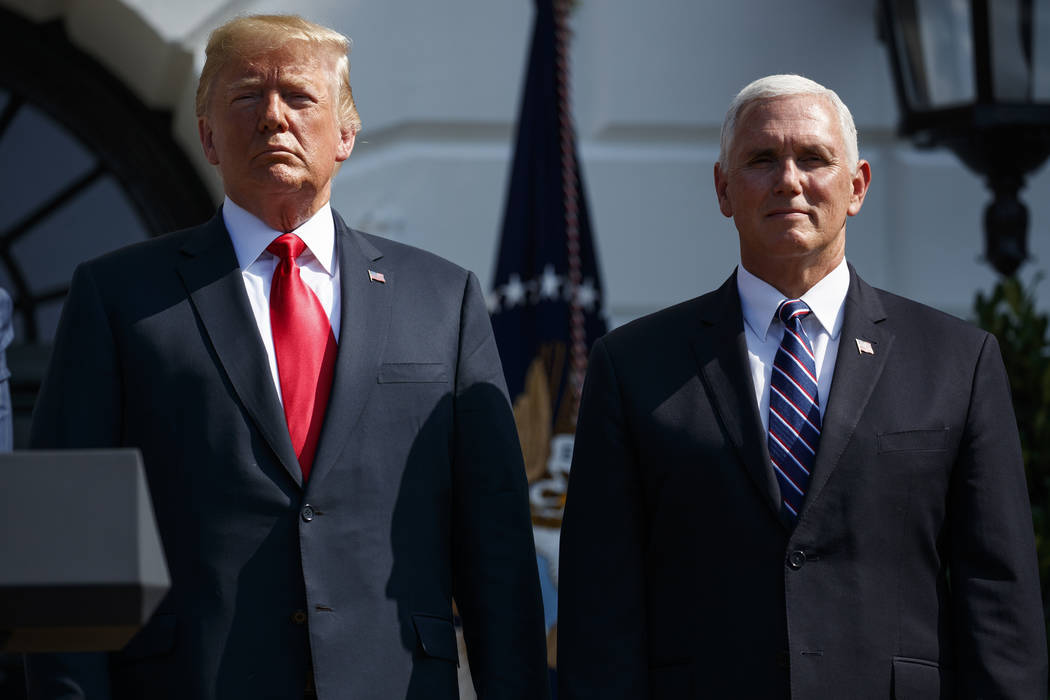 The economy is humming, but Republicans are facing a tough election cycle. That's the paradox surrounding today's scheduled Las Vegas visit of Vice President Mike Pence.
Pence will headline a fundraiser for Republican gubernatorial candidate Adam Laxalt, and he will attend a veterans' event with Sen. Dean Heller. Both Laxalt and Heller face tight election battles with their Democrat opponents.
Pence can brag to voters about a host of policy accomplishments passed by Republicans in Congress and implemented by the Trump administration. The best thing the government can do for the economy is get out of the way, and that's exactly what Republicans have done. President Donald Trump has correctly trumpeted significant rollbacks in regulations. The Republican tax bill allowed Americans to keep more of their own money, and GDP grew by over 4 percent in the second quarter of 2018.
Most Las Vegans saw their take-home pay increase after the new withholding tables went into effect in February. Developer Steven Witkoff even decided to restart work on the stalled Fontainbleau, now The Drew Las Vegas, once it looked like tax reform was going to pass. Witkoff estimates investors will spend $3 billion to finish the project, which will produce 5,000 construction jobs and 6,000 permanent jobs.
Trump's success extends beyond the economy. His two Supreme Court nominees have excited constitutional conservatives and, Democrat theatrics notwithstanding, are excellent picks. Trump's even had success in foreign policy, with ISIS losing most of its territory under his watch.
And yet, Republicans throughout the country face a brutal election cycle. Trump's personal popularity is around 40 percent, and Republicans now trail by almost 10 percent on the generic congressional ballot. Special elections are by definition unique, but Democrat enthusiasm has overwhelmed Republicans since Trump's election.
It's always easier to oppose than propose, so some enthusiasm gap was to be expected. But the chaos emanating from the Trump administration, often enflamed by the president's Twitter feed, has too often distracted from its many accomplishments. There'd be no better way to answer his critics than for the president to ignore them, while highlighting the country's accomplishments under unified Republican control.
Even if that happened, in a purple state like Nevada, Republicans need to attract voters who don't approve of the president. Heller has walked that tightrope better than most. He's broken with the president on some issues, yet retains the support of the White House. Appropriately, for a gubernatorial candidate, Laxalt has focused on Nevada issues, emphasizing the need to build on Gov. Brian Sandoval's education reforms.
Pence's visit is a boost for Nevada Republicans, but if they want to win in November, it shouldn't make them complacent.