EDITORIAL: Proposed minimum wage hike a youth jobs killer
February 7, 2016 - 9:33 am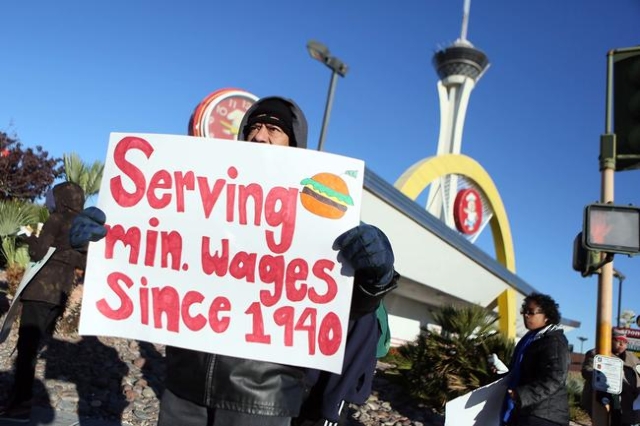 The youth unemployment rate in Nevada, for workers age 16-24, was 13.1 percent in the most recent 12-month rolling average, according to statistics from the Nevada Department of Employment. That's more than double the state's standard unemployment rate of 6.4 percent. Further, Nevada's teen unemployment — for 16- to 19-year-olds — is a whopping 20.6 percent, according to the Employment Policies Institute's MinimumWage.com tracker.
About the worst thing Nevada could do for young people seeking work is increase the minimum wage. But that's exactly what could happen this November.
As reported by the Review-Journal's Sandra Chereb on Jan. 20, a state judge rejected arguments challenging language in a proposed constitutional amendment to gradually raise Nevada's minimum wage to $13 an hour. That means supporters of the measure can begin gathering signatures, aiming to get about 55,000 by mid-July in order to get the initiative on the ballot. If approved, it would have to pass again in 2018 to amend the constitution.
It shouldn't get that far, unless the state wants to see those youth/teen unemployment numbers worsen.
Jed Graham of Investor's Business Daily reported last week that hiring by restaurants, hotels and other leisure and hospitality sector venues slowed markedly last year in metro areas that saw big minimum wage hikes, according to data from the Department of Labor. Considering all those venues constitute a huge part of Nevada's economy, particularly here in the Las Vegas Valley, that's not a good sign. In cities that hiked the wage to $10 an hour or more — the Nevada proposal would go to $9.25 in late 2018, then rise to $13 by 2024 — job creation was at its slowest pace in at least five years.
Washington, D.C., jumped its minimum wage to $10.50 last July, and it will move to $11.50 this July. Mr. Graham wrote that data showed job gains grinding to a halt in the aforementioned sectors, down from a 3 percent gain in 2014 — meaning restaurants, hotels and other employers went from adding 2,000 jobs in 2014 to adding zero in 2015. Chicago's $1.75 bump to $10 an hour also took effect last July, and employment gains averaged 1.1 percent from October through December, less than half the 2014 pace. Similar tales could be told in San Francisco, Los Angeles and Seattle.
This is the problem with minimum wage increases — they price right out of the market people who most need work experience. At best, employers hold the line on hiring, but more likely cut back and even look to automate more jobs. Then the minimum wage for many workers isn't just the $8.25 right now in Nevada. It's zero. Those asked to sign petitions for the ballot initiative should keep that firmly in mind before doing so..