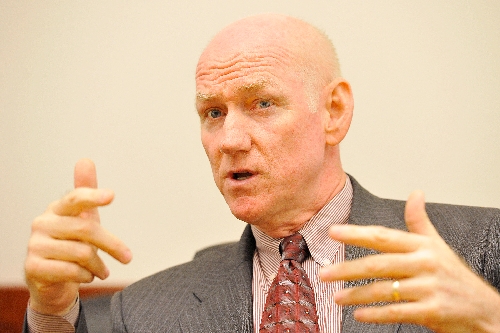 Four of the seven Clark County commissioners are up for re-election this fall.
In District A, first-term Commissioner Steve Sisolak has been instrumental in highlighting the unsustainability of the county's personnel costs. Where others have stood by rather than challenge powerful union constituencies, Mr. Sisolak has spoken out – especially about salary spiking within the Fire Department. Now the Democrat wants to restore further sanity to public employee wage and benefit demands by making public the initial contract offers from both sides in county contract negotiations.
Republican Barry Herr, a certified public accountant, wants to apply his skills to the county's budget, but he offers no compelling reason for voters to fire the formidable Steve Sisolak.
In District B, Democrat Tom Collins is the colorful throwback incumbent. His foibles can evoke a certain boys-will-be-boys tolerance. He surrendered a pistol to North Las Vegas police after shooting up a tree on his property during a drunken celebration this past July Fourth.
However, serving on the governing body of this populous county during hard economic times is a serious challenge, and not all of Mr. Collins' missteps have been of the "Green Acres" variety. The commissioner says he "never got a penny" to lobby the Regional Transportation Commission for Veolia Transportation in its bid to keep the valley's bus contract. He has also worn two hats lobbying the state Legislature. In each case, undertaking both jobs at once showed judgment so bad it makes many wonder whether Mr. Collins no longer believes any boundaries apply to him, at all.
Senior county staff have long said Mr. Collins costs county taxpayers a lot of money by unilaterally promising things to employee bargaining groups that instead should have been negotiated. He is loyal to a fault to organized labor.
Mr. Collins is being challenged by former School Board Trustee Ruth Johnson, a Republican who says District B constituents have seen routine projects blocked because they failed to obtain Mr. Collins' personal blessing.
Told that some residents believe he treats his commission district as a personal fiefdom, that they're "afraid to cross you," Mr. Collins responds, "I get things done."
Times have changed. Mr. Collins has indeed gotten things done, and he deserves thanks for his service. But after 12 years on the School Board – including stints as president – Ms. Johnson is fully competent to deal with the budget issues that confront the County Commission. Just as importantly, she vows to approach the office with integrity, professionalism and respect for every constituent. Ruth Johnson is the better choice in Clark County Commission District B.
District C Democrat Larry Brown is the quiet, contemplative commissioner. He's a big part of the reason Clark County appropriately responded to the economic slowdown by reducing labor costs 23 percent over the past three years.
His young Republican challenger, Craig Lake, runs a lighting business and has an aggressive, principled campaign, but he's taking on one of the valley's better elected officials. District C voters would be safer sticking with Larry Brown, whose leadership, experience and problem-solving skills bring valuable stability to the commission.
In District D, incumbent Democrat Lawrence Weekly wants to see a new governance plan for University Medical Center, the county hospital. He also wisely supported eliminating longevity pay for new county hires.
Mr. Weekly is being challenged by 21-year-old Wesley Cornwell, a highly motivated UNLV student who just opened his own office supply business.
Mr. Cornwell says constituents complain they can't always get through to Mr. Weekly. But while Mr. Cornwell's ambition for public service is notable, the Clark County Commission is not a starter job in Nevada politics. The Review-Journal endorses Lawrence Weekly in District D.
R-J Endorsements