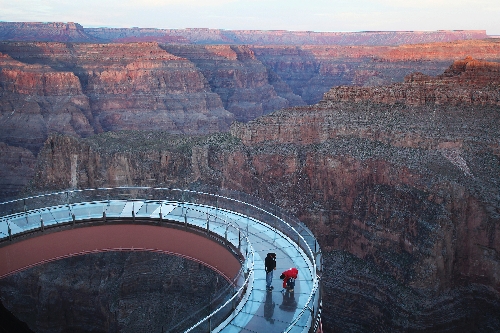 The Grand Canyon Skywalk is a one-of-a-kind attraction that has enthralled thousands of tourists from around the globe — and given them a window into our culture — since it opened in 2007.
We are profoundly grateful to these visitors, who have helped the Hualapai Tribe diversify and solidify our economic prospects, providing funds for roads, health care and basic services for our 2,100 tribal members — all descendants of a people who have occupied this spectacular and spiritually significant land for millions of years.
That said, the attraction east of Las Vegas could be — and should be — so much more than it is today.
As has been widely reported, the Hualapai entered into an agreement with Las Vegas developer David Jin to build the Skywalk and manage the project. Jin and his investors agreed to finance construction of the Skywalk, a visitors center and gift shop with a restaurant, as well as all on-site and off-site utilities and other infrastructure, including restrooms.
In exchange, he was awarded the management contract for the Skywalk and the surrounding facilities. The tribe would divide revenue from the Skywalk and gift shop evenly with Jin.
Our tribe has entered into numerous mutually beneficial contracts with vendors and tour operators who have conducted business scrupulously. We saw this deal with Jin as straightforward, and he seemed genuine.
Now, we can't be so sure.
The visitors center that Jin agreed to build is an empty shell — an uninspiring building that sits idle with exposed wiring hanging from the ceilings and holes in the floor. There are Porta-Johns — not functional bathrooms, as Jin promised — for the thousands of tourists who pay to visit. Worse yet, there is no electricity, water or sewer running to the attraction. We believe this is a breach of the contract.
When confronted and asked to account for his actions, Jin did finally show his proactive side — by filing not one, but two lawsuits against our people. Both are frivolous and reckless, much like the shameless public relations campaign he launched a few months ago. We are confident that the public will see through his cynical crusade designed to denigrate our people.
Ours is an ancient culture, and we prefer not to settle our disputes in faraway courtrooms. However, despite Jin's sensational claims, the Tribal Council is still considering an array of legal options, including an eminent domain action, to protect the rights of the Hualapai people and end this painful dispute.
Our Tribal Constitution clearly states that the council will not enforce eminent domain on anyone "without just compensation; or deny to any person within its jurisdiction the equal protection of its laws or deprive any person of liberty or property without due process."
If the council decides to exercise its eminent domain rights, the tribe is ready and more than willing to pay Jin and his investors fair market value for their financial commitment. Once the situation is resolved, it will allow the tribe to complete the Skywalk visitors center and provide the world-class facility that tourists from around the globe deserve.
Waylon Honga and Charles Vaughn are members of the Hualapai Tribal Council.