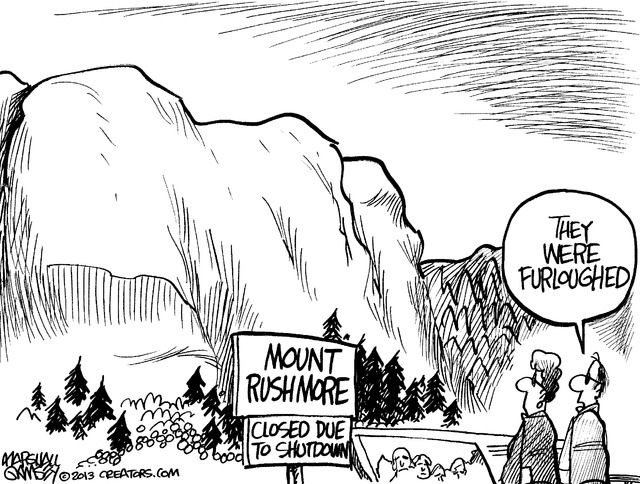 To the editor:
The current ruling class elite in Washington, D.C., are deadlocked over the government shutdown and the Obamacare rollout. I'm surprised some congressional mini-me hasn't introduced the one thing both sides in this financial dilemma have never had a problem agreeing on: raises. A discrete 3 percent congressional pay raise inserted into the package somewhere would bring just about everyone (tea partiers included) to the table for some serious problem solving.
The only thing that gets these congressional do-nothings motivated more than getting re-elected is funneling more of our hard-earned money into their wallets and purses. So how about it Sens. Harry Reid and Mitch McConnell, and Reps. John Boehner and Nancy Pelosi? Instead of closing parks and creating other mayhem to inconvenience the American public, get it into gear and make it rain for those underpaid members of Congress.
TIM FORSBERG
LAS VEGAS
Shutdown and health care
To the editor:
I'm a retired disabled veteran, with 32 years of honorable military service. I answered my nation's call during the Berlin crisis, the Cuban Missile Crisis and Vietnam. I did not serve the Democratic or Republican parties; I served the American people.
I'm now a cancer survivor, suffering from type 2 diabetes, hearing loss, high blood pressure, post-traumatic stress disorder and bulging discs in my lower back, all directly related to my military service. The Affordable Care Act is now the law of the land and was affirmed by the Supreme Court. I support this law, and so do my family and friends.
The attempt to repeal the ACA has failed more than 40 times, which shows something worse than bad judgment. The government shutdown now jeopardizes my health and quality of life. This did not have to happen.
We cannot let one faction of our elected officials hold the whole country hostage over unreasonable demands. Let's revisit Negotiating 101 and move our great country forward.
RAYMOND THOMPSON
LAS VEGAS
Contribute to good health
To the editor:
Morality dictates that those who enjoy good health contribute, within reason, to the care of those who do not. Rational employment of tax-supported resources indicates that, when a given patient's expected duration and quality of life have become limited, there be a point beyond which comfort-only care be supported. Absent substantial agreement on that point, it seems improbable that Obamacare would have been enacted.
We may disagree with Obamacare's restrictions on insurers' freedom to underwrite, and/or the law's "death panels," but we need to realize that the intent of both was to deal with real problems. In my opinion, we would be better-advised to allow insurers to underwrite as they see fit and to directly subsidize less-healthy individuals' premiums from tax revenues. One approach to end-of-life issues would involve requiring Medicare beneficiaries to, at the time of enrollment, opt for or against "only reasonable measures," with premiums set accordingly.
STEVEN P. HAVER
LAS VEGAS
Let the Sun set forever
To the editor:
After reading Brian Greenspun's delusional rant on the government shutdown ("Holding the nation hostage," Sunday Las Vegas Sun), I'm convinced that he has gone completely insane. His insistence that Obamacare was established as a law by the will of the people is absurd. It was done against the will of the people, and only by using reconciliation was this insanity passed, all without a single Republican vote.
After telling the American people that Obamacare's mandate was not a tax, the only way President Barack Obama could win with the Supreme Court was to insist that it was a tax. The president was the mastermind behind this scheme to redistribute wealth and to destroy the finest health care system in the world. His lies and pandering to the uninformed and dependent is what bought him re-election.
Now that the deep, dark secrets of the "We have to pass it so you can find out what is in it" law are starting to see the light of day, everyone from Congress to labor unions wants no part of it. Nor do the vast majority of the American people.
This solution to a nonexistent problem will destroy our once-great nation, and I hope to see the demise of the Las Vegas Sun and Obamacare, as I would with anyone or anything threatening the survival of our nation. Mr. Greenspun and his liberal ilk are responsible for re-electing the worst president this country has ever seen.
Let the agreement between the Review-Journal and Las Vegas Sun end, and with it the publication of the Sun. And please, someone get Mr. Greenspun a desperately needed mental health assessment. Maybe his Obamacare plan will cover it after he pays his $10,000 deductible.
BILL EDWARDS
LAS VEGAS
Republicans not to blame
To the editor:
I'm surprised by the people who still blame the government shutdown on House Republicans. A little research shows that the House has passed bills to fund, among other government services, the National Institutes of Health, for life-saving cancer research, and the National Park Service, to reopen national parks and let our neighbors return to their homes at Lake Mead. President Barack Obama and our very own Sen. Harry Reid won't even consider those bills.
The House has also proposed a conference committee to discuss compromise to reopen the government. Again, President Obama and Sen. Reid say no. Both have said that they will not negotiate with the House. So it's really a stretch to put the shutdown blame anywhere other than on the president and Harry Reid.
ROBERT R. KESSLER
LAS VEGAS