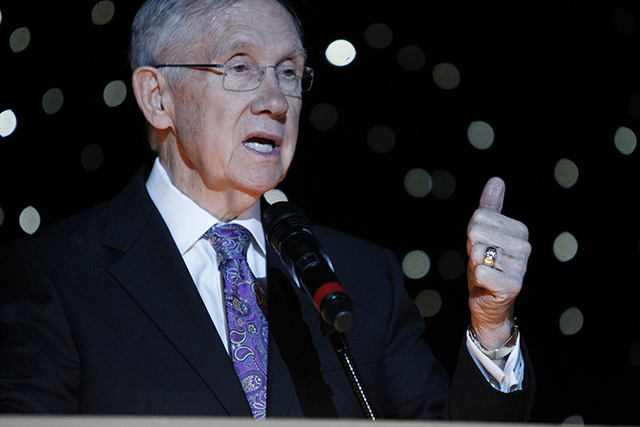 Really, Sen. Reid? Can you possibly go a week without making everyone cringe with some stupid racial statement? Apparently not.
Today Reno political reporter Ray Hagar gives us the scoop from a sit-down with Harry Reid. Get a load of how Nevada's most senior senator characterizes the Las Vegas Paiutes.
Reid says that the owner of the Washington Redskins tried to bribe the tribe.
"Redskins is a racist name and native Americans believe that," Hagar reported Reid as saying. "They have tried to buy off some of my Nevada Indians and they have not been able to do that, giving them trucks and stuff like that."
By "stuff" I hope we can assume Sen. Reid isn't referring to trinkets and beads, too.
Hagar goes on to say that Reid's "senior advisor for Nevada media, Kristen Orthman, confirmed that it was the Las Vegas Paiute Tribe that Sen. Reid referred to. "They were approached about being given a van."
Now, lemme get this straight, he owner of the Redskins football team tried to bribe the tribe with a van? Really? Sounds like a dumb-arse move to me. But if it is true, it would not be the only news.
Don't you love it when a guy who "can't keep his Wongs straight" at an Asian Chamber dinner, calls a female U.S. senator "hot" and is thrilled Barack Obama has "light skin" (etc, etc, etc) calls you "my Indian".
So par for the course. And, so utterly embarrassing for Nevada.