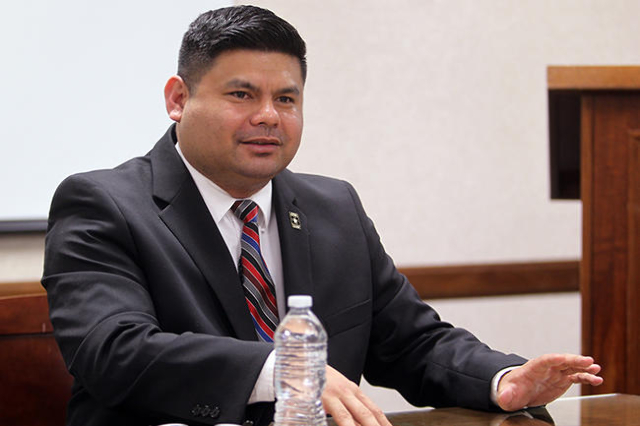 Political advocacy for Nevada veterans is about to get nastier and more confusing — and perhaps much better.
On Friday, Army veteran and former North Las Vegas City Council candidate Richard Carreon announced the formation of the nonprofit Nevada Veterans in Politics, which he said would "support and recommend candidates who pledge to vote about issues that will help veterans and their families." The group, which Carreon said is in the process of interviewing prospective board members, also will advocate for legislation and track the voting records of candidates and the results of their policies and decisions to hold them accountable for their positions and their performance.
If the name of Carreon's group sounds familiar, it's by design. Carreon said he was briefly affiliated with Veterans in Politics International, a local organization more invested in endorsing political candidates than in supporting local veterans. In fact, Carreon is still listed on the Veterans in Politics International website as the president of the group's Nevada chapter. But Carreon, like an awful lot of other veterans and people in Southern Nevada politics, quickly grew tired of the boorish antics of VIPI President Steve Sanson, whom I've written about a handful of times in this space.
Candidates for office consistently seek the endorsement of VIPI because the support of "Veterans in Politics" looks really good on a mailer, even though 99 percent of voters have no idea that the endorsement in no way reflects a consensus of the region's enormous veteran community. Year after year, office holders, candidates and their handlers make the calculation that a VIPI endorsement is worth putting up with Sanson.
During and in between elections, VIPI puts out all sorts of news releases, email blasts and website postings that are far from even-handed and seldom tied to veterans' causes or concerns, and Sanson and his friends host a radio show that occasionally attracts elected officials, including judges.
Carreon's defection and involvement in what is now a rival organization came at the urging of like-minded veterans who wanted a "Veterans in Politics" endorsement to actually mean something, who wanted to be better represented in the public — and who want to force Sanson out of the realm of political influence.
"Had I treated my subordinates the way Steve treats people, I would have no trust," Carreon said. "In three months as president, I didn't know who the membership was, what money was coming in or where it was going.
"Calling him a bully would be pretty accurate. His inconsistency in the way he deals with folks in public office hurts veterans."
In previous columns, I documented Sanson's alliance with disgraced ex-Family Court Judge Steven Jones, who is currently serving 26 months in federal prison for fraud, and his hostile treatment of Family Court Judge Mathew Harter.
Sanson did not reply to a Friday email seeking comment on Carreon's new organization by this column's Friday afternoon deadline.
I asked Carreon how he thought Sanson might react to the creation of a nearly identically named organization: "He'll probably be furious, especially when he hears my name attached to it. But if you have an organization that's for veterans, that should be your first priority. Right now, there's no organization to do that here."
Carreon said that when candidates for office seek the endorsement of Nevada Veterans in Politics, they'll be interviewed exclusively by veterans, which isn't the case with Veterans in Politics International.
Election endorsements matter. Voters attach value to causes, organizations and individuals they already support. The Review-Journal editorial board issues endorsements, as do labor groups, civic groups and other nonprofit advocacy organizations. But a minority of voters bother to put in the time to vet groups that provide endorsements. Veterans have a powerful brand. And "Veterans in Politics" sounds meaningful — so meaningful that Southern Nevada voters might see two separate "Veterans in Politics" endorsements in 2016.
The question now is whether candidates will abandon Sanson's outfit and deem Carreon's credible enough to provide a boost to their campaigns — assuming Carreon and his supporters can follow through on quickly building an organization. Or will candidates decide to pursue both endorsements because most voters won't know the difference between the two?
If you value veterans and issues of importance to them, track Carreon's progress. He's clearly more about veterans and less about politics.
— Glenn Cook (gcook@reviewjournal.com) is the Las Vegas Review-Journal's senior editorial writer. Follow him on Twitter: @Glenn_CookNV. Listen to him this Monday at 10:30 a.m. on "Live and Local — Now!" with Kevin Wall on KBET 790 AM.