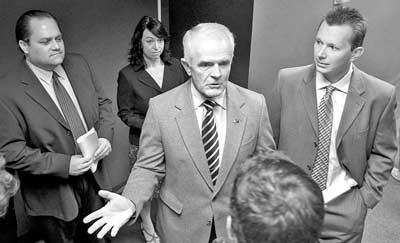 It's amazing what it has taken to actually jeopardize Gov. Jim Gibbons' political career.
He squeaked out a statewide race for his current job thanks in large part to the public's fear of his opponent, not because of his leadership traits or policy positions.
Gibbons survived that 2006 race despite a lackluster congressional career that only seemed to highlight his classified trips abroad and friendships with contractors. He certainly didn't get far up the GOP seniority ladder or pass any memorable bills during his numerous terms.
The 2006 campaign showed us plenty about how Gibbons would act in a real leadership position, and it wasn't pretty.
Voters didn't seem to mind he was under investigation by the FBI for alleged favoritism to a contracting friend, Warren Trepp. And even in this area Gibbons proved a piker compared to his buddy Duke Cunningham.
Duke got a yacht and other cool swag. And if you believe some of the investigators, the money in question may just have been used to buy some land out in Elko County, a GOP stronghold that used to be Gibbons country.
Alas Gibbons survived that and withstood allegations about hiring an undocumented nanny.
There was also, of course, the night of drinking by the self-avowed Mormon which led to allegations by a Las Vegas cocktail waitress that the candidate assaulted her in a parking garage near the restaurant where both had spent hours sipping wine and listening to, if not telling, off-color jokes with a group of legal professionals and Gibbons' top consultant, Sig Rogich.
For a candidate to survive all of that, you'd think he was the second-coming of Ronald Reagan.
Instead Gibbons cast aside his campaign manager, Robert Uithoven, for the chief of staff position. And since he has no overarching policy beliefs — other than his advocacy for no new taxes or fees — Gibbons found himself with no strong advice and no internal ability to tackle the state's most difficult issues.
Throughout the campaign, Republicans stood by their man, biting their lip with each and every serious personnel blunder and policy misstep.
The GOP has cheered Gibbons through his inept handling of the budget shortfall; and despite his sheer ignorance of anything stemming from Clark County.
The governor ignored the severity of the hepatitis C outbreak and shrugged off any concern about the home mortgage crisis crippling local government revenue.
That was all just fine with Republicans, too.
It didn't matter that his administration had become known as a non-administration, with warring leaders of his office working from two parts of the state. Whatever happened to "One Nevada"?
Even in January when the whispers grew that Gibbons and his wife Dawn were headed for divorce, the GOP still supported the governor.
But now that Dawn Gibbons has gotten her wish — to punish her husband in Elko — the faithful have become much less interested in standing by the governor.
Republicans truly must be the party of family values. For now the first Mormon governor, seeking to divorce his second wife, is finally being seen as a political liability.
And once again it's over something that, in the greater context, means little.
Back in January it was largely Dawn Gibbons' friends who were spreading rumors of the governor's affair with a Reno woman married to a physician. This is how I heard it, over and over and over — Dawn Gibbons was furious and was going to get her revenge by taking the news to the base in Elko where it would hurt the most.
It took a divorce filing, a motion by the governor to seal the case and a whisper campaign to paint Dawn Gibbons as a squatter in the Governor's Mansion before we actually saw the result first rumored back in January.
In a scathing editorial, the Elko Daily Free-Press not only defended the first lady, but "outed" the rumor about the other woman which the mainstream media had thus far not divulged.
And that is when everything started to crumble for the King of Gibbons Country.
His marriage, and possibly the marriage of his alleged girlfriend, are merely collateral damage.
When the base in Elko County overwhelmingly rejected their no taxing monarch, the kingdom began to fall.
One of the oldest adages in politics is to step aside and wait while your opponent self-destructs.
That is largely what the Democrats have been heeding as the private family matter became a classic She-Said, He-Said, without the benefit of the He-Said.
It would be a compelling drama for a public fed on reality television if the whole thing weren't so sad.
Even if you have no compassion for either Gibbons, this sordid legal proceeding has made the governor even more aloof, distracted and confused.
Way back on Aug. 31, 2005, when Gibbons launched his governor's campaign, he seemed stunned when reporters asked him a simple question. The awkward moment led his celebrity supporter Jack Kemp to step in and answer for him.
Now Gibbons has no loyal Republicans feeding him lines.
They're all too busy with the new whisper campaign — the one to get him off the ballot in 2010, and possibly out of office even sooner.
Contact Erin Neff at eneff@reviewjournal.com or 702-387-2906.