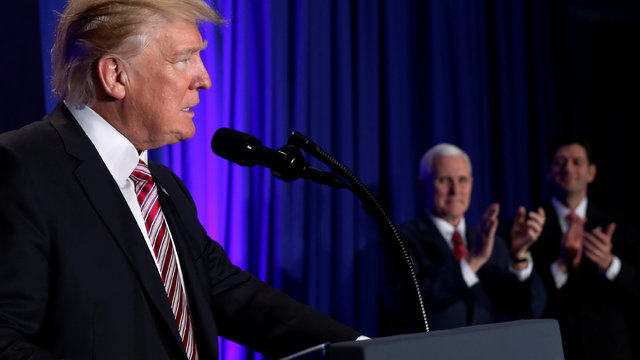 WASHINGTON — The war of words between President Donald Trump and Mexican President Enrique Pena Nieto flew on Twitter and moved from the border wall to trade tariffs on Thursday.
In two dramatic developments, Pena Nieto pulled out of a planned summit with Trump in Washington next week, and Trump Press Secretary Sean Spicer told reporters the president was considering imposing a 20 percent tax on all imports from Mexico.
The blasts across the bow were exchanged the day after Trump signed an executive order mandating a wall across the entire Mexican-American border. The administration maintained that Mexico would pay the cost of construction. Mexico City refuted that claim.
Thursday morning, Trump tweeted that if Mexico was unwilling to pay for the wall, "it would be better to cancel the upcoming meeting." On Twitter, Pena Nieto did just that.
Later in response to questions about paying for the border wall, Spicer told reporters that by taxing $50 billion of imports from Mexico at 20 percent, "we can do $10 billion a year and easily pay for the wall just through that mechanism alone."
Spicer's remarks led some critics to question whether the Trump administration had lobbed the first grenade in a global trade war, while others wondered if perhaps Spicer, like the president for whom he works, spoke too loosely.
While Spicer seemed to suggest tariffs – taxes on imports – he may have been thinking of a border adjustment tax that has been part of last year's House GOP tax-reform blueprint. "My best guess is that he's signaling an openness to a proposal that the House Republicans have been discussing," Scott Greenberg of the Washington-based Tax Foundation, responded. "A border adjustment is not tariff."
The White House, however, denied that the administration is considering a border adjustment tax. Meanwhile Spicer seemed to be walking back his remarks when New York Times reporter Julie Davis tweeted that Spicer said he had been "just spit-balling on how Mexico could be made to pay for the wall."
Trade war averted? The summit with Mexico, America's third largest trading partner, remains cancelled.
Bilateral trade between Mexico and Nevada totaled $924 million in 2015, Mexican Minister of Foreign Affairs Claudia Ruiz Massieu Salinas told the Review-Journal last year. Mexico is the state's fourth largest market for exports.
Former foreign minister Jorge Castaneda said the Mexican government should have canceled the summit earlier in the week, when it became clear that Trump was going to go ahead with measures to build the wall and clamp down on immigration.
"There is an atmosphere of crisis in the United States and it is going to last a long time. We are going to have to get used to living like this," he said on Mexican radio.
Reuters and staff writer Gary Martin contributed to this report.
Contact Debra J. Saunders at dsaunders@reviewjournal.com or at 202-662-7391. Follow @DebraJSaunders on Twitter.
RELATED
Building US-Mexico border wall could cost up to $15B, GOP leaders say