'Bad boy' Nevada Treasurer Dan Schwartz is sorry, not sorry
February 28, 2017 - 9:00 pm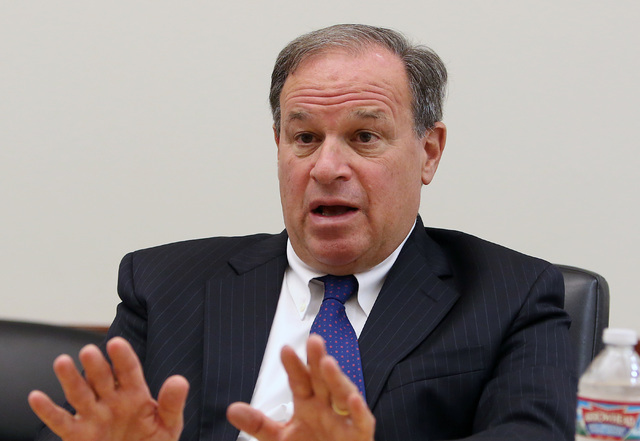 State Treasurer Dan Schwartz once confessed to being a "bad boy" because he'd disobeyed legislative directives.
But this bad boy is unrepentant about his sometimes-rocky relationship with legislators, including fellow Republicans who often agree with him on issues.
"I'm willing to stand up for certain principles, and if I take heat for it, I take heat for it." Schwartz said.
He's been taking heat virtually since he was elected in 2014. Schwartz was dismayed at Gov. Brian Sandoval's embrace of a commerce tax on business revenue of more than $4 million, and introduced a three-page "alternative state budget" that relied on an illegal airport passenger tax and a politically dubious 25-cent-per-meal fee.
Senate Majority Leader Michael Roberson was livid, calling Schwartz's budget disrespectful to the governor and "an absurdity." After Schwartz defended himself, Roberson upbraided him again, saying "I'm in shock and dismay that you would be here today proposing this. I'm embarrassed for you, sir!"
Schwartz replied only that he wasn't embarrassed.
This session, Schwartz drew the ire of lawmakers for hiring a public information officer to answer questions about the Education Savings Account program — which Schwartz is charged with overseeing — and augmenting the college savings program after lawmakers rejected the idea. "I mean, there's a history of not following directions from this [Assembly Ways &Means] committee, right?" Paul Anderson, R-Las Vegas, asked. "It's just a history of being either disingenuous or dishonest, and I'm not sure which it is."
Schwartz once again spoke up in his own defense, but Assembly Speaker Jason Frierson weighed in, cautioning Schwartz to adjust his tone.
And that's to say nothing of Schwartz's icy relationship with Sandoval, first over the commerce tax and more recently over ESAs, which Sandoval also supports, but which were not funded in the governor's preliminary budget to Schwartz's satisfaction.
For the Legislature, Schwartz's actions are an appalling contempt of legislative authority by a rogue official who has become more of an advocate than an administrator for programs such as ESAs or college savings accounts. Schwartz is finding precious little forgiveness in legislative committee rooms.
For Schwartz and his backers on the right, he's a defender of the independence of the executive branch and an advocate for conservative solutions to state problems. The problem, Schwartz insists, lies with lawmakers, not him. "Those people need to park their problems at the door," he said.
But isn't it unwise to taunt the people who oversee his budget, and who could, presumably, circumscribe his use of those dollars to virtually erase the discretion he's enjoyed up until now? Even Schwartz admits there's some truth to that idea, but give him a minute, and he's back to defiantly standing up for his rights as an independent statewide elected official.
Schwartz does more than fight with lawmakers, however. He's advocating a bipartisan bill aimed at preventing people from getting sucked into a continual debt spiral of payday loans. The bill has gained the support of former Democratic Assembly Speaker Barbara Buckley.
And Schwartz is the only high-profile public official to suggest the Faraday Future project planned for North Las Vegas's Apex industrial park is a mirage, despite the support of the governor and the Legislature for tax incentives to make the deal happen. "I think it's a Ponzi scheme," said Schwartz. "I think it's going to end badly for the people who thought this was going to happen."
Once again, the bad boy of Nevada's constitutional office doesn't seem too concerned about who he upsets.
Steve Sebelius is a Review-Journal political columnist. Follow him on Twitter (@SteveSebelius) or reach him at 702-387-5276 or SSebelius@reviewjournal.com.