Both parties, both houses: Nevada leaders back Clark County School District reorganization bill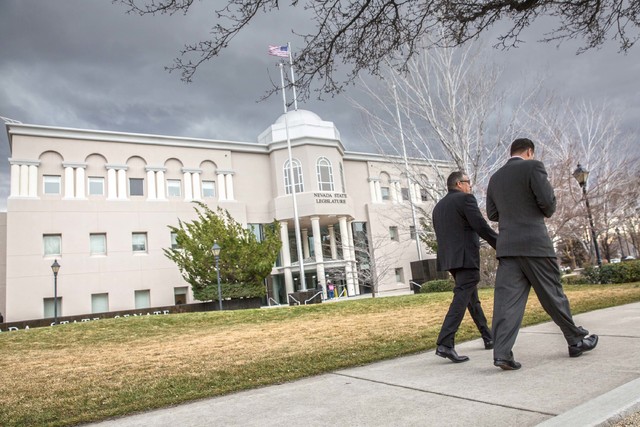 If there was any doubt the Legislature stands behind a proposal to reorganize the Clark County School District, it was put to rest last week in Carson City.
At a special joint meeting of the Assembly and Senate education committees, the leaders of both houses and both parties came together to support Assembly Bill 469, which would cement into state law the reorganization regulations developed over months of meetings.
State Senate Majority Leader Aaron Ford, D-Las Vegas, and Minority Leader Michael Roberson, R-Henderson, Assembly Speaker Jason Frierson, D-Las Vegas and Assembly Minority Leader Paul Anderson, R-Las Vegas, all endorsed the bill. So did the cities of Las Vegas, Mesquite and Henderson, the Nevada PTA, the state superintendent of public instruction and union leaders representing administrators and teachers.
To say it's unusual for bipartisan, bicameral backing for a bill as rooted in controversy as the school district reorganization is to understate the case.
Ford and Roberson have had little good to say about each other since the 2017 session began, with Democrats once again in control of both houses of the Legislature. Their mutual disdain is an open secret in Carson City. But they put those differences aside to jointly endorse AB 469. And while Frierson and Anderson have a much better working relationship than their opposite numbers in the state Senate, they still have philosophical disagreements. Only not on this bill.
The unanimity is unlikely given the genesis of reorganization. Former Assemblyman David Gardner, R-Las Vegas, patiently and assiduously cultivated his colleagues during the 2015 session, holding meetings, answering concerns and making changes to earn support for the measure, which was based on a key assumption: the district would be reorganized in some fashion.
The bill was debated in the Assembly for months, and didn't come over to the state Senate until the closing hours of the session. Under Roberson's guidance, it was approved over strong Democratic objections, including from Ford.
But Ford said this week that his concerns were more over process — the Senate didn't have time to debate the bill properly — than over substance. And the original vision of the bill — creating five or six school "precincts" under the Clark County School District has changed radically: Now, each school has essentially become an empowerment campus, with decisions made by parents, teachers and principals.
Gardner said in a recent interview he was pleased with the way the idea was refined during meetings over regulations, and other leaders (even some originally skeptical) seem to have bought into the idea as well.
In fact, the only opposition comes from the school district; Superintendent Pat Skorkowsky was the lone person to testify in opposition. He said approving a new funding formula for the district is critical to the success of the reorganization, and that the split of money between school and administration could leave the district short on funds to support those schools. He also said other districts that have implemented reorganizations have had more time to implement the idea.
But there's no clearer message than the bright-red neon billboard that was Ford, Roberson, Frierson and Anderson all appearing in support of the reorganization bill. And there's no more solid guarantee that it's headed for passage than every leader in the building lending his support to it.
Although the school district has said it's not opposed to the reorganization, it has certainly not embraced it. In fact, the district has a lawsuit seeking to enjoin the process, a lawsuit that may be made moot by AB 469. While some technical details remain to be worked out, it should now be clear to everyone that this is going to happen.
Contact Steve Sebelius at SSebelius@reviewjournal.com or 702-387-5276. Follow @SteveSebelius on Twitter.