Democrats must confront hard truths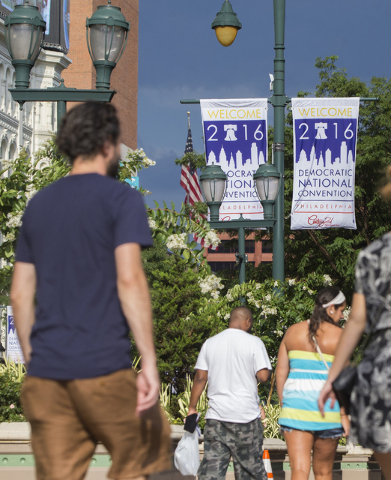 PHILADELPHIA
It's a perilous time for Democrats.
As the party prepares to convene in the birthplace of democracy, it faces dangers from within and without that threaten to destroy its chances to govern at a time of uncertainty, upheaval and unpredictability.
The nation's attention has just been focused on four days of the Republican National Convention in Cleveland, capped by a speech in which Donald Trump told us we were unsafe and could only be saved by a strong leader unbound by political correctness, unafraid to confront the world.
Democrats have already begun focusing on the excesses of that convention but they risk missing the very important point: People are angry. People are fearful. There is a stifling political correctness in the country. Those feelings are real, and so are their causes. And the party that will win is the party that will best address them.
Trump repeated his longtime contention that the American system is rigged, that special interests run the nation's policy for their benefit, ignoring the concerns of everyday people to enrich the elites. (And, Trump added, only he — an elite by any definition — could save America.)
But Democrats knew this already, having been told by Bernie Sanders, whose supporters are headed to Philadelphia with deep reservations about Hillary Clinton, the presumptive nominee. Ted Cruz dominated an entire day's headlines in Cleveland with a non-endorsement speech that suggested Trump was unsuited to the mantle of conservative Republican leadership. Sanders has done the opposite and endorsed his former rival.
But Sanders' liberal supporters are more skeptical of Clinton's status as an establishment insider than Cruz's ever were about Trump's lack of true conservatism, and they're even more likely to rebel when told it's time to rally 'round the nominee because the alternative is so much worse.
Which leads us to the party's primary peril — Clinton herself. Second only to Trump when it comes to being disliked, she's also distrusted, the polls show. And it would be a mistake for Democrats to blame that fact entirely on decades of bare-knuckled political combat with Republicans or misogynistic bias in the electorate.
When Republicans chanted "lock her up!" or shouted "Hillary for prison!" last week, Democrats dismissed them as uncommonly churlish remarks. But the fact is, the director of the Federal Bureau of Investigation testified before Congress that Clinton's exclusive use of a private email server left classified material vulnerable to prying "hostile actors," and that Clinton lied about several key aspects of the case (although not, apparently, to the FBI, which is a separate crime). She was, the FBI director said, "extremely careless" in handling that material.
And why? Because she was adamant about keeping her private emails from ever becoming public. As Chris Christie summed up during his rhetorical prosecution of Clinton from the GOP podium last week: "Hillary Clinton cared more about protecting her own secrets than she did about protecting America's secrets."
It's a line ready made for T-shirts, but that doesn't make it untrue.
And the Democratic response — that Clinton long ago admitted error and the FBI ultimately recommended no charges be filed — is wholly inadequate to the situation. Not being indicted isn't the same thing as being innocent.
To succeed this week, Democrats must address themselves to the ugly national mood, the understandable fear that comes in the wake of terrorism, mass shootings and the targeting of police officers. They must understand the shortcomings of their nominee, and not simply focus on the shortcomings of their Republican rivals.
People are angry. People are afraid. People are frustrated, just as they were when Americans gathered in this city in 1787 to write the rules for a newborn nation. If the Democrats want to succeed in November, they must address themselves over the next four days to the anger and fear, and the perilous times now at hand.
Steve Sebelius is a Las Vegas Review-Journal political columnist. Follow him on Twitter (@SteveSebelius) or reach him at 702-387-5276 or ssebelius@reviewjournal.com.