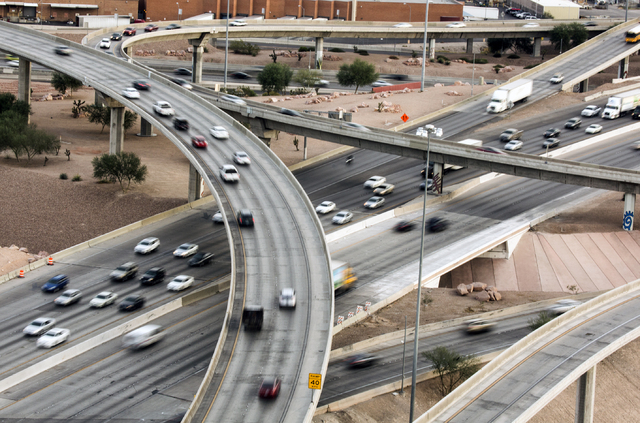 Of all the opportunities for President Donald Trump and congressional Democrats to work in cooperation, infrastructure is the most promising.
Trump has repeatedly declared he wants to fix roads, bridges and other public works: "We're going to rebuild our infrastructure, which will become, by the way, second to none," he said in November. "And we will put millions of our people to work as we rebuild it."
On Tuesday, Democrats unveiled their approach in a news conference led by Sen. Chuck Schumer, D-N.Y.: A 10-year, $1 trillion plan that is projected to create 15 million good-paying jobs while doing everything from rebuilding roads, bridges, airports and schools to extending broadband internet access to more places than ever before.
"Look, this is kind of a no-brainer," said Vermont Sen. Bernie Sanders, who as a presidential candidate backed a similar plan. "President Trump campaigned on building infrastructure. Let's do it, but let's do it in a way that does not provide huge tax breaks to the wealthiest people in this country and to the largest corporations. I hope very much that this is an issue where all of us can get together because it is certainly something the American people want."
Trump's plan rests on tax credits for private companies rather than direct government investment. Critics have said the Trump approach would focus only on profit-making public works, would subsidize projects that would have been built anyway and could see public projects owned (at least in part) by private interests.
By contrast, the Democratic idea would directly invest tax money in roads, bridges, rail and bus systems, schools, ports, airports, harbors, new Veterans Administration hospitals and water and sewer systems. It would ensure rural and Native American projects aren't ignored, either.
There's plenty in the plan for Las Vegans to like.
The Clark County School District struggles to find money to improve or replace some aging schools, and the Democratic plan has $75 billion for that purpose.
The plan has $200 billion for "critical and transformative" transportation projects. The proposed Interstate 11 connection between Phoenix and Las Vegas (the two largest neighboring U.S. cities not directly connected by an interstate highway) could qualify. And if connected to a proposed deep-water port in the Gulf of Mexico, I-11 could become a second lifeline for bringing goods to Las Vegas and points beyond.
Our first lifeline — Interstate 15 — could use some upgrades, too. Adding an extra lane between Primm and Barstow, Calif., would offer immense relief to weekend travelers between Southern California and Las Vegas. (And it would be far cheaper than a proposed Las Vegas-to-Victorville high-speed train that hopes ultimately to connect to a California intrastate rail system that is years behind schedule and billions over budget.)
Gov. Brian Sandoval in his State of the State speech last week called for a new veteran's home in Northern Nevada. The Democratic infrastructure plan has $10 billion for new VA hospitals and extended-care facilities.
The Regional Transportation Commission has considered bringing light-rail to Las Vegas; the infrastructure plan has $25 billion to advance subway, light-rail, streetcar and bus rapid-transit projects. (There's also money for bicycle and pedestrian safety and intelligent-transportation projects.)
Not all of these ideas will make it into an actual infrastructure bill (the five-year, $305 billion transportation bill approved in December 2015 was a heavy lift). And a debate over financing is almost certain. But this is one area where the confluence of real need and real opportunity give Democrats and a new Republican president a chance to cooperate on something that could create real jobs while improving the common good.
Like Sen. Sanders said: Let's do it.
Steve Sebelius is a Review-Journal political columnist. Follow him on Twitter (@SteveSebelius) or reach him at 702-387-5276 or SSebelius@reviewjournal.com.