State Sen. Mark Manendo's resignation from transportation committee chairmanship either too early or way overdue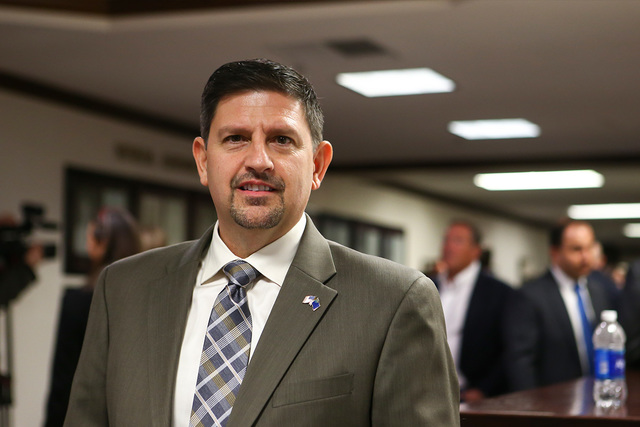 There are a couple of things in the statement announcing Mark Manendo's resignation as chairman of the Senate Transportation Committee that don't exactly ring true.
Manendo, D-Las Vegas, stepped down from the panel with 13 days left in the 2017 session in the wake of sexual harassment allegations, as an investigation into his conduct continues.
But Senate Majority Leader Aaron Ford, D-Las Vegas, has probably earned a little leeway, given that he has done more than any past leader to investigate the chronic allegations of harassment that have dogged Manendo for more than a decade.
"Today, after consulting with Senator Mark Manendo, he and I agreed that he should resign his position as chair of the Senate Standing Committee on Transportation, pending completion of the investigation into complaints about his conduct," Ford said.
Manendo probably didn't agree, especially since he's declared — through his Las Vegas attorney, Richard Wright — that he expects the investigation to exonerate him.
But Manendo's consent wasn't really a factor, because under the Senate's rules, Ford appoints (and can un-appoint) all committee chairs.
Ford added in his statement: "Because the investigation is ongoing, I want to make it clear that I am not passing judgment at this time. No final findings have been provided or conclusions reached."
But at least one conclusion was reached: that the allegations justified Manendo's removal before completion of the probe.
It echoes what happened in 2003, when Manendo, then an assemblyman, was accused of harassing two young interns. He was not reappointed to his chairmanship of the Government Affairs Committee in 2005.
One revelation emerged in Ford's statement: "While I had hoped that the investigation could be completed by now, more allegations have been brought forward since commencing the investigation [in early May] that require more time to complete the inquiry. Once the investigator provides final findings, I will determine whether to reinstate Senator Manendo as chair and whether any other action is necessary."
Don't hold your breath waiting for reinstatement. If Ford doubted the truth of the allegations, he'd likely not have removed Manendo in the first place.
We may not learn the final resolution of this case before the Legislature adjourns June 5, and it's even more doubtful that the Senate will act to discipline Manendo if there's a finding of guilt in the investigative report. Discipline may be moot, since Manendo — whose term is up in 2018 — has considered running for the Clark County Commission. If he opts to run for re-election to the Senate, and the report comes back with damning conclusions, he could end up as the most senior senator in the building without a chairmanship.
For some, that would be something short of justice, given Manendo's history of harassment charges. He's never suffered politically for them, even in a nasty primary fight in 2010 for the Senate seat he now holds. But there are many people in the legislative building who think Democrats should have defenestrated him long ago.
It's not like Manendo is the only person who could hold his seat. The voter registration in his district currently shows a 2-to-1 Democratic advantage, the kind of district that anyone in Manendo's party could win. Democrats could have long ago denied a wayward Manendo party support, money and endorsements with no net loss.
The fact is, Ford is the first Democratic leader to deal with the allegations against Manendo publicly and seriously. He has assigned an outside law firm to conduct "a thorough, fair investigation free from any concerns regarding intimidation, retaliation or bias." Given the repetitive nature of the charges, that approach is long overdue.
Manendo has survived these allegations before, and may again. (His allies say they've seen no recent evidence of harassment and suggest his upcoming political choices are at the root of the charges.) But, thanks to Ford, no one will ever be able to say credibly that the charges weren't taken serious, investigated completely and, depending on what happens, dealt with appropriately. That's as it should be, and long overdue.
Contact Steve Sebelius at SSebelius@reviewjournal.com or 702-387-5276. Follow @SteveSebelius on Twitter.